In her filing responding to Judge Sullivan's orders for an update on sentencing, Mike Flynn's lawyer Sidney Powell makes it clear she's trying to blow up the government's case against Bijan Kian while pretending her client hasn't outright reneged on his cooperation deal with the government. Largely, her filing repeats the claims she made in her Bijan Kian filing, claiming that any errors in the FARA filing were the fault of Covington, while providing documents showing that at the very last transcribed meeting they provide records for, Flynn was lying to his lawyer Rob Kelner.
But there are two interesting touches to what she submitted today.
First, she talks repeatedly about how cooperative Flynn has been with EDVA prosecutors, repeating the total time he has spent — 30 hours — twice, and complaining about the money he has had to pay to cooperate. But here's the schedule of meetings with prosecutors she provided. It shows that Flynn hasn't spent any time working with prosecutors since the less than four hours on the day he fired Kelner and hired Powell.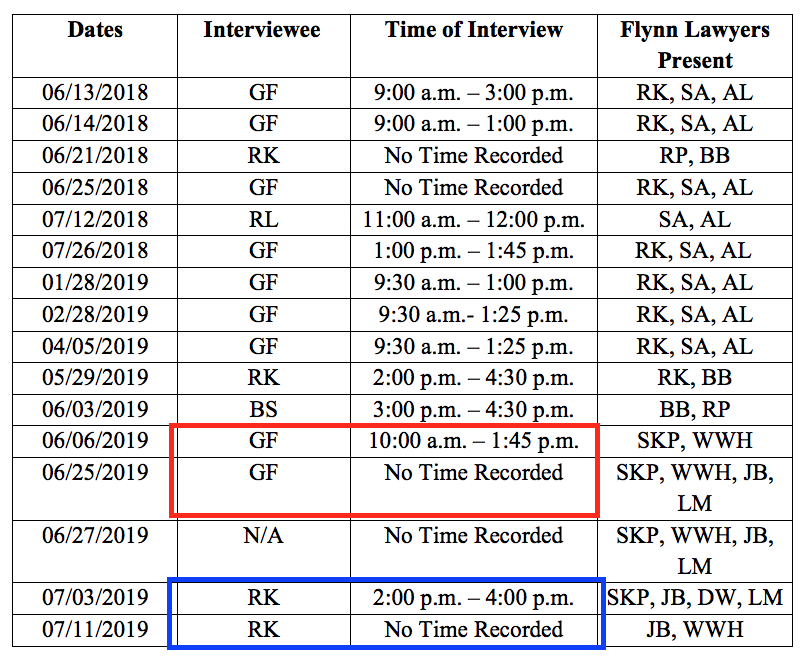 Instead, Flynn appears to have spent three weeks with Powell, inventing a new story about his lies leading up to his FARA filing, which led to the meeting on June 27 where everything blew up.
Then there are the handwritten notes and a typed version of that meeting with prosecutors where they blew up Flynn's cooperation. The attorney who submitted these calls the typed version a "transcri[ption] of my handwritten notes" (for included portions, they're generally accurate).
Except there's a whole swath of the discussion that doesn't appear in her notes at all — including a line from Powell that clearly was designed to blow up the Kian case, suggesting that the government didn't have a case (Note, I assume these notes are missing because an entire page is missing from what they've submitted, and that the notes actually exist, not that she didn't take them; I assume they'll fix this exhibit in the docket).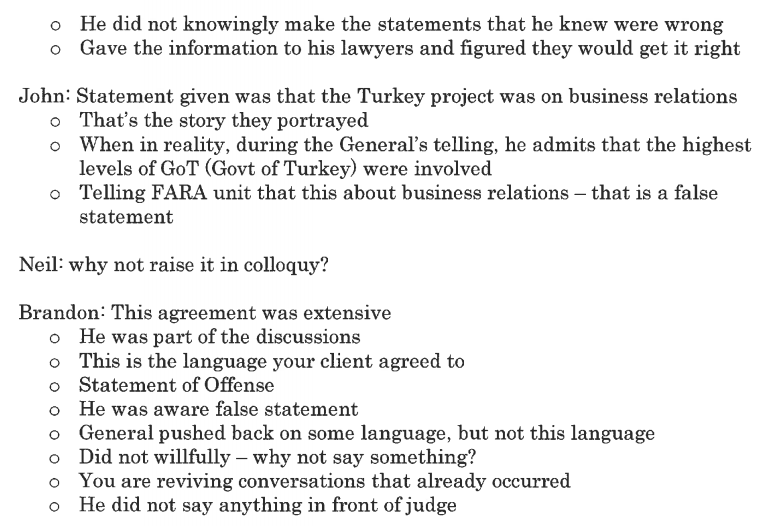 In addition to Powell's inflammatory statement, Flynn's lawyers also have not yet submitted the notes taken of AUSA Neil Hammerstrom pointing out that the time for Flynn to make this case was in the two different plea colloquies he made under oath. (Again, I'm sure they'll correct this omission, but it's pretty sketchy to leave this stuff out.)
The thing is, again, it's clear Flynn was lying even in the last meeting with Covington before the FARA submission, at least as the record stood the other day.
This will surely play well on Fox News. But I'm guessing that Emmet Sullivan will be able to sniff out the bullshit.
Mike Flynn got paid over half a million dollars for what his lawyer currently says was just "writing op-ed" (he didn't write it–he just slapped his name on it). What she neglects to mention is that during that time, he was getting Top Secret briefings as Trump's top National Security Advisor, which is why it matters that Flynn was hiding, in November 2016 when he published the op-ed, and still in March 2017 when he claimed to correct the record, that he was secretly on the payroll of the government of Turkey.