The materials backing the raid on Michael Cohen released yesterday suggest — give the large swaths of redacted pagers — that the investigation into hush payments continues. But the filings also suggest something about Mueller's investigation.
One of the earliest warrants, dated February 28, 2018, obtained access to a USB drive holding the contents of Cohen's Gmail account from June 1, 2015 to November 14, 2017 and a business account handed to SDNY from Mueller. The Agent's affidavit (starting at PDF 36), describes how Mueller got access to those accounts in support of false bank entries, money laundering, and two foreign agent charges, then substantiates the need to access the same information in support of conspiracy, false bank entires, and bank fraud charges.

SDNY does not cite FARA or 951 among the crimes it was investigating.
Nevertheless, the affiant describes how the government came to be interested in Cohen's Essential Consulting account, an account at First Republic that he hid when negotiating how to deal with his taxi medallion business. The account must have come to Mueller's attention because of the FARA/Foreign Agent interest.
Cohen started the account on October 26, 2016. We now know he did so to pay off Stormy Daniels, but even on February 28, 2018, SDNY did not include that among the crimes it was investigating. Cohen told the bank Essential Consulting was a real estate consulting company for which his clients would be domestic individuals, which was one of the false statements he made to his bank. The affidavit notes:
[T]here is probable cause to believe that Cohen's statements and the intended purpose of the account and source of funds for the account were false. Specifically, the account was not intended to receive–and does not appear to have received–money in connection with real estate consulting work; in addition, the account has received substantial payments from foreign sources.
A redaction about a third of a page long follows.
Then, the affidavit describes how a forensic accountant determined the account was used for other purposes, describing five payments. Those payment amounts and sources were:
$583,332,98 from Columbus Nova LLC, which is an investment firm controlled by Viktor Vekselberg's Renova Group
$999,800 from Novartis Instruments
$550,000 from AT&T
$600,000 from Korea Aerospace Industries (KAI)
$150,000 from Kazkommertsbank, a Kazakhstani bank, which was listed on accounts as BTA Bank
Following the description of Columbus Nova, there is a redaction.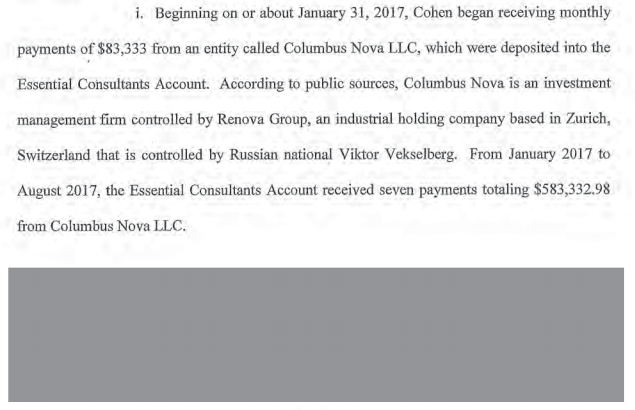 The affidavit then describes that emails and interviews with people at AT&T and Novartis show that the payments were associated with political consulting and notes that they may violate FARA, which this affidavit was not intended to investigate.
the aforementioned payments to the Essential Consultants Account and MDC&A ostensibly were for political consulting work, including consulting for international clients on issues pending before the Trump Administration.10

10 Based on my review of public sources, I have learned that Cohen is not registered as a lobbyist or a person acting as an agent of foreign principals, as may have been required by the Foreign Agents Registration Act.
It then describes emails supporting that claim for just four of the five companies:
In other words, even in the first affidavit, the SDNY Agent includes Columbus Nova, but then drops that out when he substantiates that the account was used for something other than Cohen had told the bank. One way or another, any FARA exposure related to KAI and BTA were still in DC. But Columbus Nova was treated differently than the other foreign entities.
And the discussion of why remains redacted. That may be because nothing ever came of it — though almost $600K is hard to explain away. Remarkably, Republicans remained silent about this payment during Cohen's congressional testimony, even while they made a big deal about his payments from KAI and BTA.
The 18 pages of still-redacted discussion of the hush payments is interesting, because it suggests SDNY continues to pursue that prosecution, a prosecution that features a recording of Donald Trump admitting criminal intent.
But the small redactions around the Columbus Nova payment are far more interesting.
As I disclosed last July, I provided information to the FBI on issues related to the Mueller investigation, so I'm going to include disclosure statements on Mueller investigation posts from here on out. I will include the disclosure whether or not the stuff I shared with the FBI pertains to the subject of the post.