Today, DOJ will have to release a less-classified version of the Mueller Report and another batch of 302s in the BuzzFeed FOIA. Then, after the election, Jason Leopold's lawyers and DOJ start fighting over all the things DOJ withheld, including Mike Flynn's 302 (which DOJ withheld because DOJ is trying to blow up his prosecution and releasing them publicly would make it clear his lies were material).
While we're waiting, I wanted to point to a paragraph from an October 11, 2018 Paul Manafort interview that was wrongly withheld.


DOJ redacted Sean Hannity's name, perhaps to make it harder to demonstrate that Manafort's claim was a lie.
This is a reference to text messages Manafort had with Sean Hannity. Judge Amy Berman Jackson unsealed them during Manafort's sentencing, making them a public official DOJ document. The texts show Manafort acknowledging the gag ABJ imposed.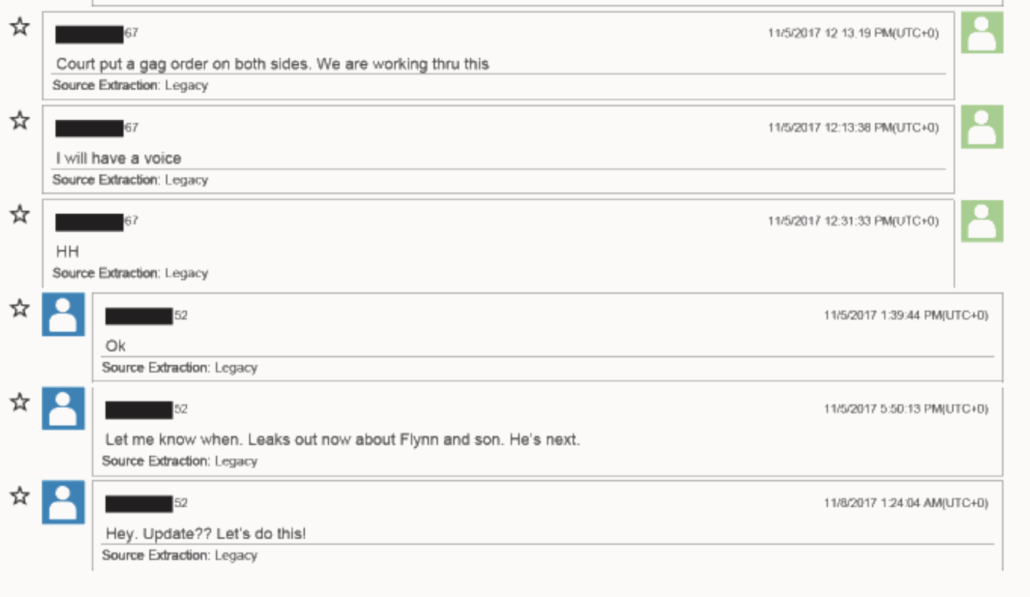 Less than a week later, Manafort says they'll have to hold off on talking until he gets bail, and Hannity passes on what appears to be word from Trump, that unless Jeff Sessions appoints a special prosecutor to investigate Uranium One, he'll be gone.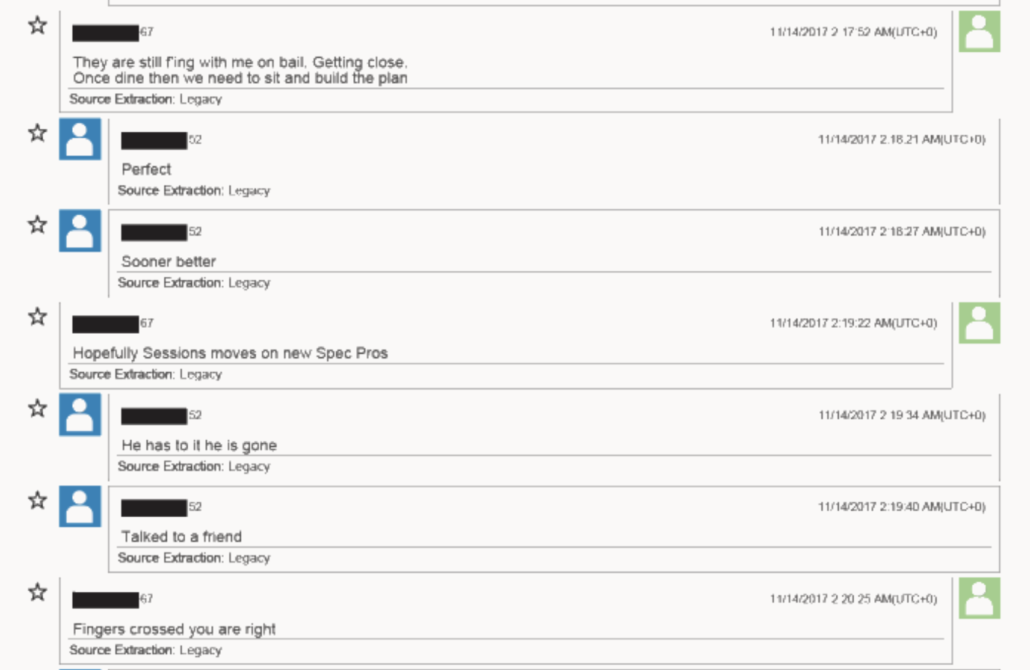 In December, after Mueller's team busts Manafort for working with Konstantin Kilimnik to edit an oped to run in Kyiv, Manafort tells Hannity he has to delay talking to him until they get past a hearing on that violation of ABJ's gag order.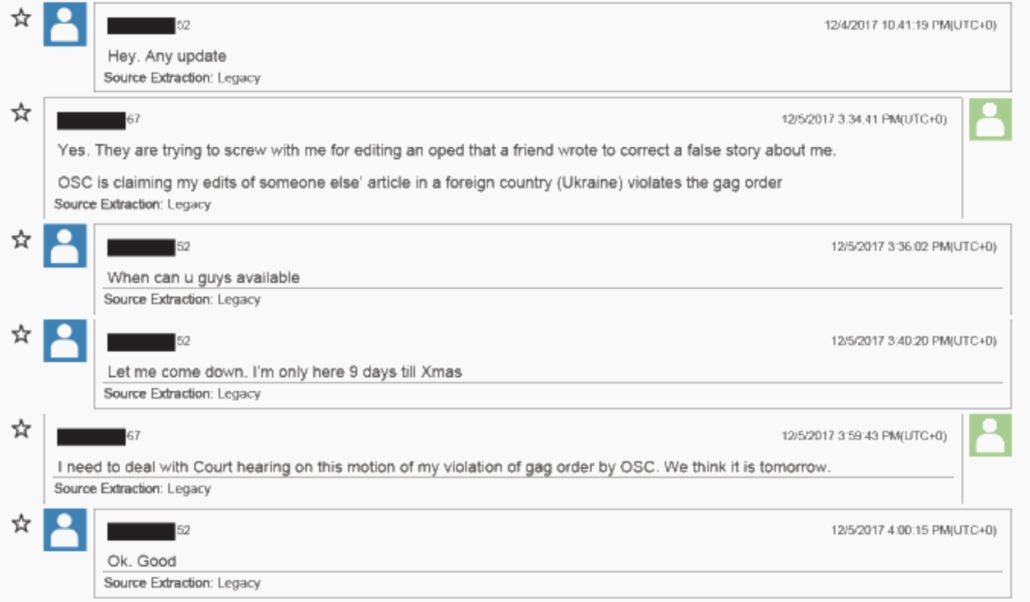 In early January, Manafort talks about having his lawyer (probably Kevin Downing) do an interview with Hannity about a civil suit he filed against Mueller as a way around the gag.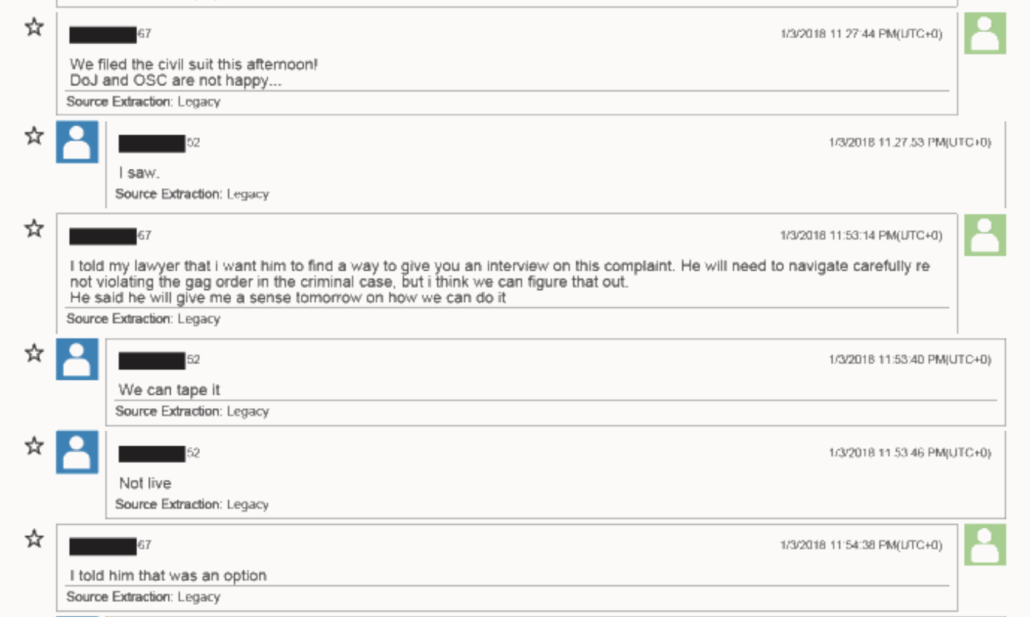 Again in January, Manafort says he needs to have his lawyer meeting with Gregg Jarrett to talk about their plans to try to get Andrew Weissmann thrown off the team.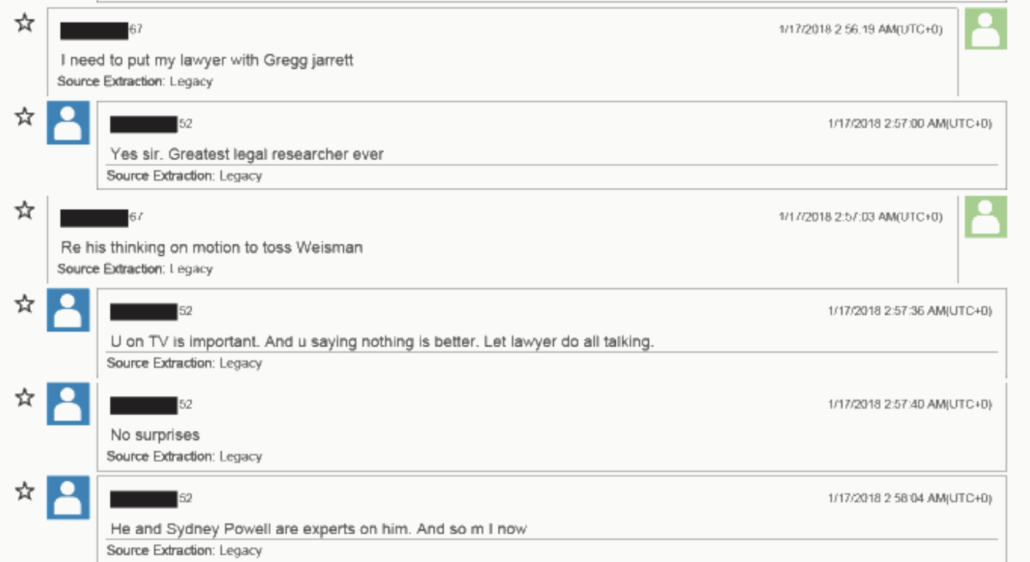 On January 24 and 25, 2018, Manafort tells Hannity that Kevin Downing will be calling him.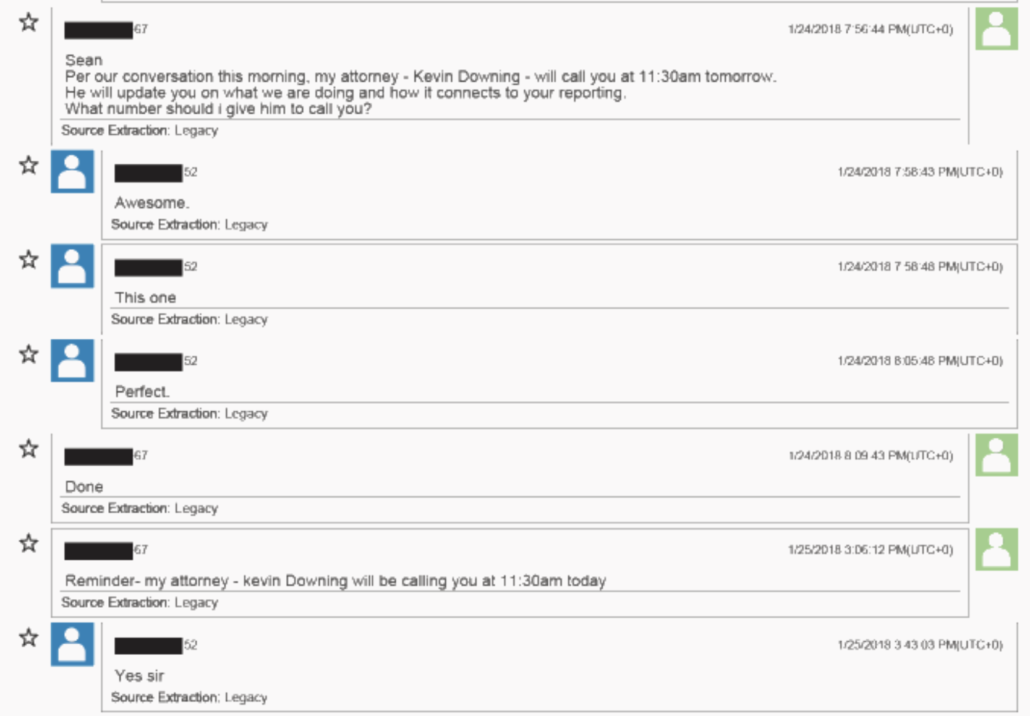 On the 25th, Hannity confirms that he did speak with Downing and insists that Downing feed him "everyday." Manafort says he will.
In May 2018, Manafort tells Hannity to look for his filing claiming the Mueller team was illegally leaking.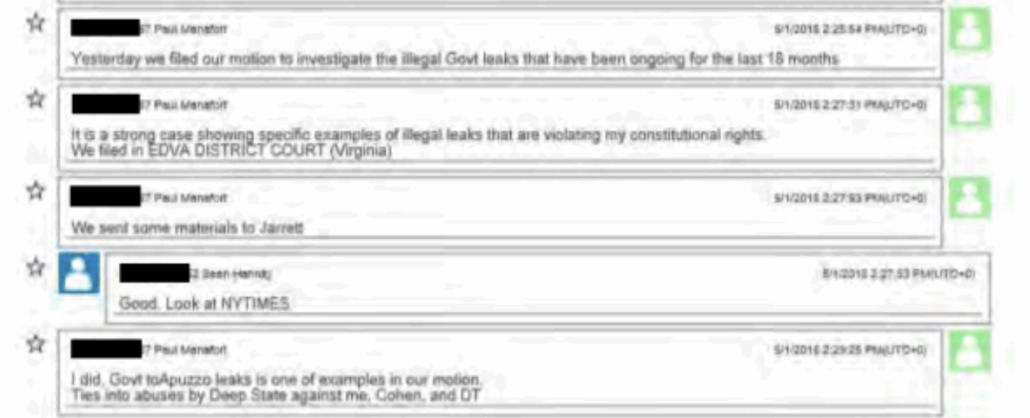 In May, Manafort asks Hannity if he'll pitch his defense fund. Hannity says he will when Manafort and his lawyer are on.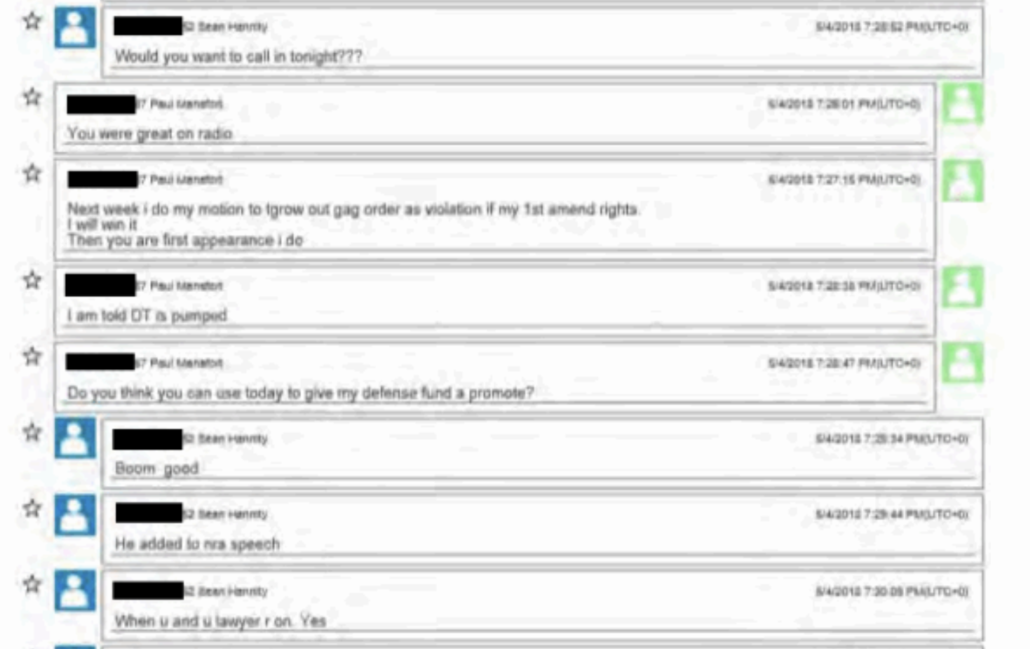 Manafort insists to Hannity that his leaks filing exposes Weissmann misconduct. Hannity explains that Jarrett did not share the filing with him, so asks Manafort to sent it to his (!!!) AOL.Com address.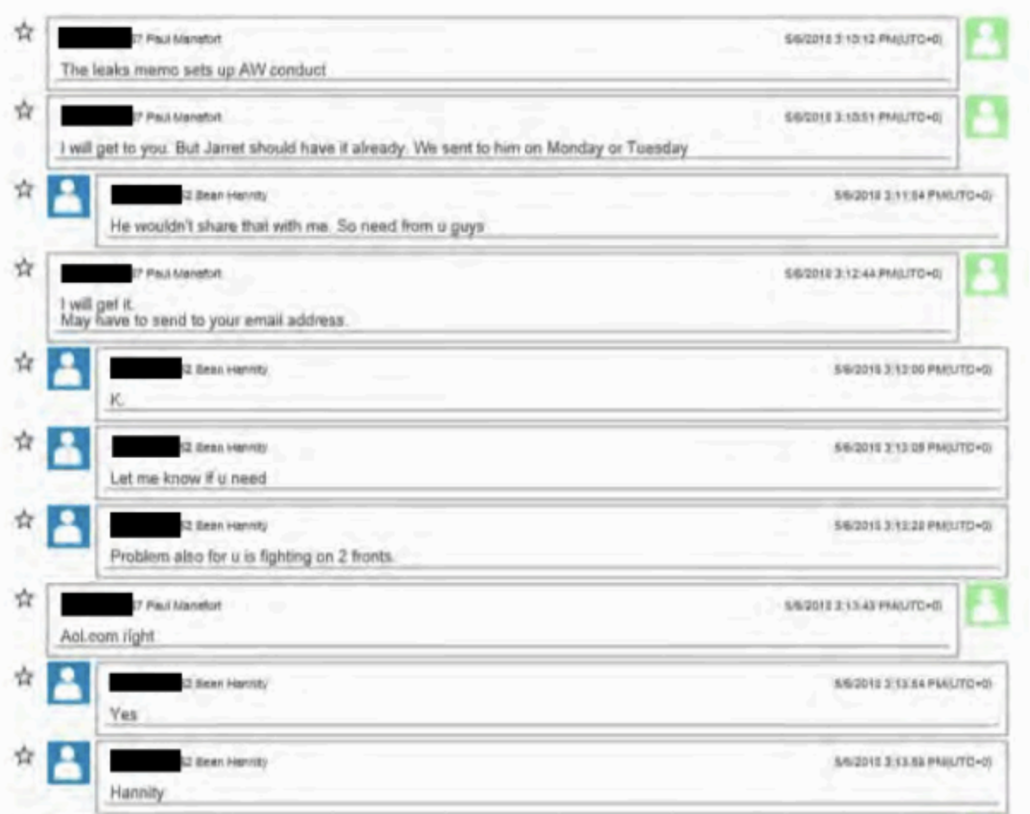 After Manafort gets busted for witness tampering, Manafort texts Hannity and insists it was bullshit.

And then Paulie goes to prison and the texts end.
Throughout the exchanges — particularly with that meeting between Downing and Hannity on January 24, 2018 — it's clear Manafort is feeding Hannity.
And, as Weissmann got permission to include include in his book, the Muller team analyzed the texts and mapped how comments Manafort shared showed up in Hannity's broadcasts.
At the same time the Manafort allies were working Gates over, dangling the prospect of money and a White House pardon, they were also fomenting a press strategy to undermine our office's work, and Team M's case against him in particular. In the spring of 2018, we discovered a new Manafort account he was using after his indictment in October 2017. As we had done countless times before, we obtained a court order from Chief Judge Howell, served it on the carrier, and soon unexpectedly had in our hands hundreds of texts between Manafort and the Fox News host Sean Hannity.

In one text exchange, during the weeks in which we were working to flip Gates, Manafort assured Hannity that Gates would stay strong and never cooperate. In others, he supplied Hannity with a cache of right-wing conspiracy-laden ammunition with which to attack Mueller, me, and the Special Counsel's Office as a whole—some of it, Manafort claimed, had been passed on from sources within the Justice Department. Manafort, who was under house arrest at the time, assured Hannity that Manafort's counsel would be in touch with him. Hannity worked this information into the tirades against us that he performed almost nightly on the air.

At the time, remember, Manafort was under indictment for the same charges as Gates; both were out on bail with strict pretrial conditions. Communicating with Hannity about the case was a violation of the gag order Judge Jackson had put in place on both sides so as not to taint the jury. But Manafort was undeterred by such legal niceties as a court order; he was doing what he did best: surreptitiously cooking up a smear campaign, then using Hannity to disseminate it, thereby contaminating the political discourse.

A Team M analyst correlated the texts to the Hannity Fox News programs that then aired in support of Manafort. The texts revealed a media plan that was just like the work he'd done in Ukraine, targeting President Yanukovych's enemies. Now, however, Manafort was working on his own behalf, launching an assault on a government investigation poised to undo him.

I had wanted to submit the Hannity texts to the court as they revealed a continued flagrant violation of the court's order, and it was something I believed the judge needed to know as it could well change her view on whether Manafort should remain on bail, or at least whether the conditions of his bail should be tightened up. When I told Aaron this, he had his usual reaction: No one could see these texts. "They are too explosive," he said. He did not want the inevitable shit storm that would result on Fox and other media outlets, but that was no excuse for not alerting the court to the violation of her order. (I made clear that the court would have to see them at least in connection with sentencing Manafort as it was our obligation not to hide this from the court, which is how these ended up seeing the light of day.) Soon this latest Grant-McClellan standoff would be largely moot when we discovered Manafort's breach of his bail conditions in a manner that made the gag order violation pale in comparison.
The fact that Weissmann was able to include this detail in his book makes it clear this is not sensitive and, indeed, DOJ considers it public.
And yet DOJ hid the identity of one of the most public men in America to hide the way Fox was running interference for Trump's criminals.