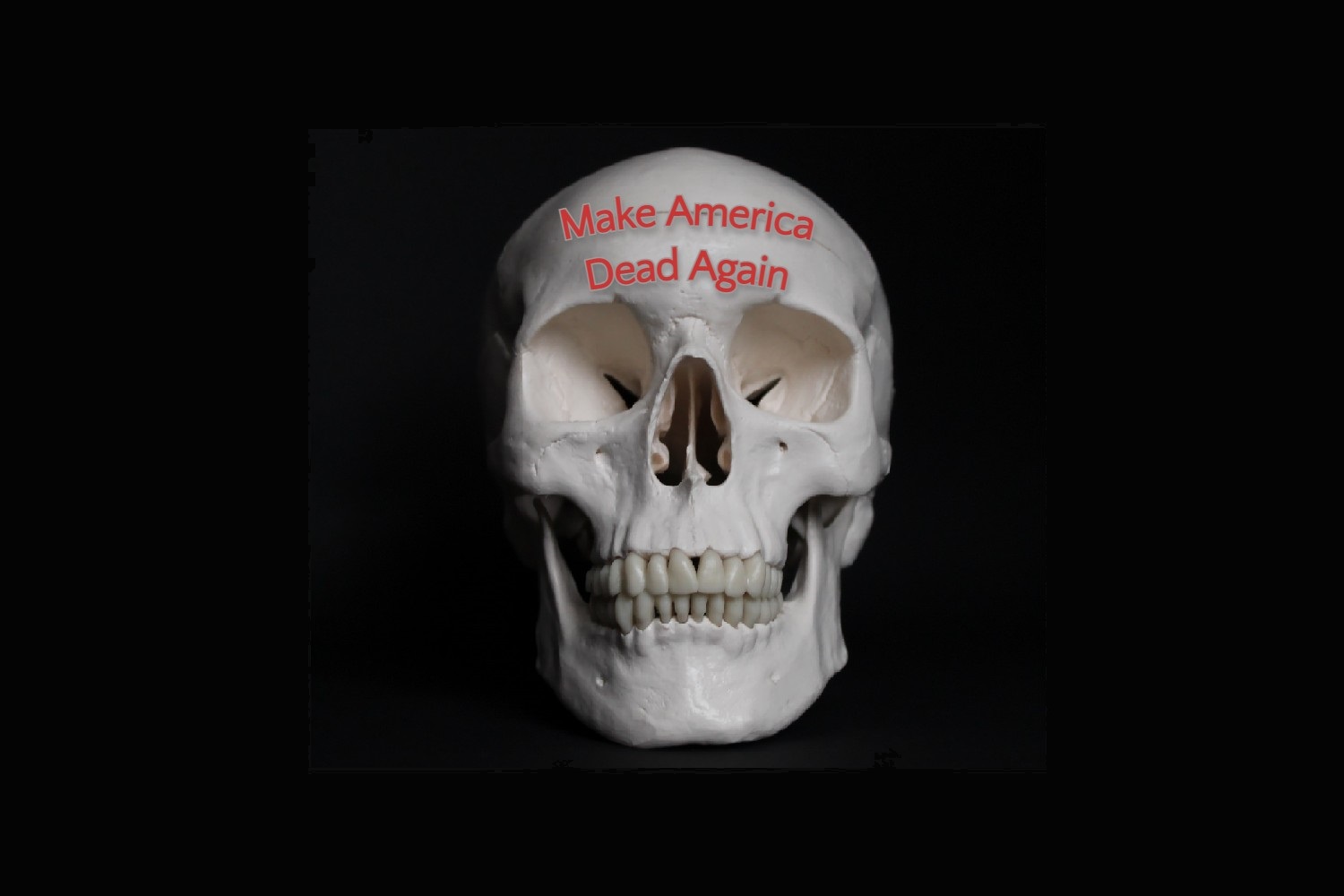 [NB: check the byline, thanks. /~Rayne]
The GOP hasn't stopped since January 6, 2021 and years earlier. They want to wreak maximum damage on this country and blame anybody and everybody but themselves for it.
We're supposed to believe they're the arbiters of what's right for this country but everything they do is demoralizing and destabilizing.
It's almost as if they were acting on behalf of another hostile country.
One only need to look at how the GOP have handled state and federal response to the mass shooting in Uvalde and elsewhere to see they don't care how many Americans die so long as they continue to get their blood money.
GOP memos reveal Uvalde playbook: "Stay cool. Run out the clock. …But don't worry: this moment will be over soon."

It's up to ALL OF US to keep the heat on our elected officials. Text ACT to 644-33. #wearorange #standwithuvalde https://t.co/GXpUCD0c6m

— Shannon Watts (@shannonrwatts) June 4, 2022
If uncontrolled guns were the only damage they inflicted on this country, but no – the Grand Old Party of Death goes wide.
~ 3 ~
The pandemic isn't over. It's not ending because far too many right-wing Americans have been brainwashed by the right-wing ecosphere into believing vaccines, boosters, masks, and social distancing are evil.
The logic fails over and over; it doesn't help when The New York Times continues to run crap by David Leonhardt which undermines encouraging mask wearing up to and including mandates.
It also doesn't help when corporations are too damned greedy to the point of short-sightedness, screwing both their own business and Americans at the same time.
What a mess—7000 flights cancelled this past weekend, hundreds more cancelled this summer. @Delta admits all the #COVID19 cases is wreaking havoc on flights. Maybe Delta's CHO @henrytingmd should not have been so arrogant last month about being post-COVID. https://t.co/Z8aN3Ljsm1 pic.twitter.com/aoUFSiBMbe

— Eric Feigl-Ding (@DrEricDing) May 31, 2022
But it's not just the continued onslaught of disinformation and misinformation which is hurting this country. It's the GOP refusing to keep Americans safe; they've refused to provide funds necessary for vaccines, boosters, therapies, and development of new boosters designed for the current dominant Omicron variants.
15-MAR-2022 — White House begs Congress for Covid funding amid concern about Omicron sister variant
30-MAR-2022 — Biden presses Congress for new COVID funding, gets second booster shot
But Senate Republicans have balked at setting aside additional money, saying they want a full accounting of earlier spending, and House Democrats subsequently rejected a plan to repurpose money already pledged to states.

While federal regulators on Tuesday authorized a fourth shot of vaccine for Americans 50 and older, U.S. officials have said they do not have enough funding to place advance orders for additional vaccine doses to cover all Americans, unless Congress passes the stalled package.
27-APR-2022 — Fact Sheet: Biden Administration Underscores Urgent Need for Additional COVID-⁠19 Response Funding and the Severe Consequences of Congressional Inaction
09-MAY-2022 — U.S. will limit next-generation Covid vaccines to high-risk people this fall if Congress doesn't approve more funding
21-MAY-2022 — As COVID funding runs out, U.S. could see rationing of supplies
Months now they've dragged their feet because it might help Democrats; their party's levels in broken public opinion polls don't fair as badly as Biden's because the media hasn't held them accountable for their intransigence.
The GOP doesn't care a whit if it hurts their own voters because a red state remains red even when the bodies pile up in the morgue.
Despite strong levels of vaccination among older people, Covid killed them at vastly higher rates during this winter's Omicron wave than it did last year 🦚🇺🇸 'Mild.' https://t.co/aiHnSEIZvy

— Spencer Wells (@spwells) May 31, 2022
Older people are the most reliable voters and the ones who vote GOP most often, but these deaths don't matter to the GOP because media about these deaths hurts Democrats more.
It's death by GOP passive-aggression.
~ 2 ~
The GOP wants to kill girls' sports in public education. Ohio is the vanguard leading the way by passing a bill in its state house allowing anybody to contest a minor child's gender identity which would then require a physical examination of the child's genitals if that child is enrolled in a school participating in interscholastic sports.
A few days ago, the Ohio Republicans passed a change to state law that was snuck in at the last minute, under the guise of "protecting" girls sports. https://t.co/gauBPgG8hL

— Pole Vault Power (@polevaultpower) June 5, 2022
Read that Twitter thread and the bill linked in it. That bill is an utter dumpster fire.
It's sexual assault by the state sanctioned by the GOP. It's little different from Larry Nassar's assaults on gymnasts who didn't consent to his abuses; these minors likewise can't consent/dissent and their parents will be obligated to consent on their behalf if the child participates in sports.
The bill doesn't obligate male-identifying minors to go through the same invasive inspection which means this bill is clearly aimed at controlling female-identifying bodies.
It's literally Trumpy "grab 'em by the pussy" governance beginning in K-12 education. It's not small government and it's not freedom; it's anti-trans, anti-LGBTQ+, anti-women Trumpism, and sane parents would rather not allow their children to be subjected to this abuse for the sake of interscholastic sports.
The GOP means death to girls' sports, and in a secondary fashion, death to public education for girls.
Next up: mandatory burkhas – not out of line to assume this since obligatory inspection of girls' bodies is something the Taliban would insist upon.
~ 1 ~
The GOP claims it's the party of life but that ends with birth. They literally don't care if American babies died of starvation.
192 Republicans vote against $28 million for baby formula shortage pic.twitter.com/7hZv4DUe8p

— Acyn (@Acyn) May 19, 2022
They also don't give a flying fuck if children starve, assuming they aren't already dead from mass shootings.
Did you know that 10M children will NO longer get free school lunches if Congress fails to act by June 30? Neither did I! Neither do the children! #EndHunger https://t.co/89UeJXxHUk

— Peter Morley (@morethanmySLE) June 5, 2022
Morley pointed out the provision for funding school lunches was in the Build Back Better bill which the GOP rejected.
Stay cool this summer, kiddies, and starve; thank the GOP while you do so.
The GOP is about as helpful to America's children as Uvalde TX police at a mass shooting.
~ 0 ~
Regular community members consider yourselves warned this week could see a surge in trolls and trolling. The right-wing has been casting about for an approach to offset the anticipated bad news coming from the House J6 Committee hearings this week; so far they haven't settled on one thing partly because they are dealing with blowback about gun rights and police militarization. They've tried blaming Antifa repeatedly; some of the insurrectionists who attacked the Capitol claim the Capitol Police set them up and Antifa was responsible.
Sure, sure. Looks like a set up.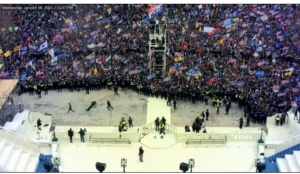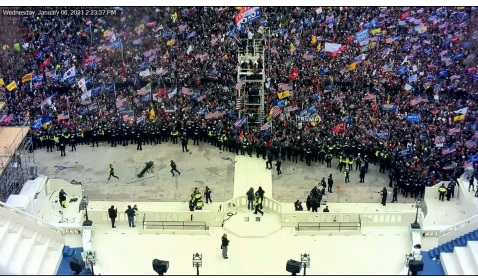 But the head troll has sent up a bat signal for the fascist horde to flood the zone with their usual shit.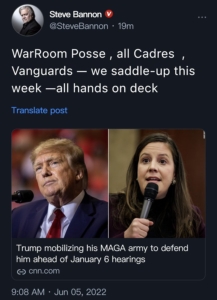 Let's not forget this bat signal isn't just about the January 6 hearings but about Bannon's own butt. His contempt of Congress case is back in court on June 15, coincidentally 10 days after this shout for troll mobilization.
There will be much less tolerance for bullshit here primarily because there will be more bullshit than moderators to shovel it. Bear with us, thanks.
https://www.emptywheel.net/wp-content/uploads/2022/06/MAGA-Death.jpg
1000
1500
Rayne
https://www.emptywheel.net/wp-content/uploads/2016/07/Logo-Web.png
Rayne
2022-06-06 11:18:46
2022-06-06 11:31:10
3 Things: GOP's Continuing Deadly Assault on America