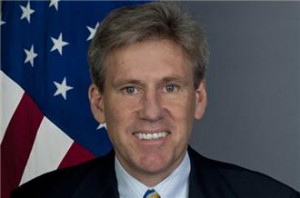 The US Ambassador to Libya, Christopher Stevens, was killed earlier today in an attack on the Consulate in Benghazi.
An armed mob attacked and set fire to the building in a protest against an amateur film deemed offensive to Islam's Prophet Muhammad, after similar protests in Egypt's capital.

The ambassador was paying a short visit to Benghazi when the consulate came under attack on Tuesday night, Al Jazeera's Suleiman El-Dressi reported from the eastern Libyan city.

He died of suffocation during the attack, along with two US security personnel who were accompanying him, security sources told Al Jazeera. Another consulate employee, whose nationality could not immediately be confirmed, was also killed.
Earlier in the attack, there was another Consular employee killed.
And in our Embassy in Cairo, protestors pulled down the American flag and replaced it with an Islamic one–reportedly an al Qaeda one. There were reports that Ayman al-Zawahiri's brother was involved in the Egyptian attack.
Note that Stevens was also the liaison with the Libyan National Transitional Council. This man helped Libya overthrow Moammar Qaddafi. Already, there have been a lot of condemnations of the killing from Libyans and other Arabs.
Details about both attacks are still coming out, and State is trying to play down the degree to which Salafists were involved in both. I'll be curious to learn whether the mob had reason to know Stevens was at the Consulate when they attacked.
Condolences to Stevens' family and the families of all of those killed in these attacks.
https://www.emptywheel.net/wp-content/uploads/2016/07/Logo-Web.png
0
0
emptywheel
https://www.emptywheel.net/wp-content/uploads/2016/07/Logo-Web.png
emptywheel
2012-09-12 06:56:13
2012-10-04 12:56:48
US Ambassador Christopher Stevens Dies in Attack on Benghazi Consulate