Yesterday, six US service members died in a helicopter crash in the Sinai Peninsula.
A UH-60 Black Hawk helicopter belonging to a US-led international peacekeeping force crashed in Egypt's Sinai region on Thursday, killing eight people, including six Americans, officials said. One wounded US service member was airlifted to a hospital in Israel by Israeli Defense Forces (IDF).

"During a routine mission in the vicinity of Sharm el-Sheikh, Egypt, nine members of the Multinational Force and Observers (MFO) were involved in a helicopter crash," the force said in a statement posted on its website.
As the WaPo pointed out, Joe Biden offered condolences to their families. Trump did not. He was too busy rage-tweeting and harming democracy.
Meantime, national security actions and requests for briefings from the president are drying up, the person said, and the team preparing updates for Biden and Vice President-elect Kamala D. Harris is "very frustrated."

It was Biden who offered the first public condolences to the families of the service members who died in Egypt. "I join all Americans in honoring their sacrifice, as I keep their loved ones in my prayers," he wrote on Twitter in the early afternoon Thursday.

By that time, Trump had issued nearly four dozen critical tweets and retweets about the election results and Fox News, including a baseless conspiracy theory from a far-right television network that alleged votes had been improperly tallied in Pennsylvania. He also found time to thank actor Scott Baio for posting a photo of a craft store's candle display, which had been arranged to spell out, "Trump is still your president."
But it's not just President Trump — who focused his first election campaign on Hillary's purported negligence during the Benghazi attack that killed four Americans — who let six Americans die with little notice.
It's also newly installed Secretary of Defense Christopher Miller. As Barbara Starr noted on Twitter yesterday, it took over two hours after the deaths were announced before Miller issued condolences, and the Joint Chiefs did not make a statement until after she first tweeted it.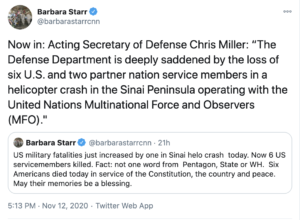 This is the kind of thing that, in a normal era, works like clockwork in the Pentagon.
But yesterday, days after Devin Nunes flunky Kash Patel was installed as Chief of Staff at DOD, that clockwork failed.
Kash Patel has done a spectacular job, throughout the Trump Administration, of ensuring that accurate information doesn't get to his principals, whether that's Nunes, Trump himself (Patel was at NSC pretending to be an expert on Ukraine during impeachment), presumably at ODNI when he led a house-cleaning effort there, and now DOD.
But there's no reason to believe that preventing people from getting accurate information translates into being an effective Chief of Staff for one of the world's biggest bureaucracies.
I guess it's up to the Republicans who are enabling this attack on the country by the Lame Duck President to decide how much damage they want Trump's flunkies to do in the interim.
https://www.emptywheel.net/wp-content/uploads/2020/11/Miller-scaled.jpeg
2560
2048
emptywheel
https://www.emptywheel.net/wp-content/uploads/2016/07/Logo-Web.png
emptywheel
2020-11-13 08:26:31
2020-11-13 12:25:41
Gate-Keeper for Propaganda Kash Patel Failed His First Test as DOD Chief of Staff