Barton Gellman, at the beginning of the worthwhile video above, addresses something I addressed here: the only way the government can claim they haven't "abused" the rules governing NSA activities is by treating all abuse done in the name of the mission as a mistake.
The President, like a lot of people who work for him, has a very narrow definition of two key words in that passage. One is "abuse" and the other is "inappropriately." As the government depicts it — and this is language it's using that it does not, frankly, explain.

Abuse — the only kind of abuse that exists would be if, say, an NSA employee were to stalk his ex-wife or spy on movie stars or something of that nature. If they are performing the mission that the NSA wants them to perform, and nevertheless overstep their legal authority, make unauthorized interceptions or searches or retentions or sharing of secret information, that is not abuse, that's a mistake.
That's how they get to pretend the 9% to 20% of violations in which a person does not follow the rules seemingly intentionally (these are distinct from human error and training violations) does not constitute an abuse.
With that in mind, I wanted to look more closely at what the audit report says about how errors are found, as shown primarily in this figure: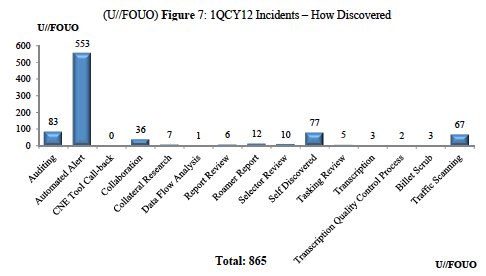 That looks pretty good on the face, with 64% of all violations found via automated alert, plus a few more — data flow analysis and traffic scanning — that involve technological review.
But this detail on the roamer problem (in which valid foreign targets continue to be targeted when they travel to the US) explains what that's not all that impressive.  Continue reading →