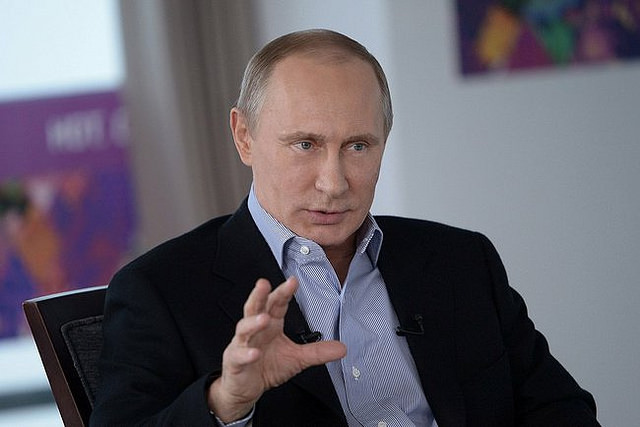 Dmitry Peskov, Putin's spox, has now responded to the reports that Michael Cohen wrote him, at Felix Sater's instructions, to do something that might get Trump elected. Effectively, he said his job was not building skyscrapers.
Peskov confirmed that his office had located a copy of the email, which said the development deal wasn't moving forward and requested support.

He said the email was sent to the public "Press Office of the Kremlin" address — which receives thousands of queries, relevant or otherwise — and denied knowing Cohen personally.

"This email said that a certain Russian company together with certain individuals is pursuing the goal of building a skyscraper in the 'Moscow City' district, but things aren't going well and they asked for help with some advice on moving this project forward," Peskov said. "But, since, I repeat again, we do not react to such business topics — this is not our work — we left it unanswered."
Bloomberg's Russian correspondent (not sure if she's there or here) described Peskov's comments as addressing two of the details not covered by CNN: Peskov denied knowing both Cohen and Sater. And Peskov said the issue was not discussed with Putin.
No further emails were sent and Peskov said the subject wasn't discussed with President Vladimir Putin.

[snip]

Peskov said he didn't know Cohen or Felix Sater, an associate of Trump's that Cohen said recommended he email the Kremlin.
Also, Ivanka didn't sit on Putin's chair or lap.
Peskov said Ivanka Trump didn't visit Putin's office or sit in the president's chair.
Still, none of the competing sides of this story explain the underlying question, which I laid out
here
, nor do they deny communications about topics other than these "business topics." In November, Sater had a deal that, he thought, might lead to his buddy becoming President. Purportedly, that deal was about building a Trump Tower in Moscow, and required only that Vladimir Putin say nice things (which, as it turns out, he did start saying).
Peskov dismisses the possibility that the reported deal went anywhere because — he explains — he's not in the business of skyscrapers.
But if Sater's intended deal was something else, would Peskov be in that business?
https://www.emptywheel.net/wp-content/uploads/2016/10/Putin.jpg
427
640
emptywheel
https://www.emptywheel.net/wp-content/uploads/2016/07/Logo-Web.png
emptywheel
2017-08-30 13:13:16
2017-08-30 13:21:21
Dmitry Peskov: Building Skyscrapers Is Not Our Work [But Is Stealing Elections?]