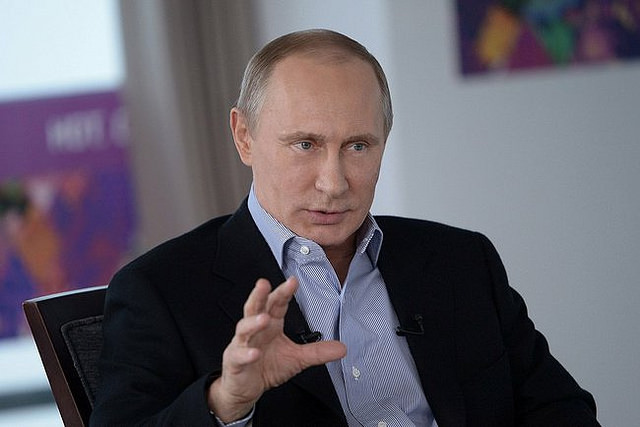 As the WaPo reported, when Donald Trump called Vladimir Putin yesterday, he ignored his aides' instructions not to congratulate Putin for winning reelection. He also ignored their instructions to condemn Putin for trying to kill Sergei Skripal.
Trump also chose not to heed talking points from aides instructing him to condemn Putin about the recent poisoning of a former Russian spy in the United Kingdom with a powerful nerve agent, a case that both the British and U.S. governments have blamed on Moscow.
That story is all the more interesting given the circumstances surrounding the call. The US readout of the call, posted only after Russia revealed it took place, doesn't say that the White House initiated the call. The call … just happened.
President Donald J. Trump spoke today with President Vladimir Putin of Russia. The two leaders discussed the state of bilateral relations and resolved to continue dialogue about mutual national security priorities and challenges. President Trump congratulated President Putin on his March 18 re-election, and emphasized the importance of denuclearizing the Korean Peninsula. The two leaders confirmed the need for the United States and Russia to continue our shared efforts on strategic stability.
But if you're going to call someone — anyone — after they've just won an election, you're going to congratulate them. Trump even called Turkish president Erdogan last April after he won a referendum to make authoritarian changes to the Turkish Constitution.
And, as the Kremlin readout makes clear, it was the White House's idea to make the call. It's right there in the title, and the first words emphasize the congratulations Trump offered Putin (unless I'm mistaken, the readouts of other leader calls don't emphasize that the counterparty initiated the call).
Vladimir Putin had a telephone conversation with President of the United States Donald Trump at the latter's initiative.

Donald Trump congratulated Vladimir Putin on his victory in the presidential election. [my emphasis]
Given all that — given that Russia lorded over the way Trump simpered up to Putin — I'm particularly interested in this paragraph of the Russian readout (the second-to-last). [Update: Clarifying that I meant to refer to the Turkish, South Ossetian, and Jordanian congratulatory calls provided in Russian.]
It was agreed to develop further bilateral contacts in light of the changes in leadership at the US Department of State. The possibility of organising a top-level meeting received special attention.
Russia basically says that "it was agreed" (an interesting use of the passive voice) that the US and Russia could start cozying up together now that Rex Tillerson is out of the way!!! It's as if this call was not just Trump bowing to Putin, but Trump checking in after firing Tillerson just one day after Tillerson — in his last speech save his farewell remarks — condemned Russia for attempting to assassinate Sergei Skripal. Here's what Tillerson said right before he got fired:
The United States was in touch with our Allies in the United Kingdom ahead of today's announcement, including in a call between Secretary Tillerson and Foreign Secretary Johnson this morning. We have full confidence in the UK's investigation and its assessment that Russia was likely responsible for the nerve agent attack that took place in Salisbury last week.

There is never a justification for this type of attack – the attempted murder of a private citizen on the soil of a sovereign nation – and we are outraged that Russia appears to have again engaged in such behavior. From Ukraine to Syria – and now the UK – Russia continues to be an irresponsible force of instability in the world, acting with open disregard for the sovereignty of other states and the life of their citizens.

We agree that those responsible – both those who committed the crime and those who ordered it – must face appropriately serious consequences. We stand in solidarity with our Allies in the United Kingdom and will continue to coordinate closely our responses.
I'm actually not all that surprised Trump congratulated Putin; it's consistent with his past behavior. The more alarming victory lap in this phone call pertains to Putin's victory lap over Rex Tillerson.
---
I'm including this exchange from yesterday's Trump presser, as another example of how much Putin has Trump cowed. Note Trump's emphasis on some purported arms race. Yes, Putin is waggling his new nukes around. But the more interesting arms race involves cyber.
Q How was your call with President Putin?

PRESIDENT TRUMP: I had a call with President Putin and congratulated him on the victory — his electoral victory.

The call had to do, also, with the fact that we will probably get together in the not-too-distant future so that we can discuss arms, we can discuss the arms race. As you know, he made a statement that being in an arms race is not a great thing. That was right after the election — one of the first statements he made.

And we are spending $700 billion this year on our military, and a lot of it is that we are going to remain stronger than any other nation in the world by far.

We had a very good call, and I suspect that we'll probably be meeting in the not-too-distant future to discuss the arms race, which is getting out of control, but we will never allow anybody to have anything even close to what we have. And also to discuss Ukraine and Syria and North Korea and various other things.

So I think, probably, we'll be seeing President Putin in the not-too-distant future.
Update: CNN reports that Trump is furious that it leaked that he had ignored his aides' instructions. But I don't rule out Trump leaking it himself. It'd give him a good excuse to fire HR McMaster (so Putin could receive another simpering call from Trump and lord over that Trump is firing the people he doesn't like).
https://www.emptywheel.net/wp-content/uploads/2016/10/Putin.jpg
427
640
emptywheel
https://www.emptywheel.net/wp-content/uploads/2016/07/Logo-Web.png
emptywheel
2018-03-21 09:12:45
2018-03-21 16:27:33
"DO NOT CONGRATULATE:" Putin Does a Victory Lap — Over Rex Tillerson