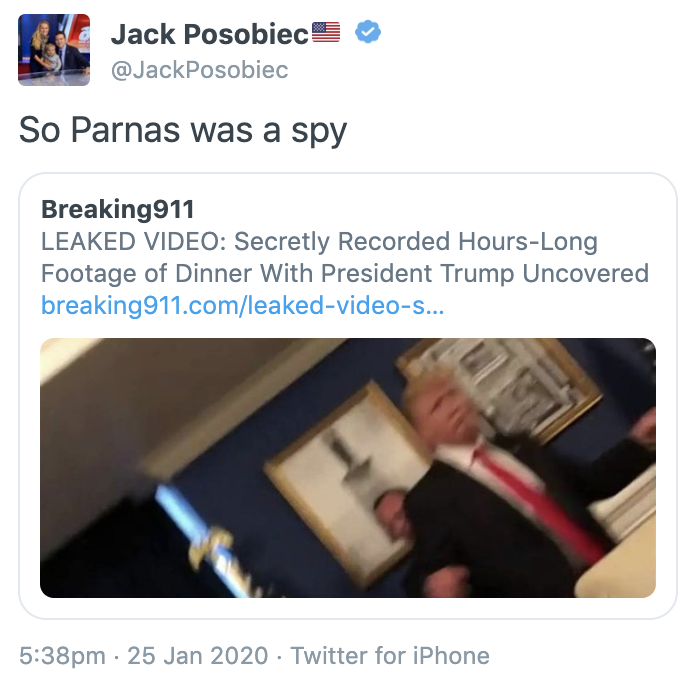 Propaganda and Flattery: Jack Posobiec Parrots Adam Schiff's Case for Impeachment
Several members of the frothy right have listened to the recording Igor Fruman made of a dinner with Trump in April 2018 and declared that Parnas and/or Fruman must be a spy.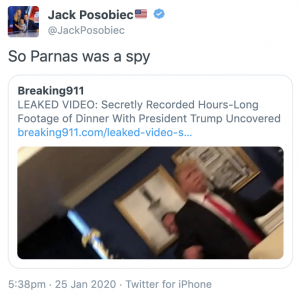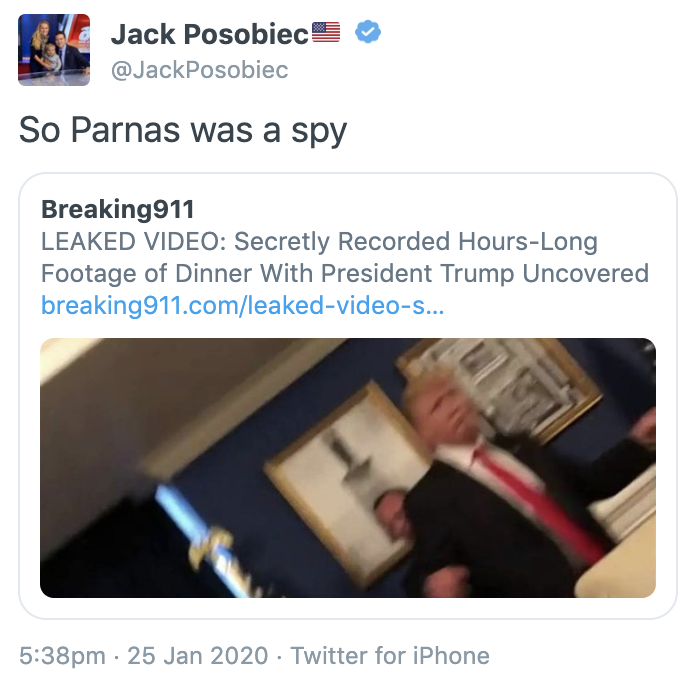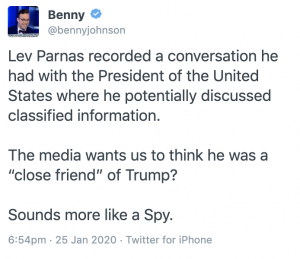 And while neither of these men seem to have figured out that Fruman, not Parnas, reportedly made this recording, their assessment is not as crazy as most frothy conspiracies. After all, the government has very pointedly not denied that it had a FISA order on one or another of the grifters (one that Bill Barr would probably have known about if not approved personally). If the government did have a FISA order, it means the FBI showed the FISA court there was probable cause that one of these guys was clandestinely working as an agent of a foreign power. And WSJ suggested that the reason SDNY is not interested in a cooperation deal with Parnas is because he will not admit he got Marie Yovanovitch fired — precisely the ask recorded on this video — at the behest of some Ukrainian.
At a meeting with prosecutors from the Manhattan U.S. attorney's office late last year, people familiar with the matter say, Mr. Parnas's attorney disputed that he pushed for the removal of the U.S. ambassador to Ukraine at the behest of a Ukrainian official—one of the charges in the campaign finance indictment.
So prosecutors, this time, appear to suspect that Jack Posobiec may be right, that when Parnas and Fruman made this recording they were working as clandestine agents of a foreign government.
Mind you, Posobiec and Benny Johnson, having not even figured out that Fruman made the recording yet, have assuredly not thought through what this means.
It means that someone they believe is a "spy" could gain direct access to Donald Trump with no more than the promise of a $325,000 campaign donation. It means that a "spy" could incite Donald Trump to take a certain policy action — one that happens to be one that corrupt oligarchs in Ukraine and Russia would support — with no more than a bunch of lies about what the US Ambassador had said. It means that these "spies" further managed to become business partners with the President's defense attorney. One of these "spies" even managed to become an auxiliary member of the President's Mueller defense team, privy to sensitive secrets about how he would successfully obstruct that investigation.
Having made Rudy Giuliani their agent, these "spies" managed to use him to supplant the beliefs of the US government, not just the professional Deep State, but a bunch of solidly Republican Trump appointees up to and including John Bolton. It means these "spies" used Rudy to get Trump to believe conspiracy theories ginned up by foreign government officials. And it means these "spies" managed to get the President to take actions that gave Russia an advantage in their war against Ukraine.
With little more than propaganda and flattery — and some money laundered through a shell company — these "spies" managed to alter the stated policy of the United States. That is the direct implication of Posobiec's allegation.
As it happens, that's precisely the same argument House Impeachment Manager Adam Schiff made on Friday (h/t Crooks & Liars for the video).
Admittedly, Schiff was focusing on a slightly different set of propaganda talking points, that Ukraine interfered in the 2016 election rather than Russia. But the model by which President Trump came to reject the conclusion of our intelligence community and instead parrot the words that Vladimir Putin gave him are the same: flattery and propaganda.
I'm sure you remember this. It was I think unforgettable for every American. But I'm sure it was equally unforgettable for Vladimir Putin. I mean, there he is, the President of Russia, standing next to the President of the United States, and hearing his own Kremlin propaganda talking points coming from the President of the United States.

Now, if that's not a propaganda coup I don't know what is. It's the most extraordinary thing. It's the most extraordinary thing. The president of the united states standing next to the president of Russia, our adversary, saying he doesn't believe his own intelligence agencies. He doesn't believe them. He's promoting this crazy server theory cooked up by the Kremlin. Right next to the guy that cooked it up. It's a breathtaking success of Russian intelligence. I don't know if there's ever been a greater success of Russian intelligence.

Whatever profile Russia did of our president, boy, did they have him spot on. Flattery and propaganda. Flattery and propaganda is all Russia needed. And as to Ukraine, well, they needed to deliver a political investigation to get help from the United States. I mean, this is just the most incredible propaganda coup.

Because as I said yesterday, it's not just that the President of the United States standing next to Vladimir Putin is reading Kremlin talking points. He won't read his own national security staff talking points but he will read the Kremlin ones. But it's not just that he adopts the Kremlin talking points. That would be bad enough. It is not bad enough, not damaging enough, not dangerous enough to our national security that he's undermining our own intelligence agencies. It's not bad enough that he undermines those very agencies that he needs later that we need later to have credibility.

[snip]

How do you make that argument as the President of the United States when you just told the world you trust the Russians more than your own people? You trust Rudy Giuliani more than Christopher Wray. How do you make that case? If you can't make that case what does that mean to our security? But that's not the end of it. It's not just a propaganda coup. It is not just the undermining of our agencies.

It is also that the buy-in to that propaganda meant that Ukraine wasn't going to get money to fight the Russians. I mean, that's one hell of a Russian intelligence coup. They got the President of the United States to provide cover for their own interference with our election. They got the President of the United states to discredit their own intelligence agencies, to drive a wedge between the United States and Ukraine, the President of the United States to withhold aid from Ukraine in a war with Russia, in a war claiming Ukrainian lives every week.

Has there ever been such a coup? I would submit to you in the entire length of the Cold War the Soviet Union had no such success, no such success and why? Because a former mayor of New York persuaded a president of the United States to sacrifice all of that. Was it worth it? I hope it was worth it. I hope it was worth it. For the president. Because it certainly wasn't worth it for the United States.
To be sure, Posobiec has barely started to figure out that grifters with some laundered money and sweet talk can get this President to adopt policies contrary to those Congress and Trump's entire national security establishment think is best. He's far from adopting Schiff's view that a President who can be manipulated so easily by flattery and propaganda is unfit to be President. He presumably still believes that Trump can't be impeached for extorting Ukraine campaign assistance because, as President, Trump can set whatever policy he wants; if Posobiec believes that, though, he should account for the fact that someone he believes is a "spy" got Trump to adopt that policy.
But Posobiec has nevertheless made the same argument that Schiff made Friday: that what he sees on this recording is a "spy" who managed to get close to Trump, tell him something guaranteed to trigger his narcissism, in response to which Trump took action.
https://www.emptywheel.net/wp-content/uploads/2020/01/Screen-Shot-2020-01-26-at-8.05.36-AM.png
692
694
emptywheel
https://www.emptywheel.net/wp-content/uploads/2016/07/Logo-Web.png
emptywheel
2020-01-26 09:01:40
2020-01-26 09:12:23
Propaganda and Flattery: Jack Posobiec Parrots Adam Schiff's Case for Impeachment