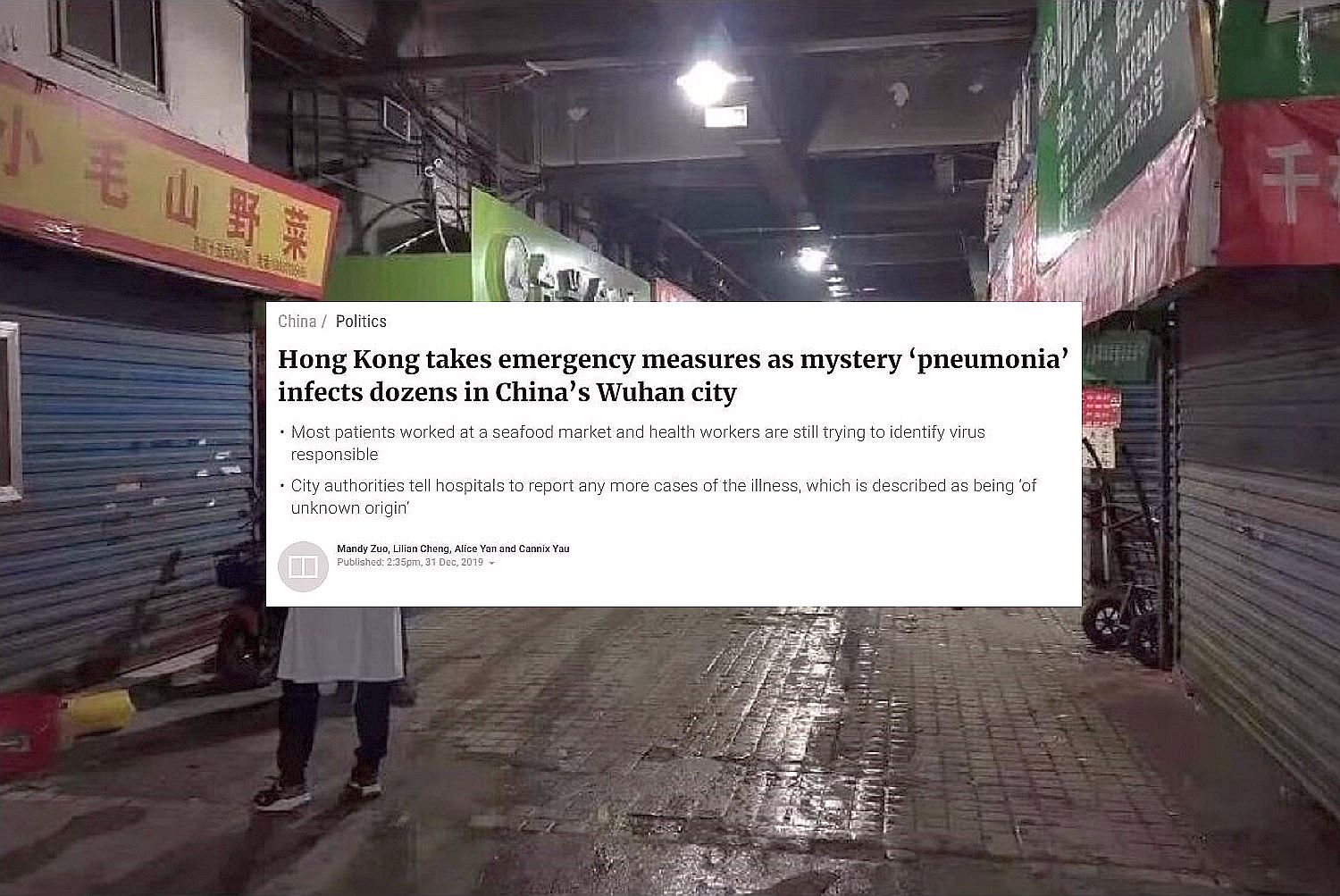 [Check the byline — yes, it's me!/~Rayne]
"But the president said nobody could see this coming!" the Trumpists say.
Trump actually said, "No one knew this was going to happen! No one saw this coming!"
Bull shit. Bull. Shit. Lying, fibbing, prevaricating bullshit.
Community members have already seen this in comments, but it bears repeating because the propaganda machine is trying to grant absolution to Trump for his gross failure to act from January onward.
I saw this on New Year's Eve in my Twitter feed. It was publicly available and should have given pause to anyone charged with this nation's security. This is what SARS looked like when it started in late 2002 — but the Chinese government didn't report it to WHO until February 2003.
This time a commercial media outlet may have reported the outbreak within 4-5 weeks of the index case.

Don't tell me our intelligence community didn't already know about this outbreak.
Don't tell me Trump and White House personnel couldn't and wouldn't already have been notified.
It was right there in front of anyone who could read the news, begging for further investigation.
Why was Hong Kong so anxious about this — and why wasn't the White House especially given the heightened tensions at the time between Hong Kong, China, and the U.S.?
What was so "mysterious" about this virus? Why wasn't it already recognized?
How were the dozens who were infected being treated?
Was this pneumonia another SARS?
If CDC 'knew' three or four days after this article there was a new SARS-like illness, why did nothing come out of CDC for the public?
There are no good answers to this. There are only more questions.
Did the CDC's director simply not do his job?
Did the National Security Adviser not do his job?
Did Trump not do his job?
Well, we know the answer to the that one: Trump chose not to act. We just don't know exactly what happened at the top of the CDC and NSC. We know the NSC was also hampered by the loss of the pandemic response team, killed by then- National Security Adviser John Bolton in 2018.
We don't know if Trump's decision was ignorance,  arrogance, or a belief that hiding this would prevent any damage to his re-election campaign.
Which suggests stupidity was a key factor since Trump could have come out looking like a hero had he simply made a little effort. He could have pointed to successfully preventing a pandemic and done all the self-applied back patting he wanted.
But no. He did absolutely dick-doodley-squat.
Worse, he claims now, "Hoocoodanode?"
Bull shit. Bull. Shit. Lying, fibbing, prevaricating bullshit.
And now people are literally dying because of Trump's bullshit, including his obscene attempt to practice medicine without a license claiming an anti-malarial was approved by the FDA for use against COVID-19.
There's more blood on his hands; there will be yet more. How many more lives will he claim before we figure out how to work around his fatal bullshit?
Let's not forget that the Republican Party owns this mess. He's theirs. They tied their wagon to his. They could have removed him but they were afraid of his mean tweets.
And now their base — elderly voters — are most at risk of dying during this pandemic Trump could have headed off. The same elderly voters are also at risk of losing their lifetime savings as the economy crashes because Trump still can't manage his way out of a wet paper bag. Where will the GOP call for easy donations after Trump kills off their base?
One more thing: Trump and his administration have been told what to expect from best and worst case scenarios, and those in between as recently infected persons become sick and need medical attention, and as contagion spreads.
They've also been told what will happen to our health care system, how burdened our for-profit hospitals will be and how short of ICU beds and ventilators and personal protection equipment we'll be.
In some cases, how short we already are and have been.
Trump has done very little about the PPE, left the states to fend for themselves. A few hundred masks from the federal strategic reserve for any one state won't go far when a single large hospital can use thousands a day during normal business. Suggesting masks should be reused revealed not only Trump's gross ignorance and cheapness but a shocking lack of understanding about basic infection control.
In spite of estimates which have surely made it to the CDC and DHS, and estimates from the American Hospital Association we've seen here more than two weeks ago, the administration has done little to nothing to meet the anticipated shortfall.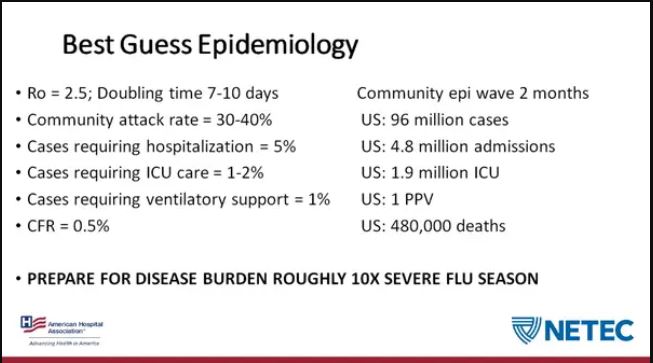 This estimate now appears on the light side and yet almost nothing has been done to help hospitals fulfill patients' needs as they are today, let alone what they will be as the full depth of the pandemic wave hits.
Naval hospital ships arriving in another 3 to 4 weeks time are an insult not unlike the fatal insult Trump offered to Puerto Rican Americans in 2017.
"Hoocoodanode" won't fly here. There's no excuse. Trump and his minions were warned.
They own every American death for their failure to fulfill their duty to this nation.
This is an open thread.
https://www.emptywheel.net/wp-content/uploads/2020/03/SCMP_COVID19_31DEC2019.jpg
1003
1500
Rayne
https://www.emptywheel.net/wp-content/uploads/2016/07/Logo-Web.png
Rayne
2020-03-24 08:00:18
2020-03-24 02:57:28
Calling 'Bullshit' on Trump's Hoocoodanode