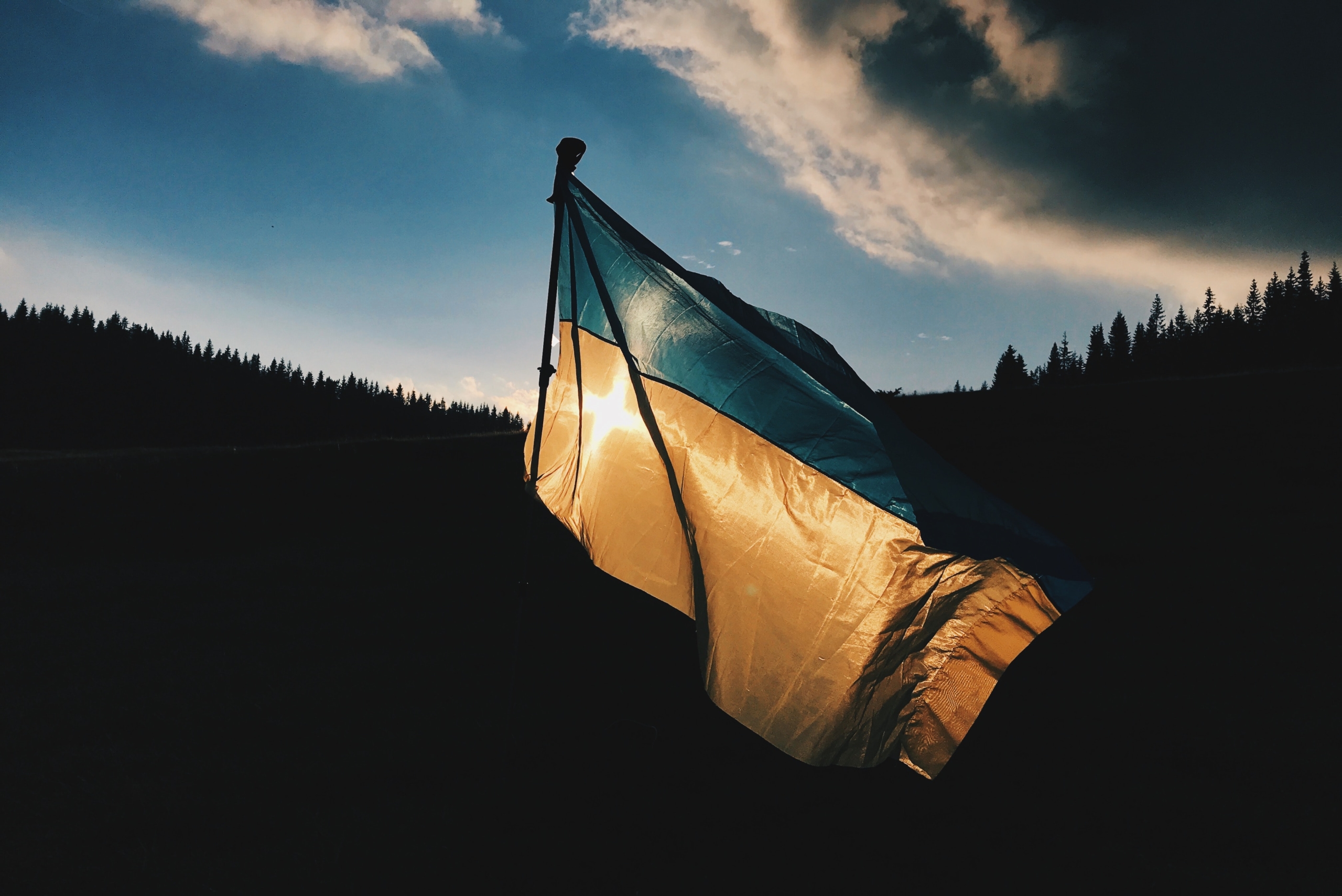 Three Things: Part 3 — Putin's Particular Peculiarities
[NB: check the byline as usual, thanks. /~Rayne]
In spite of Anna Colin Lebedev's persuasive tweet thread encouraging us to focus on the internal rationality of Putin's goals and how Putin may achieve those aims, it's difficult not to ask what's going on with Putin.
The images we've seen of him recently show him at more than 10-12 feet away from others though he is uniformly unmasked.
The big long meeting table with France's President Emmanuel Macron: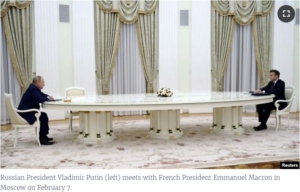 The February 21 meeting with his security council: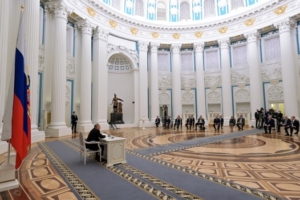 Another big long meeting table with Russia's Foreign Minister Sergey Lavrov: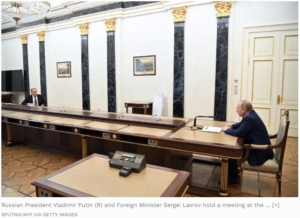 His statements to media are staged as always; it's hard to tell how far he is from the production team behind the camera.
There's some logic to this; media have been told it's because of COVID, and in the case of Macron as well as Germany's Chancellor Olaf Scholz it was because they refused Russian PCR tests for security reasons.
He doesn't look well, either. A few years ago he had been using Botox for which he was and still is frequently mocked; he appears to have stopped using it.
Botox boycott?#Putin https://t.co/ZP2bAz8jWx pic.twitter.com/uRZTQxYyuy

— Thomas Japan🇯🇵🇺🇦 (@JapanBiking) March 1, 2022
But now his skin looks unhealthy; his face appears puffy, as if he's been using steroids. Was he sick with COVID recently? If so is he dealing with neurological challenges?
Any other clinicians think Putin's face looks a bit 'Moon Face'? (Differential diagnosis include: Cushing's Syndrome, extended corticosteroids, primary vs. secondary causes of elevated ACTH, adrenal tumors, etc.) This could perhaps explain some of Putin's mental-emotional change. pic.twitter.com/NvGhudKiHS

— Dr. Jack Brown (@DrGJackBrown) February 28, 2022
Some have said he's had a back problem for which he's taking steroids; long-term of steroids can cause cognitive dysfunction along with psychiatric symptoms like increased aggression.
We've heard he's paranoid and pandemic isolation may have made this isolation worse. Could this explain his decision-making?
Or as Colin Lebedev said, it doesn't matter what's going with Putin; we must assume the most radical, worst case scenario no matter Putin's condition.
This is not just about Ukraine to his immediate west. It's about the entire west and the U.S.
And he's already proven he can reach out and touch us, even occupying the White House with a useful idiot.
~ ~ ~
In Part 1, I looked at the role of cognitive dissonance in our laggy response to Russia's invasion and the warning that Putin will do worse than our denialism has accepted.
In Part 2, I looked at the problems visible in Russia's first echelon campaign this first week of the invasion, and the possible causes.
In this Part 3, I looked at what visual cues tell us about Putin himself, suggesting we're dealing with an unhealthy individual.
We need to continue to shed our cognitive dissonance. We can't accept the failures of the Russian army's first echelon as an example of how this war will continue, because multiple sources assure us he is likely to do far worse than we've imagined until now. And if he is truly unwell, more paranoid and aggressive because of COVID, and/or pandemic isolation, and/or long-term steroid use, and/or excess cortisol, we should prepare ourselves for the truly awful ahead.
What are the next options available to us to aid Ukraine should Putin do far worse?
https://www.emptywheel.net/wp-content/uploads/2022/02/UkraineFlag_MaxKukurudziak-Unsplash_24FEB2022-scaled.jpg
1709
2560
Rayne
https://www.emptywheel.net/wp-content/uploads/2016/07/Logo-Web.png
Rayne
2022-03-03 18:02:34
2022-03-14 14:54:41
Three Things: Part 3 — Putin's Particular Peculiarities