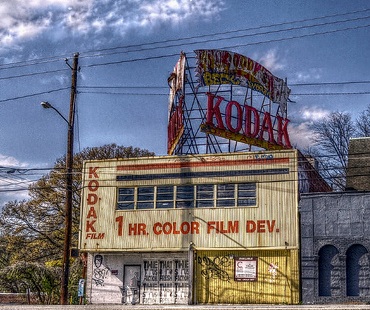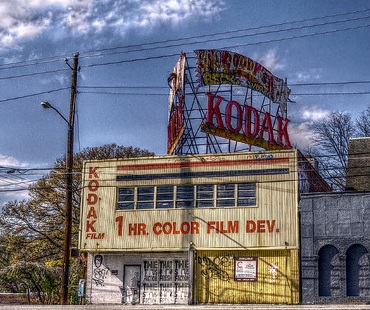 In tandem with the release of his book, Who Owns the Future?, Jaron Lanier's interview with Salon generated a lot of hand-wringing across social media. It seems Lanier, one of our so-called intellectual visionaries, believes that the collapse of Kodak and its 140,000 jobs, and the rise of Instagram and its 13 jobs, exemplifies the killing field of the internet. Lanier theorizes good paying jobs that once supported a thriving middle class have disappeared as internet-enabled firms replaced them. As these jobs vaporized, so did necessary benefits. Here's a key excerpt from the interview:
"Here's a current example of the challenge we face," he writes in the book's prelude: "At the height of its power, the photography company Kodak employed more than 140,000 people and was worth $28 billion. They even invented the first digital camera. But today Kodak is bankrupt, and the new face of digital photography has become Instagram. When Instagram was sold to Facebook for a billion dollars in 2012, it employed only 13 people. Where did all those jobs disappear? And what happened to the wealth that all those middle-class jobs created?"
What a crock of decade-late shit.
Where the hell was Lanier in the late 1990s and early 2000s, when the U.S. manufacturing sector nose-dived due to government policies created by corporate-acquired elected officials and appointees?
It wasn't the internet that killed the middle class. The apathy of intellectuals and the technology elite did; too few bothered to point out the potential repercussions of NAFTA and other domestic job-depleting policies. In the absence of thought leaders, corporatists sold the public and their electeds on job creation anticipated from globalizing policies; they just didn't tell us the jobs created wouldn't be ours.
It wasn't the rise of digitization that killed the middle class. It was the insufficiency of protests among U.S. brain power, including publicly-funded academics, failing to advocate for labor and home-grown innovation; their ignorance about the nature of blue collar jobs and the creative output they help realize compounded the problem.
Manufacturing has increasingly reduced man hours in tandem with productivity-increasing technological improvements. It wasn't the internet that killed these jobs, though technology reduced some of them. The inability to plan for the necessary shift of jobs to other fields revealed the lack of comprehensive, forward-thinking manufacturing and labor policies.
It all smells of Not-My-Problem, i.e., "I'm educated, technology-enabled, white collar; those stupid low-tech blue collar folks' jobs aren't my problem."
Until suddenly it is. Read more →
https://www.emptywheel.net/wp-content/uploads/2016/07/Logo-Web.png
0
0
Rayne
https://www.emptywheel.net/wp-content/uploads/2016/07/Logo-Web.png
Rayne
2013-05-16 07:00:19
2013-05-15 17:34:11
The Internet Didn't Kill the Middle Class; Laxity and Apathy Did