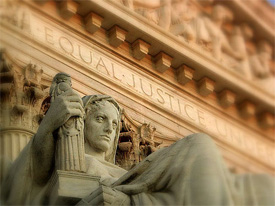 The UPI has an article up with the startling headline "Ruth Bader Ginsburg stepping down in 2015". The article, which is really more of a pondering question, is bylined today by Michael Kirkland and paints the scenario of a Ruth Bader Ginsburg retirement in 2015 so that Obama has sufficient time left in his second term to appoint and confirm a successor.
Although referenced rather obliquely in his article, Kirkland's basis is premised entirely on the thoughts and predictions of SCOTUS, AND SCOTUSblog, longtime pro Tom Goldstein in a SCOTUSblog post he did last Tuesday, February 14th. Goldstein may be only one voice thinking out loud, but he carries the bona fides to warrant serious consideration here.
Goldstein points to the confluence of Ginsburg's age, health, and personal career tracking with that of Justice Louis Brandeis. And the thought that Ginsburg will want to see that her replacement is chosen by a Democratic President. Goldstein's thought process, originally laid out in the comprehensive February 14th entry at SCOTUSblog, is worth reading. Assuming Obama is reelected, which is still a pretty decent bet at this point (certainly capable of changing though), it is hard to find fault with Goldstein's logic; in fact, it is rather compelling. I also agree with Tom that none of the current conservative bloc, including swing man Tony Kennedy, are going anywhere anytime soon.
Where I do differ from Goldstein, however, is in his prediction for what would transpire upon the theorized Ginsburg tactical retirement:
Assuming that President Obama is re-elected and that Justice Ginsburg does retire at some point in the next Administration, who will be the next nominee? One thing is certain: it will be a woman. It is inconceivable that a Democratic administration with any reasonable choice would cause the gender balance of the Supreme Court to revert to seven men and two women. Relatedly, appointing three women in a row to the Court is excellent politics.

President Obama will also have a strong desire to pick an ethnically or racially diverse nominee. It would be disappointing for the nation's first African-American President to make two white appointments, leaving the Court with seven white members. A more diverse Court is a better legacy. Given that the President already appointed the first Latina Justice, most likely is an African-American or Asian-American nominee. That said, I think race and ethnicity are plus factors, rather than an imperative like gender.
I am not sure I buy Goldstein's certainty of yet another female Supreme Court nominee from Barack Obama. I am just not convinced Obama appoints a third woman in a row, color or not. It sure makes it easier that it would be to fill a "female seat", Ginsburg's, I guess, and Obama clearly wanted to see three women justices on the court. But he crossed said threshold, and knowing one of them may not be there so long into the future likely played into the strength of his desire to appoint a second woman after Sonia Sotomayor. Such is quite a different thing from having an abiding determination to insure there are always three women on the Supreme bench.
Further, it really restricts the pool of potential nominees and plays into a plethora of counter Read more →
https://www.emptywheel.net/wp-content/uploads/2016/07/Logo-Web.png
0
0
bmaz
https://www.emptywheel.net/wp-content/uploads/2016/07/Logo-Web.png
bmaz
2012-02-19 17:13:53
2012-02-19 17:13:53
The SCOTUS Merrygoround: Is Ginsburg Shuffle Coming?