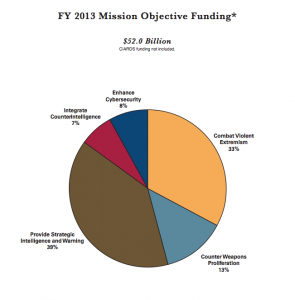 The Washington Post just published an excellent package on the FY2013 Black Budget for intelligence. I'm reading through the summary now.
I'll put working comments below. But one of my first impressions is that all of this is useful information, and in some ways really encouraging information (in others, horrifying).
For that reason, this is one of my favorite parts of the story itself:
Lee Hamilton, an Indiana Democrat who was a former chairman of the House Intelligence Committee and co-chairman of the commission that investigated the Sept. 11 attacks, said that access to budget figures has the potential to enable an informed public debate on intelligence spending for the first time, much as Snowden's disclosures of NSA surveillance programs brought attention to operations that had assembled data on nearly every U.S. citizen.

"Much of the work that the intelligence community does has a profound impact on the life of ordinary Americans, and they ought not to be excluded from the process," he said.

"Nobody is arguing that we should be so transparent as to create dangers for the country," he said. But, he said, "there is a mindset in the national security community — leave it to us, we can handle it, the American people have to trust us. They carry it to quite an extraordinary length so that they have resisted over a period of decades transparency. . . . The burden of persuasion as to keeping something secret should be on the intelligence community, the burden should not be on the American public."
Hamilton is absolutely right. There's no reason why information at this level of detail shouldn't be shared with American taxpayers ponying up the $52.6 billion to pay for it all.
---
Working comments on Budget Justifications
4: The IC is apparently going to start researching trade disputes. I assume that'll be primarily targeted at China. But it's an interesting development.
https://www.emptywheel.net/wp-content/uploads/2016/07/Logo-Web.png
0
0
emptywheel
https://www.emptywheel.net/wp-content/uploads/2016/07/Logo-Web.png
emptywheel
2013-08-29 14:59:34
2013-08-29 14:59:34
The Black Budget