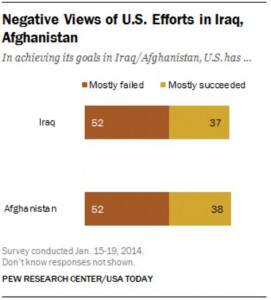 At long last, after over twelve years of war in Afghanistan and nearly eleven years since the invasion of Iraq, the majority of citizens in the US admit that the vaunted US military failed to achieve its goals in either effort. A Pew poll released yesterday showed that in nearly identical results, 52% of Americans feel our goals were not met in either country, while 14 to 15% fewer felt we had met our goals.
Back in August, Lt. Col. Daniel Davis had one prescription for addressing these failures when he argued that it is time to "Purge the Generals". I quoted extensively from his analysis in a post shortly after it was published, but one of the primary points from Davis is that for too long, military leaders have lied about the status of military missions and never faced any consequences for their false claims of success.
We have seen a partial purge of higher military ranks lately, but these removals have been primarily for offenses that have caused acute embarrassment to the military, such as being caught using counterfeit poker chips in a casino. Congress also plays a huge role in the promotion of lies about success in military missions. As I noted last April, Armed Services Committee member Jack Reed delighted in getting Dunford to enter into the record a statement that we were "winning" in Afghanistan at the time.
The Pentagon and other inhabitants inside the Beltway would benefit greatly from some soul-searching into just how these two misadventures were allowed to start in blind rage and then be so badly mismanaged for so long. Of course, that will never happen, but we now have reached the stage where the folks who have paid the bill for the fiasco realize that the lives, money and effort have all been wasted. With public opinion running so strongly against the two latest high-profile wars, our politicians and the Pentagon will have to content themselves now with more clandestine actions using the Special Operations Forces that are deployed in over 100 countries around the globe.
https://www.emptywheel.net/wp-content/uploads/2016/07/Logo-Web.png
0
0
Jim White
https://www.emptywheel.net/wp-content/uploads/2016/07/Logo-Web.png
Jim White
2014-01-31 09:59:44
2014-01-31 09:59:44
Public Finally Realizes Military Failed in Iraq & Afghanistan, But Will Pentagon & Pols Learn?