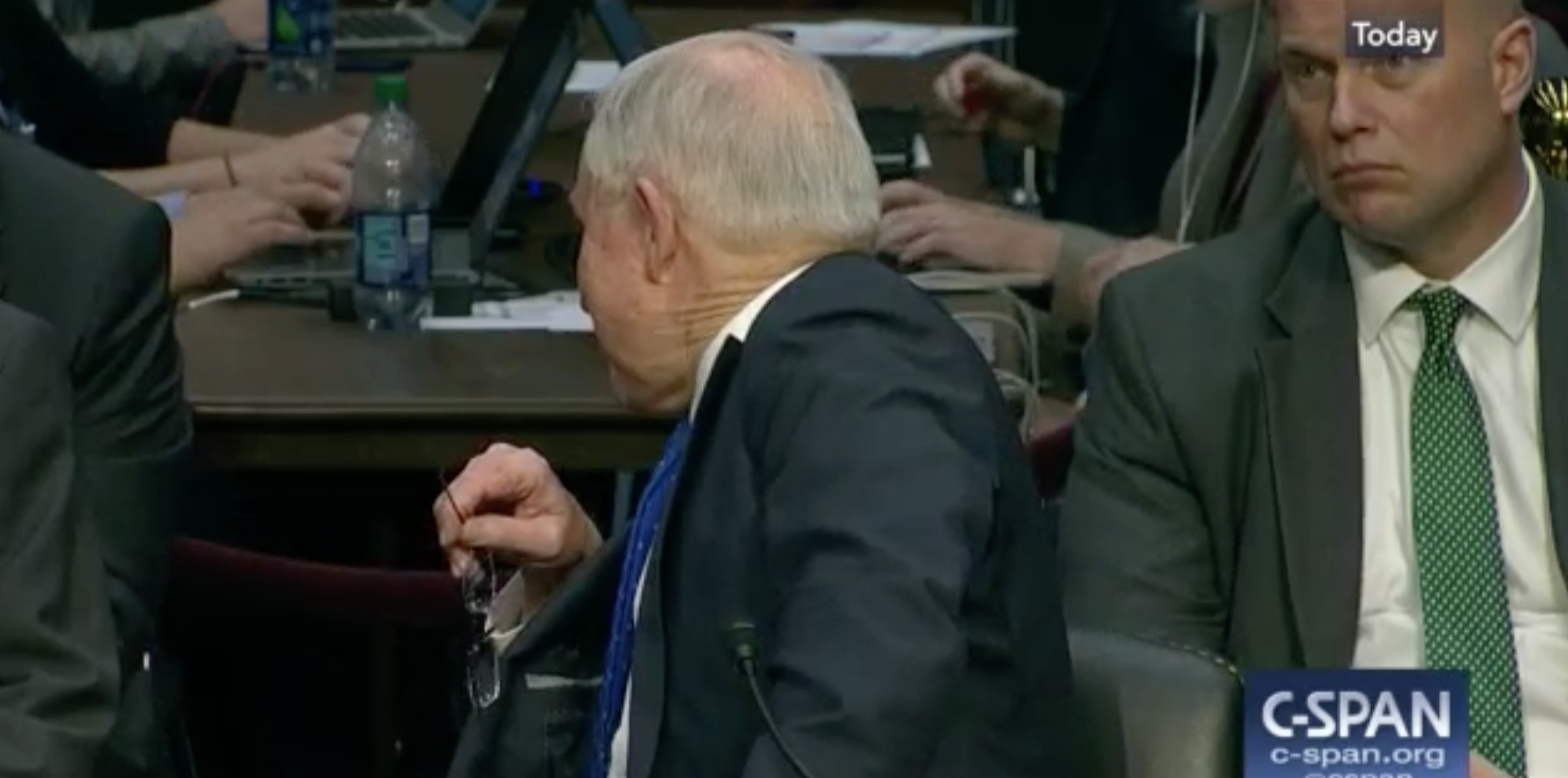 Over the weekend, the NYT published the best reported piece yet on the George Papadopoulos plea. I'm most intrigued by the description of how a young Russian intern turned Joseph Mifsud into a Russian expert in 2014. But the most important detail in the story is that the loathsome Stephen Miller is the Senior Policy Adviser described in the plea.
The day before he learned about the hacked emails, Mr. Papadopoulos emailed Mr. Miller, then a senior policy adviser to the campaign, saying Mr. Trump had an "open invitation" from Mr. Putin to visit Russia. The day after, he wrote Mr. Miller that he had "some interesting messages coming in from Moscow about a trip when the time is right."

Those emails were described in court papers unsealed Oct. 30 disclosing that Mr. Papadopoulos had pleaded guilty to lying about his contacts to the F.B.I. But the documents did not identify Mr. Miller by name, citing only a "senior policy adviser." Neither he nor his lawyer responded on Friday to requests for comment.

During interviews with Mr. Mueller's investigators, former campaign officials now working at the White House have denied having advance knowledge of the stolen emails, according to an official familiar with those discussions. Mr. Miller was among those recently interviewed.
The NYT hints at what I laid out explicitly: FBI charged Papadopoulos for his lies because they were designed to hide whether he told the campaign about the emails Mifsud told him about. And given the timing, it seems highly likely Papadopoulos' reference in his April 27 email (the government cites just one line from the email, so it may not be the most exciting detail) to "interesting messages coming in from Moscow," those interesting messages included discussion about the "dirt" Russia had on Hillary in the form of emails.
That is, it seems highly likely that on April 27 (or whenever Papadopoulos was next in DC), Miller learned that Russia had some kind of emails from Hillary.
Miller, recall, is Jeff Sessions' close aide, his installment in the Administration. The NYT makes clear that Miller was interviewed by Mueller's team recently, which means he was one of the people the government planned to interview just after locking in Papadopoulos' plea.
Which makes this exchange from Jeff Sessions' most recent congressional appearance, on October 18, all the more interesting. First, Patrick Leahy got the Attorney General to admit that there was a difference between not recalling something and affirmatively denying something. Leahy then pointed out that, once the meetings he had denied were disclosed, Sessions started not recalling certain things about the meetings that he had previous affirmatively denied.
Leahy: Later in March, when you did disclose such meetings, you said you could not recall what was said at the meetings. Your answer to my question was an emphatic no. It wasn't, "I don't recall." You are a lawyer, I am a lawyer. You are, in fact, our nation's top lawyer. Is there a difference between responding "no" and "I do not recall"?

Sessions: Yes.

Leahy: Thank you.

Sessions: Certainly it is, Senator Leahy.

Leahy: So if you could not recall, then you could not answer have answered my first question, yes or no, if later you said that you don't recall what was discussed. The reason I ask is that, US intelligence intercepts reported in July that it would appear you did in fact discuss campaign issues with the Russian Ambassador.
Leahy then asked Sessions whether he had, since the election, had conversations with Russian officials about a slew of things, starting with emails. Sessions got even squirrelier than he normally is, and first attempted to answer a question Leahy didn't ask.
Sessions: I have never had a meeting with any Russian officials to discuss any kind of coordinating campaign efforts.
So then Leahy asked about each item in turn.
Leahy: Let's take this piece by piece. Did you discuss any of the following: Emails?

Sessions: Repeat the question again about emails.

Leahy: Since the 2016 campaign, have you discussed with any Russian connected official anything about emails?

Sessions: Discuss with them. I don't recall having done any such thing.
Right after this exchange, Sessions totally balks when Leahy asks him if he has been interviewed or asked for an interview by Mueller, saying he should clear it with the Special Counsel.
Now, there was some imprecision in this questioning. It's clear that Sessions believed he was answering the question about during the campaign, not since it.
But of the things Leahy asked about — emails, Russian interference, sanctions, or any policies or positions of the Trump campaign or presidency — Sessions ultimately not-recalled in response to just one question: the emails.
Based on the past practice Leahy had just laid out, Sessions claimed to not recall issues that he had actually done. Which would suggest Sessions is worried that there's evidence he has discussed emails — with someone. It's just not clear how he interpreted that question.
Luckily, he's due in the House Judiciary Committee tomorrow, when Democrats can try to get him to recall whether he spoke to his top aide, Stephen Miller, about emails the Russians were promising.
https://www.emptywheel.net/wp-content/uploads/2017/10/Screen-Shot-2017-10-21-at-10.00.40-PM.png
988
1990
emptywheel
https://www.emptywheel.net/wp-content/uploads/2016/07/Logo-Web.png
emptywheel
2017-11-13 12:35:06
2017-11-13 12:49:41
Maybe Stephen Miller's Discussions with George Papadopoulos Are Why Jeff Sessions Can't Recall Any Email Discussions?