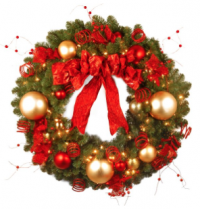 I'm mostly spending time with family in PA today. Thanks to bmaz for kicking off the holiday cheer with his remembrances post.
I wanted to weigh in, though, and add thanks not just to those who've been putting up with us for over a decade and those we've lost, but for the new commenters and lurkers we've gotten in the last year. One of the highlights of my year came as the host on a KPFA show introduced me before I came on his show. He went on a length talking not about my contributions at this here little blog, but the rich contributions of our readers.
I am enormously grateful that, over a decade after the golden year of blog-dom, our community has persisted and grown, and our comment threads remain a big part of what we offer.
At times the slog of reporting on Trump's abuses gets really heavy. At those times, your support makes it worthwhile.
Thanks to all of you who have been (financial and non-financial) supporters of emptywheel, this year, and over the years.
Merry Christmas. May 2019 bring more good news than bad.
https://www.emptywheel.net/wp-content/uploads/2018/12/Screen-Shot-2018-12-24-at-3.37.47-PM-e1545691205660.png
209
200
emptywheel
https://www.emptywheel.net/wp-content/uploads/2016/07/Logo-Web.png
emptywheel
2018-12-25 17:06:27
2018-12-25 17:06:27
Merry Christmas to the emptywheel Community