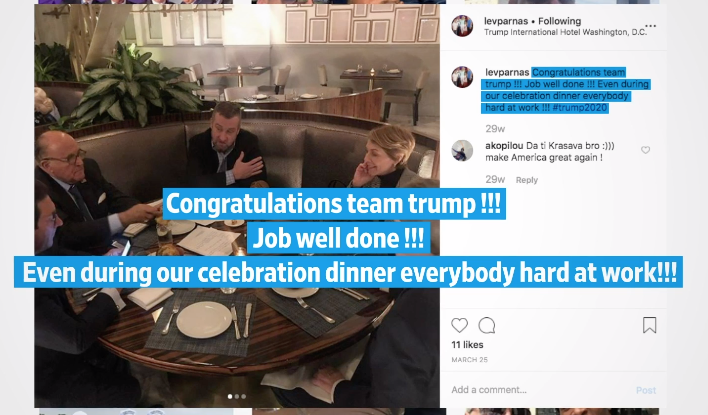 In this post, I suggested that Rudy Giuliani's efforts to broker a complex deal in Ukraine, which dug up dirt on Democrats, undercut the Russian attribution of the 2016 hack, yoked the Republican party to a bizarre Ukrainian gas deal, and have led Volodymyr Zelensky to begin implementation of the Steinmeier Formula, may just be the continuation of a quid pro quo Paul Manafort may have been trying to deliver since August 2, 2016, when he discuss how he planned to win the election in the same secret meeting where he talked about how to carve up Ukraine. That's all the more likely given three facts:
That is, Mueller suggested that Manafort was using his JDA with the President to conduct other business, and we're now seeing Trump's nominal defense attorney pursue precisely the same kind of business, still shielded by a claim to Joint Defense.
In this post, I laid out how the campaign against Marie Yovanovitch appeared to parallel the declining fortunes of Paul Manafort, even in spite of Ukraine's halt to cooperation on the case against Manafort once Trump sold them some Javelin missiles.
In other words, there's a lot of circumstantial evidence to suggest that the Ukraine grift is just a continuation of the Russian operation, and is perhaps even a payoff of a quid pro quo Manafort entered into to get help winning 2016. But it's just circumstantial right now.
That said, we now have two temporal ties linking the Russian investigation to Rudy's Ukraine graft. One has been known from the start of the Ukraine scandal. Just as Trump turned to his request for a "favor" from Zelensky in their July 25 call, he invoked Mueller's "incompetent performance" the day before.
The President: I would like you to do us a favor though because our country has been through a lot and Ukraine knows a lot about it. I would like you to find out what happened with this whole situation with Ukraine, they say Crowdstrike … I guess you have one of your wealthy people… The server, they say Ukraine has it. There are a lot of things that went on, the whole situation. I think you are surrounding yourself with some of the same people. I would like to have the Attorney General call you or your people and I would like you to get to the bottom of it. As you saw yesterday, that whole nonsense ended with a very poor performance by a man named Robert Mueller, an incompetent performance, but they say a lot of it started with Ukraine. Whatever you can do, it's very important that you do it if that's possible.
Trump did so to suggest that much of Mueller's investigation "started with Ukraine," which seems to be a reference to the disinformation about DNC efforts (as well as the overlapping efforts of Ali Chalupa) to learn about Manafort's corruption, and the suggestion that's the only thing that predicated (or renewed) the investigation into Manafort's graft.
So the day after Mueller's testimony seemingly closed his investigation once and for all, Trump got on the phone and extorted Zelensky to provide disinformation undercutting Mueller's investigation, at the very least (though I think there's more he was after) the black ledger.
But a WSJ piece on Lev Parnas' private Instagram account provides another.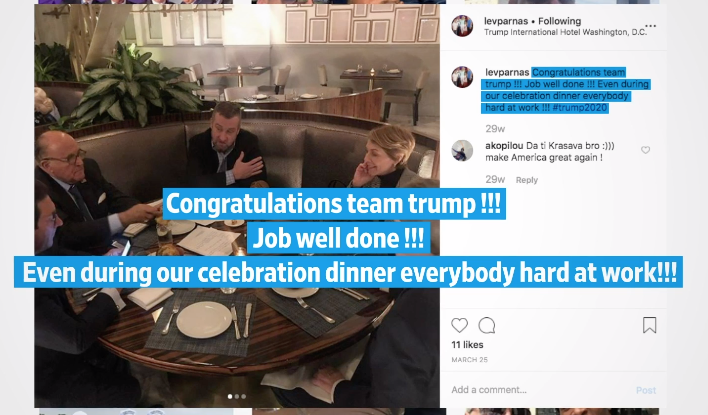 It reveals that Ukraine grifter Lev Parnas attended the celebration dinner Trump's legal team had the day after Bill Barr released a summary about the Mueller Report that was, itself, disinformation. It shows that Parnas, at least, suggested Trump's legal team deserved some kind of credit for Barr's roll-out. And it claims that Ukrainian grifter and Trump's legal team were hard at work moving (and includes notes in the picture that might reveal what Parnas and friends had planned).
So Barr announces the false results of the Mueller investigation and the next day someone involved in the production of disinformation claims credit and looks forward to his next task.
And Mueller provides what Trump claims to be an "incompetent performance" in the House, and the next day Trump extorts a foreign leader for disinformation that Rudy has been concocting with the Ukrainian grifter all summer.
https://www.emptywheel.net/wp-content/uploads/2019/10/Screen-Shot-2019-10-21-at-11.43.26-AM.png
415
708
emptywheel
https://www.emptywheel.net/wp-content/uploads/2016/07/Logo-Web.png
emptywheel
2019-10-21 11:59:55
2019-10-21 11:59:55
Rudy's Disinformation Campaign Ties Directly with Key Milestones in the Mueller Investigation