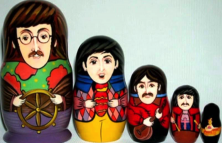 Is It Russian Or Is It Real?
This is a question only humans with a sentient brain can answer. An equation that clearly leaves out Matt Taibbi, Senators Graham and Kennedy (not to be confused with the good Senator Kennedys). This Kennedy is an assclown.
So, when you decide what the Russians are doing, constantly, to our elections and democracy, and you should be doing exactly that, ponder this: The Russians and their former bloc can mimic and project almost everything. As the United States heads into 2020, there needs to be an awareness as to exactly how good countries that wish to damage the very basis, i.e. Constitutional, basis that the US is founded on.
Oceans and borders protect the "Homeland". That long ago became a falsehood that is dangerous to hold on to. And when one particular political party is doing so, in the face of every ounce of their past beliefs, you have to wonder why.
For the record, the musicians on the title cut are Leonid & Friends. If you think that only American music is being taken this competently (and Leonid and Friends is every bit as good as post Terry Kath Chicago), you are fooling yourself. It is about the elections, not the music. Leonid et. al have HiWatts, Marshalls and whatnot. That is not important, how they have American democracy in the balance is what is important.
https://www.emptywheel.net/wp-content/uploads/2019/11/Screen-Shot-2019-11-27-at-10.40.43-AM-e1574876533731.png
143
222
bmaz
https://www.emptywheel.net/wp-content/uploads/2016/07/Logo-Web.png
bmaz
2019-11-27 12:42:42
2019-11-27 12:46:45
Is It Russian Or Is It Real?