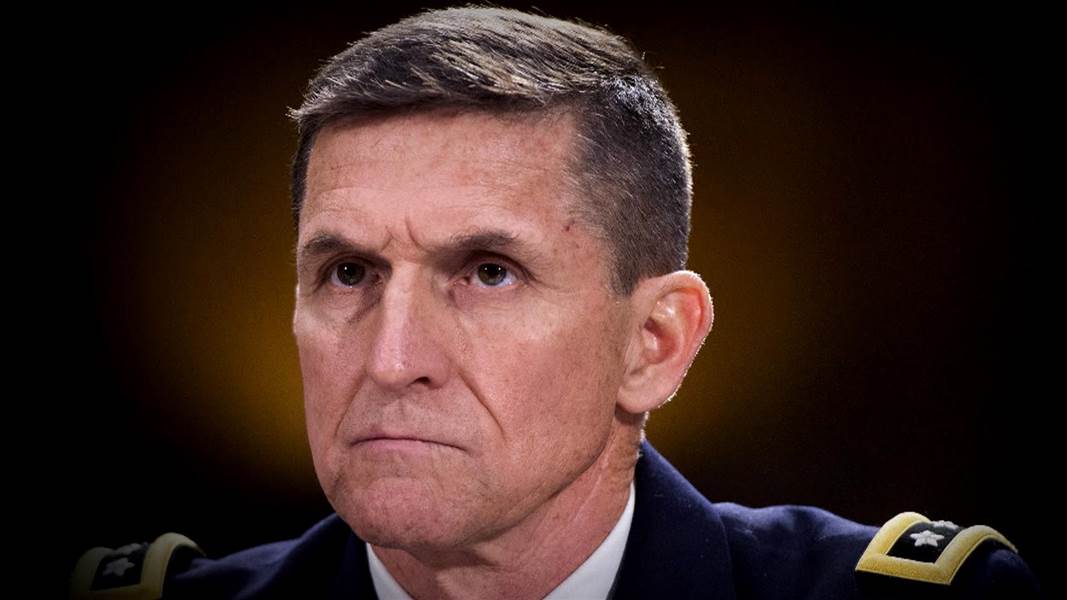 In a footnote to an October 2019 filing, prosecutors in the Mike Flynn case suggested that Sidney Powell was misrepresenting Flynn's "cooperation and candor" in his first interviews with Robert Mueller's team, a claim that is consistent with Flynn's own description of his lawyers' unhappy review of it. The 302s liberated by BuzzFeed earlier this year show just how ridiculous some of the lies Flynn told in his November 16, 2017 meeting with Mueller's prosecutors.
For example, in addition to repeating his lies about his conversations with Sergey Kislyak and claiming that he "did not specifically recall conversations regarding Wikileaks" during the campaign, Flynn also claimed that he never had conversations about how to get Hillary's missing emails.
FLYNN did not recall discussions about a concerted effort to locate [Hillary's] missing emails.

[snip]

FLYNN never had any conversations about how to get CLINTON's missing emails. FLYNN did not remember hearing anyone else on the campaign discuss this either. The consensus was that they hoped the emails would be found all of a sudden.
Flynn would go on to unforget all three topics in the weeks and months ahead.
On the topic of searching for Hillary's emails, however, Flynn was still shading the truth in his final interview before pleading guilty on November 29, 2017. Flynn described that he had met Peter Smith regarding business development in 2015, and described that Smith had emailed during the campaign. But, "FLYNN lost interest in what SMITH sent him because he 'did not see any there, there'," per the interview report. As to others who might be involved in the effort, Flynn described that "possibly Barbara LEDEEN" had been a recipient of some of the emails from Smith, though suggested Sam Clovis was a more important player.
It would be six months later, in an interview on May 4, 2018, before prosecutors returned to Flynn's role in hunting down Hillary's emails in depth. It appears that, at first, they asked Flynn generally about the Peter Smith effort, and this time, he remembered that "LEDEEN's role" in the effort "was as a conduit." Flynn explained that he gave "time and attention" to the effort "out of respect for his friendship with LEDEEN." It was in that context that Flynn remembered that someone "sent files to FLYNN on one or two occasions," though even then, he couldn't remember whether the files were about Benghazi or the missing emails.
The prosecutors started asking Flynn about the actual emails — many of which were liberated in the documents liberated by BuzzFeed.
Prosecutors first asked about an email that the FBI Agent who wrote up the 302 described as a May 24, 2016 email from Ledeen to Flynn. But it's actually an email Ledeen sent one of the chief purveyors of disinformation about the Flynn case, Catherine Herridge, promising "evidence" (though there are notations on it that may reflect Flynn got a hard copy).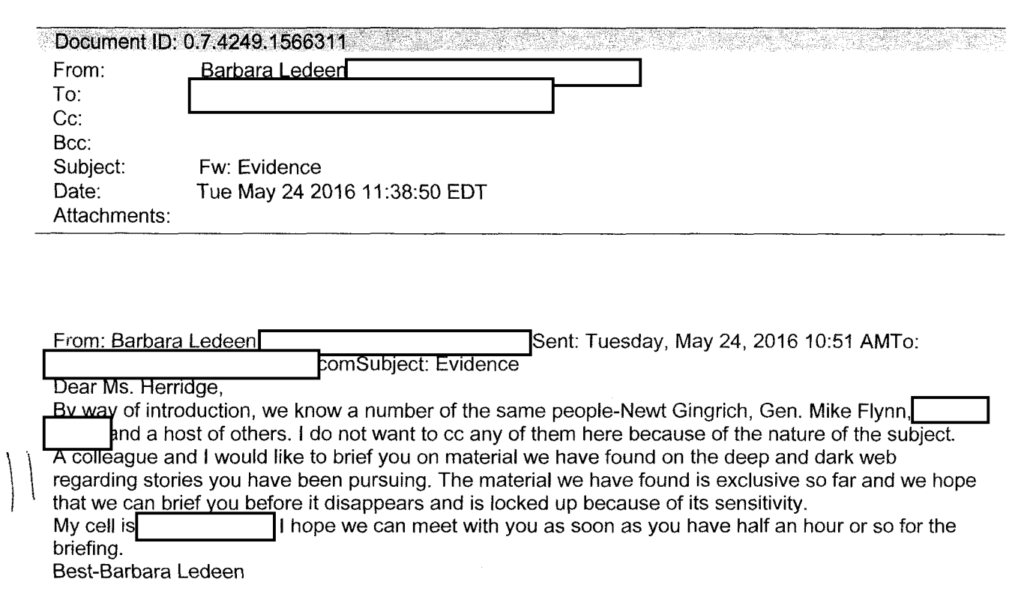 Prosecutors then showed an email Flynn sent to Ledeen on June 16, 2016, in response to Ledeen's question, "You got the Signal email."

Flynn's response reflects him having downloaded and read the report on the effort to obtain the emails. "amazing!" Flynn responded. "I'll speak more off line with you about it this evening or tomorrow."
On September 10, 2016, Ledeen wrote Flynn a "TIME SENSITIVE" email, explaining that "we are at the point of rubber hitting the road re the project you know I have been working on."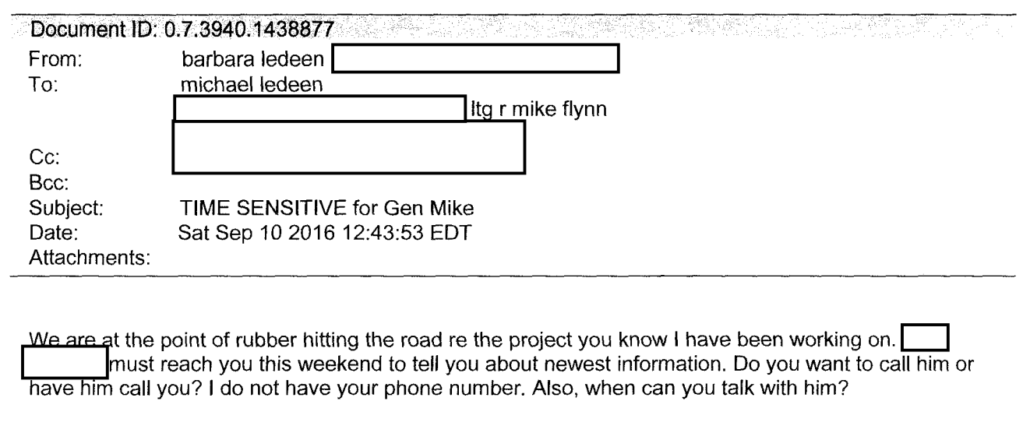 In response to Ledeen's request, the interview suggests, Flynn spoke with someone who had been an early campaign advisor, but he told Mueller's team that "he did not really remember the details of the conversation."
He claimed to remember nothing of the October 29, 2016 Hushmail promising a Phase II of the report, however.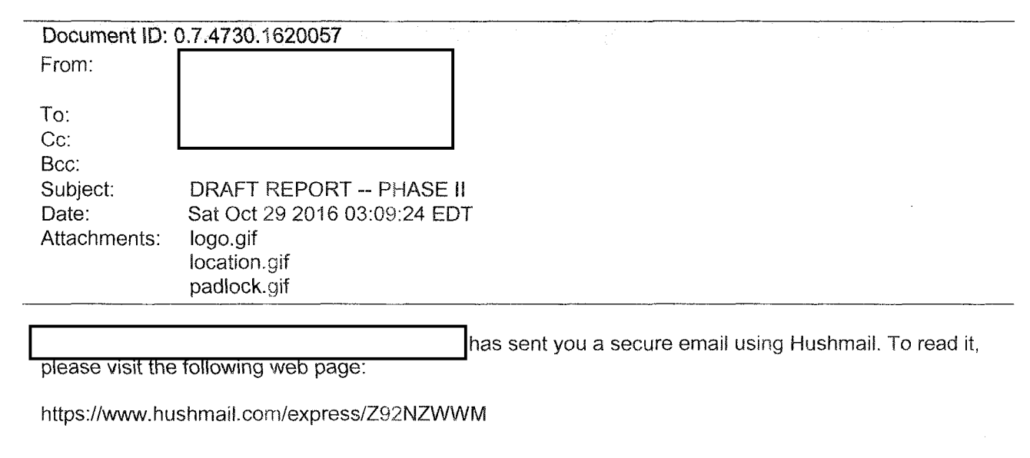 "You've got me on this one," Mike Flynn claimed, then described asking Barbara Ledeen, "Can't you just tell me?" and imagining that, "he became frustrated trying to open the message."
There was another HushMail on November 3, which Flynn suggested might pertain to Sidney Blumenthal.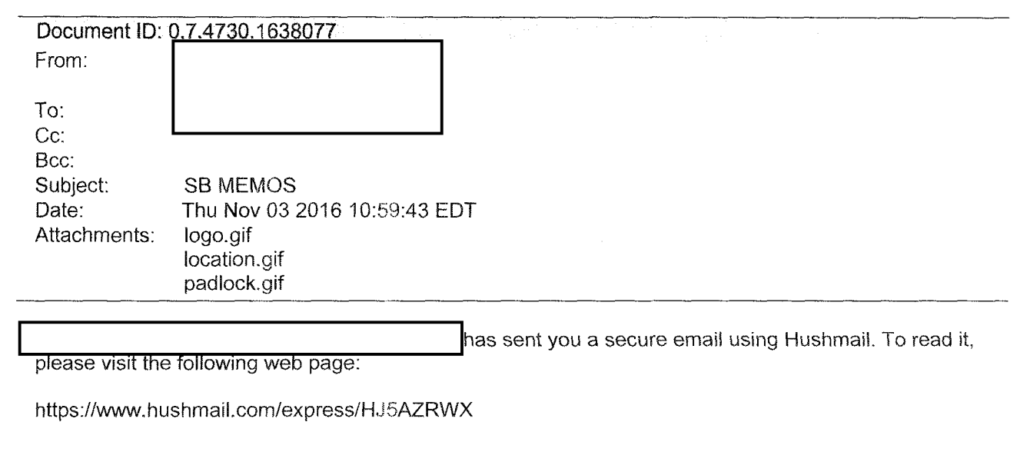 But he suggested that "The servers may have been a second set of email messages to FLYNN," and explained it was all "secret squirrel stuff."
Flynn's interview then proceeded to talk about an in-person meeting that Ledeen had set up, apparently with this same person, to discuss microtargeting; the pitch appeared to combine Sidney Blumenthal, servers in Eastern Europe, and microtargeting. It was in this context that, six months after claiming that he never spoke to anyone about getting Hillary's missing emails, he admitted he actually talked about pursuing the Hillary emails "to anyone he was with on the Trump plane," including Trump.
FLYNN conveyed to people that people were looking for the missing emails and were confident they would eventually find them. FLYNN would have said this to anyone he was with on the TRUMP plane. FLYNN does not know if specifically said he knew people but he could have. People on the plane include TRUMP. FLYNN did not believe he conveyed to the team information about the servers in the Ukraine or Eastern Europe. FLYNN was not ruling it out but does not recall exactly what he said.
Barbara Ledeen, still a key Senate Judiciary Committee staffer to Senators who have led the effort to undermine the Russian investigation, was right in the thick of all this during the 2016 election: Secret servers in Ukraine, missing emails, and microtargeting. That's the woman overseeing the investigation into the investigation.
Which makes the other emails liberated in the BuzzFeed release implicating Ledeen all the more important.
It turns out that, before prosecutors asked about all this, they may have been alerted to a text Ledeen sent on May 1, 2018, inquiring about the status of Flynn's case. Mueller's team raised the text two weeks after the Peter Smith and microtargeting discussion, on May 17, 2018, when prosecutors focused on Ledeen's extensive effort to monitor the Russian investigation (starting well before Mueller was appointed).
The backup liberated by Buzzfeed shows that Michael Ledeen inquired about whether he "and Sara" could say that Flynn was getting an immunity for testimony deal on March 31, 2017 (the same way Ledeen's co-conspirators in Iran-Contra escaped accountability), establishing that the Ledeens funneled stories to Sara Carter.  A year later, Flynn conceded, he may have still been a source for Sara Carter stories via the Ledeens, in this case for a story about Flynn getting discovery.
BARBARA reached out FLYNN but he did not respond to her with anything specific. FLYNN may have told her they received discovery and were reviewing the documents.

FLYNN had many conversations around the time of this article but was never asked if the information could be shared with CARTER, nor did he direct anyone to share it with her.
Prosecutors asked about several other Carter stories, and Flynn's long-suffering attorney, Rob Kelner, admitted that Carter had reached out several times before the plea deal and that he (Kelner) may have been the source for the detail that Andrew McCabe reached out to Flynn about an interview on short notice.
More interesting, however, are the emails between those Carter stories, which show Michael Ledeen (who, remember, was one of the first people Flynn called before secretly undermining sanctions with Sergey Kislyak in December 2016) reached out on April 17, 2017, telling Flynn, "it's time…"

Then Michael Ledeen reached out the next day (apparently to a different Flynn email address) to arrange a pastrami dinner with extra pickles, Dr. Brown's diet soda, and "a message for you."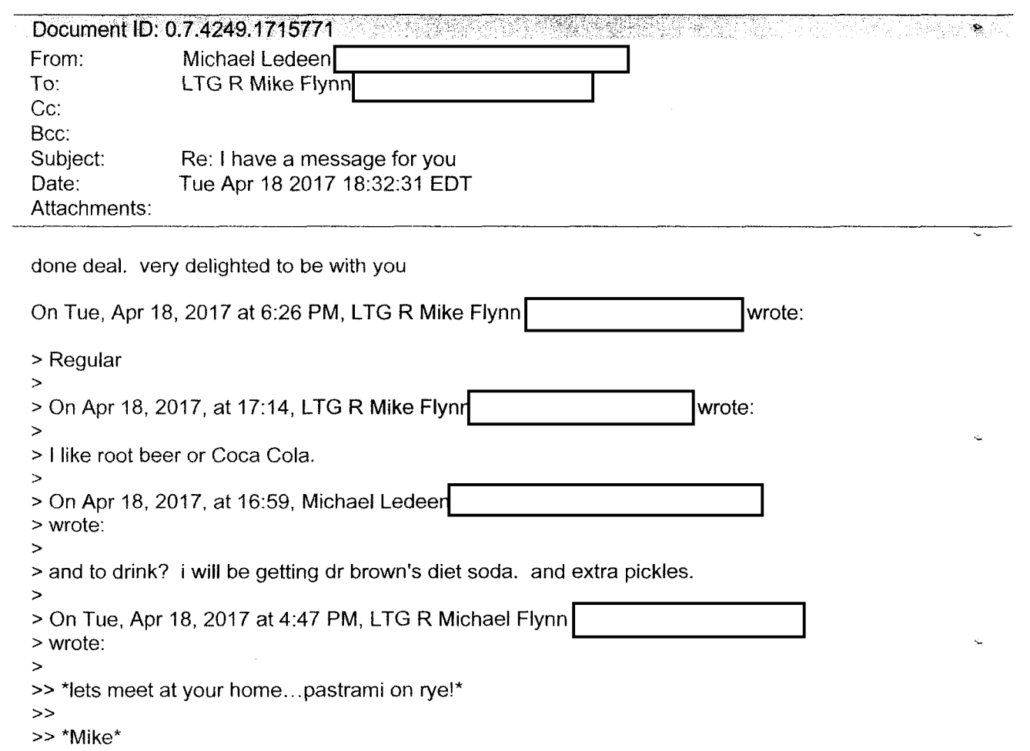 The meeting would have been on Monday April 24, 2017. Some of Carter's scoops have been solid, albeit hyped. Others have been garbage. Her regurgitation of Sidney Powell's false claims was pure propaganda. But she was also responsible, with John Solomon, for one of the most important unsubstantiated stories of the entire investigation, one that claimed Andrew McCabe had said they were going to "fuck Flynn" in a meeting after Flynn's interview, an allegation that came up in Flynn's last interview with Mueller (at a time when Mueller would replicate the two investigations that had been done on this allegation in the past).
The same interview reveals that Barbara Ledeen was responsible for another false claim that never died, that there was some original 302 that said something different from the one that recorded Flynn's lies.
"Barbara tends to have a 'big mouth,'" Flynn complained on May 17, 2018, as part of these discussions. But he still did what, according to the same interview report, she kept nagging him to do: withdraw his guilty plea. For a long time, it looked like she was simply protecting her husband Michael's close friend. But with the backup materials, it seems just as likely that Ledeen's efforts to undermine the Russian investigation are as much about her own complicity as Flynn's himself.
A person who had a key role Senate Judiciary Committee oversight of the Russian investigation was sending Hushmail and Signal communications looking for secret servers in Ukraine during the events in question.
Update: Here's my summary of what each of the 302s included from when they were released in January).
Update: In January, Flynn thought that the April message that Ledeen was passing on may have been from Trump.
https://www.emptywheel.net/wp-content/uploads/2016/11/Flynn.jpg
600
1067
emptywheel
https://www.emptywheel.net/wp-content/uploads/2016/07/Logo-Web.png
emptywheel
2021-05-11 09:46:45
2021-10-23 19:30:09
"Oversight:" Mike Flynn Lied to Protect Barbara Ledeen, Who Then Fed Disinformation to Sara Carter