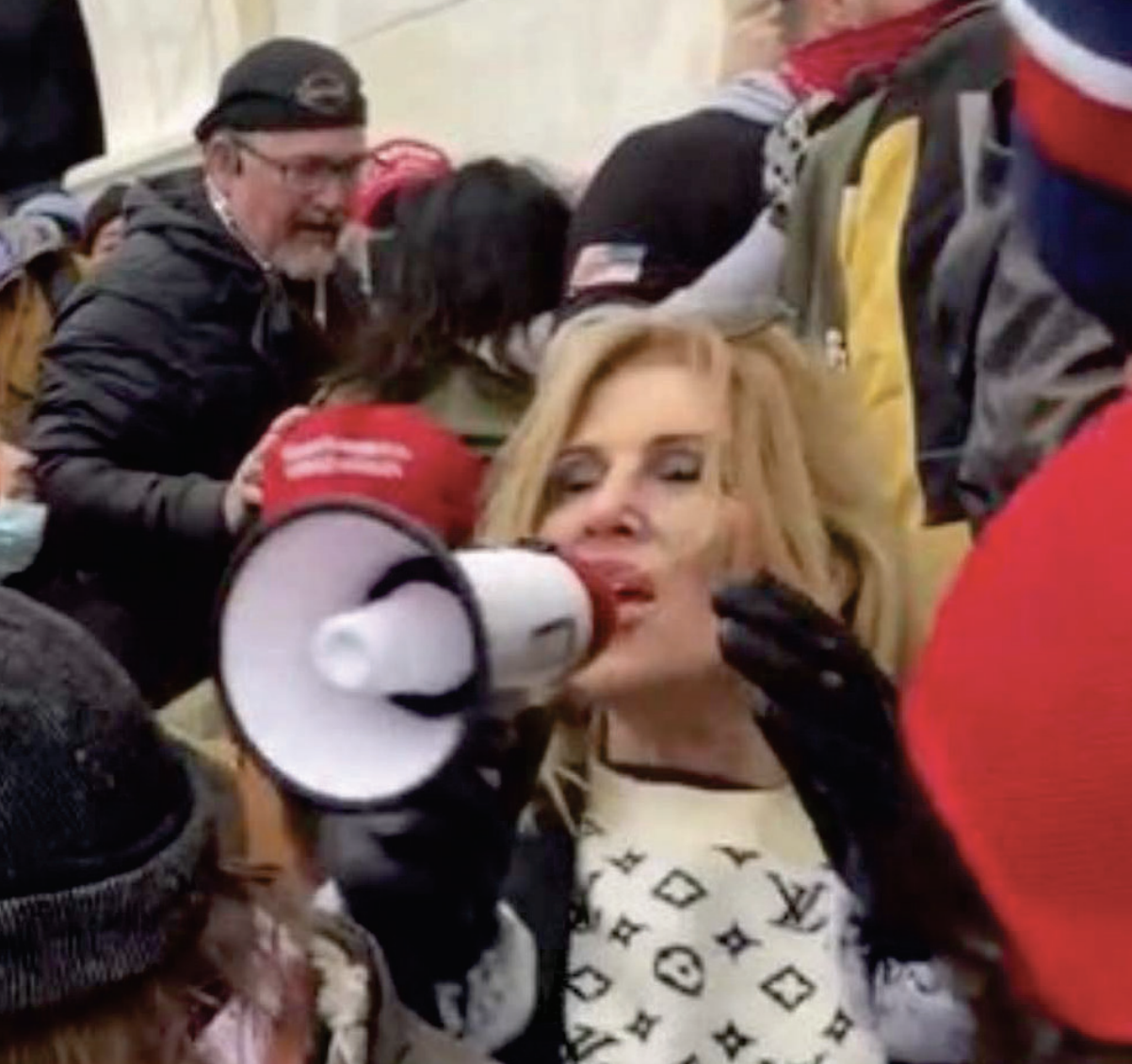 It turns out there are a lot of things that won't show up on a January 6 docket.
According to a motion to ditch her house arrest filed last week, Gina Bisignano — the Beverly Hills salon owner who wore a Louis Vuitton sweater to the insurrection — signed a plea deal back in July.
10. On July 28, 2021, Defendant signed a plea agreement in the above captioned case UNDER SEAL.

11. On August 4, 2021, Defendant appeared before this Court and entered a guilty plea in the above captioned case, UNDER SEAL, to multiple counts of the indictment.
Normally, when people sign plea deals under seal like this, it's a sign of a cooperation agreement.
That wouldn't be surprising. DOJ has been trying to charge the group of LA-area anti-vax activists who traveled to DC together in a conspiracy for most of the year. And the transcript of Danny Rodriguez' March 31 post-arrest interview showed the FBI agents interviewing Rodriguez — who went to insurrection with Gina and others and whose alleged tasering of Michael Fanone would form the center of any conspiracy — at least pretending that she was talking with investigators, possibly even claiming that Rodriguez threatened her to keep quiet at a visit to her home.
Q. Did you talk to Gina before she got arrested?

A. Um-hmm.

Q. What'd you find out from her?

A. Nothing. I mean, we just said hi. But, I mean, we didn't talk about anything else. I don't really know her that well.

Q. Did you go over to her house?

A. I've been to her house.

Q. After January 6th, have you been to her house?

A. Yeah. I went one time, yes.

Q. With Ed?

A. No.

Q. With who?

A. Gabe. The guy who turned a rat.

Q. What do you mean?

A. The guy who's snitching on everyone. He's a Trump supporter, but — and he had all this — he used to always pick fights with BLM and Antifa, and we always had problems with him making us look bad, and he always wanted to get violent. And now he's turned on us — or, me.

Q. What happened when you went with Gabe to talk to Gina?

A. It was just, like, to touch base. It was just like, hey, you know, we're — we made it. We're back. Everything's okay. Are you okay? Kind of thing.

Q. What is Gabe going to say happened?

A. I don't know. I don't know about that guy. I mean, I haven't had contact with him and he was really quiet. He looked like he didn't like what happened and he was just — kind of just sit — staring at the floor a little bit or something. Like, sitting on the couch quiet. And Gina and I were talking about D.C. and he was just quiet and, I mean — and then he left and I left. We were only there for, like, 30 minutes maybe.

Q. Is there any reason why Gina would tell us that you told her not to say anything to — about you being at the Capitol?

A. Yeah. I mean —

Q. Is that what you guys talked about?

A. I guess. Yeah. I mean, like — yeah. We're like, don't talk about this and don't tell anybody and —

Q. Did you threaten her?

A. No.

Q. But you told her not to say anything.

A. No, I didn't tell her. I mean, I think it was — no. I don't even think I told her not to say anything. I just think it was just assumed or implied that —

Q. Well, tell me what you said because I don't want to put words in your mouth. Tell me how the conversation went.

A. I really didn't talk to Gina too much. I mean, we were over there and just talking, and was smoking some weed on her patio. That's it.

Q. And?

A. I didn't threaten her or tell her any — tell her to do anything.

Q. But you guys did talk about not saying anything to the police about what happened in D.C.?

A. We weren't even talking necessarily about not talking to the police. We were saying not to talk to — about this to anyone that we know.

Q. So just don't tell anybody?

A. Just keep it quiet and don't tell anybody anything and let's try to live our lives normal, but not really, no.

Q. Okay.

[snip]

AGENT ELIAS: And then he said he met up with out there Kayla, Chris Almonte, somebody named Sauna, and Gina. And then we talked a little bit about Gina and he said that, after January 6th, he did go to Gina's house with Gabe one time. And they did discuss not saying anything to anyone.

BY AGENT ARMENTA: Q. Okay. So you told Gina that?

A. Yeah. We were just not going to talk to — talk about it with anybody.

Q. Did you threaten her at all?

A. No. For sure, no.

Q. So she's not going to say that?

A. I would hope not.

Q. What about —

A. No. She's a sweet woman. I wouldn't threaten her. And plus, what I did, why — how can I threaten? I mean, if I threaten her, she's just going to turn me in, right? [my emphasis]
Revealing a cooperation plea deal without permission is a good way to ruin your chances to get a 5K1.1 letter, which is what the government submits to ask for a lesser sentence in exchange for substantial assistance. So it's possible the plea deal has gone south.
Nevertheless, we should expect there are secret plea deals like this among the 650 defendants. And so I wanted to observe several things about Bisignano's docket. Mostly, that there's no sign of a plea deal in it. Or anything else of interest.
Bisignano was arrested on January 19 and indicted ten days later. She was in a limbo for an extended period amid COVID-related transfer delays and also a delay getting her attorney admitted to the case. On February 26, Judge Carl Nichols released her to the house arrest she's now trying to get relaxed.
But aside from adoption of a protective order in April (that is, after the Rodriguez agents claimed that Bisignano may have already started talking) and a grand jury disclosure order in July, just days before the plea deal, the only things that have happened in the docket are repeated requests for relaxation of her release conditions, status conferences, and discovery. The only thing reported out from a September status hearing pertained to her request for a relaxation of her release conditions.
Days before Bisignano pled guilty, July 24, the prosecutor in this case, Kimberly Paschall provided a summary of the discovery provided to day (which was mostly the stuff that went into her arrest). There has been no other discovery described outside of the mass discovery status updates.
All of which is to say, there's nothing in the docket.
I raise all this not just to say, we have no idea what this means, though we have no idea what Bisignano's public claim to have entered into a sealed plea deal in July means. The expected conspiracy case has never been publicly filed.
But it is worth noting that DOJ has not visibly met two deadlines set by Judge Amy Berman Jackson in the Rodriguez case, to tell her whether his case will be joined with others accused of assaulting Fanone, and to explain why he hasn't been offered a plea deal.
First of all, the Court will require the government to make its intentions plain, and therefore it is HEREBY ORDERED that any motion to join this case to any other for trial must be filed by November 5, 2021. Any motion to extend that date must be based on good cause shown, and vague references to ongoing investigations or extenuating circumstances will not suffice; if matters must be submitted to the Court under seal, the government is familiar with how to accomplish that.

Second, it is FURTHER ORDERED that the government must inform the Court by November 5, 2021 whether a plea offer has been extended in this case and if not, why not.
These filings were due — on the docket, or under seal — by Friday, but there's nothing there.
The lesson of this post, then, is that for all the wailing that nothing is going on in the January 6 investigation, there's likely to be a lot going on that we're not seeing.
https://www.emptywheel.net/wp-content/uploads/2021/11/Screen-Shot-2021-11-06-at-10.43.27-AM.png
1130
1202
emptywheel
https://www.emptywheel.net/wp-content/uploads/2016/07/Logo-Web.png
emptywheel
2021-11-08 13:38:51
2021-11-08 13:47:19
Gina Bisignano: If a Plea Deal Falls on the Docket and No One Hears It …