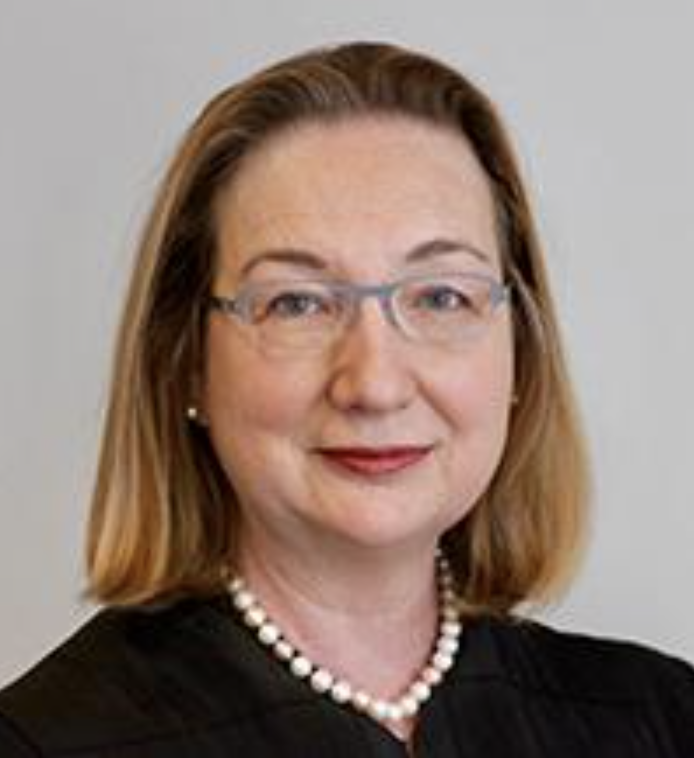 As I noted, Judge Beryl Howell ended her tenure as DC's Chief Judge yesterday decisively, ruling that Evan Corcoran must testify about topics she has found to be crime-fraud excepted.
By dint of age and tenure, Howell was appointed Chief Judge just in time to preside over the most remarkable set of investigations against a sitting and former President: the Mueller investigation and certain follow-on investigations, the January 6 investigation, and the stolen documents investigation.
And now Jeb Boasberg gets to pick up her work. Like Howell, he's an Obama appointee; he already did a stint presiding over the FISA Court.
Howell's decision requiring Corcoran to testify elicited all sorts of superlative language about the import of the decision. I'll return to the number of other Trump lawyers against whom Howell has already approved legal process. The Corcoran decision really is not that unusual in the twin Jack Smith investigations. Or even in the other grand juries over which Howell has presided.
Indeed, the fruits of a warrant Howell approved on August 1, 2017 as part of an investigation into suspicious payments (especially those from Viktor Vekelselberg) to Michael Cohen's Essential Consultants' bank account, will likely yield Donald Trump's first criminal indictment next week. Referrals of part of the resulting investigation to SDNY led to Cohen's 2018 prosecution, including on the hush payments scheme. NYC has started making security preparations for Trump's arrest on the same campaign finance scheme next week.
To repeat: a fairly uncontroversial decision Howell made six years ago — to approve the first of a series of warrants targeting Trump's personal lawyer, Michael Cohen — will have played a part if and when Alvin Bragg indicts Trump next week.
Howell's colleagues razzed her yesterday about all the secrets she may keep from the past seven years.
Howell seemed to freeze in her seat as the most senior jurist on the court, Judge Paul Friedman, publicly described her still-secret rulings in grand jury-related matters, pointing to press accounts of Howell ruling in favor of Trump in a contempt dispute over his office's response to a grand jury subpoena for classified records and against Trump on an effort to assert attorney-client privilege in the same probe.

"What fascinating issues!" Friedman declared wryly as Howell remained stone-faced on the dais. "We'd all love to read her opinions, but we can't," he said to laughter.

Friedman did note, however, that Howell had issued 100 secret grand jury opinions during her seven-year term.

Another colleague, Judge Tanya Chutkan, also alluded to Howell's work resolving disputes related to the court's grand juries over the past seven years.

"There's so much work Chief Judge Howell has done that we may never know about," Chutkan said.
In an interview with Zoe Tillman, though, Howell suggested she expects some of it will be unsealed.
Howell said she was still processing the past seven years.

"A lot of my work in the grand jury arena remains under seal, so it is going to be very hard to say what my legacy will be until after some of that work gets unsealed and people are able to evaluate it," she said.
I expect a good deal of her recent work will be unsealed, in fairly short order.
It bears reminding, though, that Judge Howell attempted to share information about what she had been overseeing in a grand jury with the House Judiciary Committee in 2019. In a 75-page opinion invoking the Federalist papers and defending separation of powers, Howell issued a ruling that should have been uncontroversial: that the House could have grand jury materials in contemplation of impeachment.
In her opinion, Howell cited a number of the things the House might get with grand jury testimony. They included Paul Manafort's description of how Trump ordered him to chase the documents stolen from Hillary.
Again, the Mueller Report recounts an incident when then-candidate Trump spoke to associates indicating that he may have had advance knowledge of damaging leaks of documents illegally obtained through hacks by the Russians, stating "shortly after WikiLeaks's July 22, 2016 release of hacked documents, [Manafort] spoke to Trump [redacted]; Manafort recalled that Trump responded that Manafort should [redacted] keep Trump updated. Deputy campaign manager Rick Gates said that . . . Manafort instructed Gates [redacted] status updates on upcoming releases. Around the same time, Gates was with Trump on a trip to an airport [redacted], and shortly after the call ended, Trump told Gates that more releases of damaging information would be coming." Id. at II-18 (footnotes omitted) (redactions in original, with citation in footnote 27 redacted due to grand jury secrecy).
They included Don Jr's refusal to testify to the grand jury about the June 9 meeting.
[A] discussion related to the Trump Tower Meeting contains two grand jury redactions: "On July 12, 2017, the Special Counsel's Office [redacted] Trump Jr. [redacted] related to the June 9 meeting and those who attended the June 9 meeting." Id. at II-105 (redactions in original).
They included Manafort's details of his discussions with Konstantin Kilimnik.
The Mueller Report further recounts evidence suggesting that then-candidate Trump may have received advance information about Russia's interference activities, stating:

Manafort, for his part, told the Office that, shortly after WikiLeaks's July 22 release, Manafort also spoke with candidate Trump [redacted]. Manafort also [redacted] wanted to be kept apprised of any developments with WikiLeaks and separately told Gates to keep in touch [redacted] about future WikiLeaks releases. According to Gates, by the late summer of 2016, the Trump campaign was planning a press strategy, a communications campaign, and messaging based on the possible release of Clinton emails by WikiLeaks. [Redacted] while Trump and Gates were driving to LaGuardia Airport. [Redacted], shortly after the call candidate Trump told Gates that more releases of damaging information would be coming.

Id. at I-53–54 (footnotes omitted) (redactions in original, with citation in referenced footnote 206 redacted due to grand jury secrecy).
But Bill Barr's DOJ, after having challenged the uncontroversial notion that the House should be permitted to receive what was obviously an impeachment referral, appealed to the DC Circuit, lost, and then stalled long enough to outlast Congress. Bill Barr effectively refused to let Congress receive and act on an impeachment referral. But Howell did her constitutionally mandated part.
It's an action DOJ took during precisely the period when Barr was stalling long enough to outlast Congress that, in my mind, is the biggest secret Howell takes from her tenure: What happened with an investigation into a suspected $10 million donation in September 2016 from an Egyptian-owned bank that allowed Trump to stay in the race when he was running out of funds. Though aspects of the investigation were dribbled out in grand jury unsealings from Howell along the way, CNN first confirmed the Egyptian bank angle in 2020.
For more than three years, federal prosecutors investigated whether money flowing through an Egyptian state-owned bank could have backed millions of dollars Donald Trump donated to his own campaign days before he won the 2016 election, multiple sources familiar with the investigation told CNN.

The investigation, which both predated and outlasted special counsel Robert Mueller's probe, examined whether there was an illegal foreign campaign contribution. It represents one of the most prolonged efforts by federal investigators to understand the President's foreign financial ties, and became a significant but hidden part of the special counsel's pursuits.

The investigation was kept so secret that at one point investigators locked down an entire floor of a federal courthouse in Washington, DC, so Mueller's team could fight for the Egyptian bank's records in closed-door court proceedings following a grand jury subpoena. The probe, which closed this summer with no charges filed, has never before been described publicly.

Prosecutors suspected there could be a link between the Egyptian bank and Trump's campaign contribution, according to several of the sources, but they could never prove a connection.
Shortly after the investigation was killed, Barr went up to Hillsdale College and ranted about prosecuting corruption.
This criminalization of politics is not healthy. The criminal law is supposed to be reserved for the most egregious misconduct — conduct so bad that our society has decided it requires serious punishment, up to and including being locked away in a cage. These tools are not built to resolve political disputes and it would be a decidedly bad development for us to go the way of third world nations where new administrations routinely prosecute their predecessors for various ill-defined crimes against the state. The political winners ritually prosecuting the political losers is not the stuff of a mature democracy.

The Justice Department abets this culture of criminalization when we are not disciplined about what charges we will bring and what legal theories we will bless. Rather than root out true crimes — while leaving ethically dubious conduct to the voters — our prosecutors have all too often inserted themselves into the political process based on the flimsiest of legal theories. We have seen this time and again, with prosecutors bringing ill-conceived charges against prominent political figures, or launching debilitating investigations that thrust the Justice Department into the middle of the political process and preempt the ability of the people to decide.

This criminalization of politics will only worsen until we change the culture of concocting new legal theories to criminalize all manner of questionable conduct. Smart, ambitious lawyers have sought to amass glory by prosecuting prominent public figures since the Roman Republic. It is utterly unsurprising that prosecutors continue to do so today to the extent the Justice Department's leaders will permit it.
Even at the time — with the Mike Flynn, Roger Stone, and Paul Manafort cases — it was clear that Barr was engaged in fairly unprecedented corruption of DOJ to protect Trump. Since then, we've learned of more. Most notably, as we await a potential Bragg indictment, Geoffrey Berman described how, after Cohen pled guilty in the hush payment case, Barr not only shut down any investigation of Trump on the charge, but attempted to reverse Cohen's own prosecution.
While Cohen had pleaded guilty, our office continued to pursue investigations related to other possible campaign finance violations. When Barr took over in February 2019, he not only tried to kill the ongoing investigations but—incredibly—suggested that Cohen's conviction on campaign finance charges be reversed.

Barr summoned Rob Khuzami in late February to challenge the basis of Cohen's plea as well as the reasoning behind pursuing similar campaign finance charges against other individuals. Khuzami was told to cease all investigative work on the campaign finance allegations until the Office of Legal Counsel, an important part of Main Justice, determined there was a legal basis for the campaign finance charges to which Cohen pleaded guilty—and until Barr determined there was a sufficient federal interest in pursuing charges against others.
Barr even attempted to put supervision of the case in the hands of Richard Donoghue, as he did do with the Rudy Giuliani case.
Given that Barr didn't think Trump should be prosecuted for the Cohen illegal contribution case, there's no telling what he thought of the suspected Egyptian bank donation. Certainly, he was in complete control of DC USAO at the time, if he wanted to shut down an otherwise viable investigation.
We are, as Howell herself said, likely to know much of what she has been doing for the last two years. But her biggest secret is whether Bill Barr prevented DOJ from fully attempting to learn whether Donald Trump was beholden to Egypt or some other foreign country for the entirety of the time he served as President.
https://www.emptywheel.net/wp-content/uploads/2023/03/Screen-Shot-2023-03-18-at-10.30.18-AM.png
758
694
emptywheel
https://www.emptywheel.net/wp-content/uploads/2016/07/Logo-Web.png
emptywheel
2023-03-18 12:41:47
2023-03-18 13:18:19
Beryl Howell's Biggest Secret: Whether Bill Barr Killed the Egyptian Bank Investigation