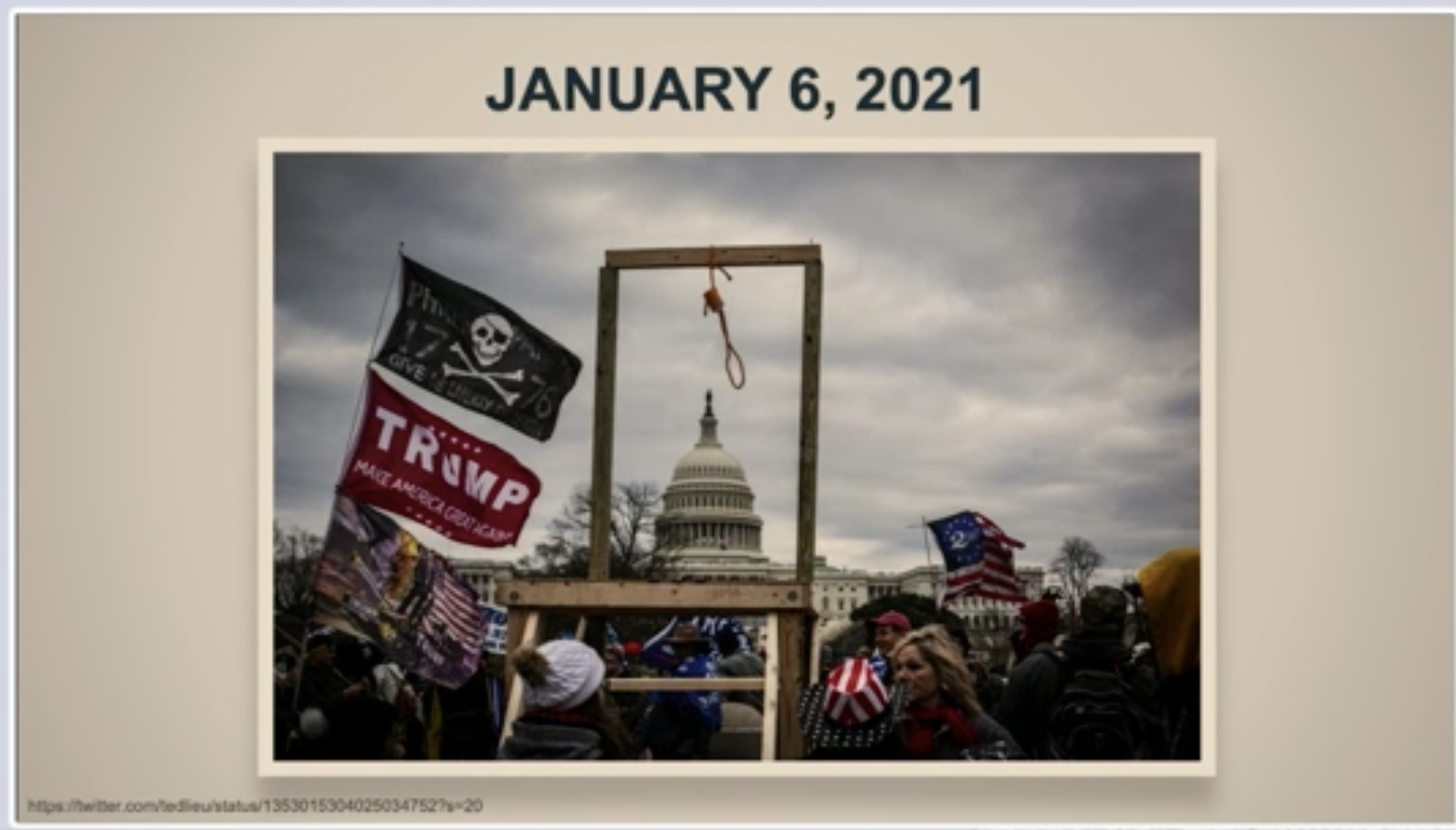 Trump's First Amendment Defense of Mobilizing His Violent Mob
There's a move in Trump's motion for a stay pending appeal of the gag order Judge Tanya Chutkan imposed that deserves more attention.
Trump appealed the gag last Tuesday and requested the stay on Thursday, about which Judge Chutkan ordered additional briefing that same day; we'll see more briefing about this all week.
MINUTE ORDER as to DONALD J. TRUMP: Upon consideration of Defendant's opposed 110 Motion for Stay Pending Appeal, Request for Temporary Administrative Stay, and Memorandum in Support, it is hereby ORDERED that the court's 105 Opinion and Order is administratively STAYED to permit the parties' briefing and the court's consideration of Defendant's Motion. It is FURTHER ORDERED that the government shall file any opposition to Defendant's Motion by October 25, 2023, and that Defendant shall file any Reply by October 28, 2023.
A substantial portion of the 33-page motion speaks for the First Amendment rights of his mob to hear, respond to, and amplify Trump's speech. To defend this principle, Trump cites, among other things, the Missouri v. Biden that SCOTUS just agreed to review over the objections of Sam Alito, Clarence Thomas, and Neil Gorsuch.
Under the First Amendment, violating the rights of a speaker inflicts an equal and reciprocal constitutional injury on the listener. "Freedom of speech presupposes a willing speaker. But where a speaker exists, . . . the protection afforded is to the communication, to its source and to its recipients both." Virginia State Bd. of Pharmacy v. Virginia Citizens Consumer Council, Inc., 425 U.S. 748, 756 (1976) (emphasis added) (collecting many cases); see also, e.g., Red Lion Broadcasting Co. v. F.C.C., 395 U.S. 367, 390 (1969) ("It is the right of the viewers and listeners, not the right of the broadcasters, which is paramount."); Packingham v. North Carolina, 582 U.S. 98, 104 (2017) (recognizing the right to "speak and listen, and then … speak and listen once more," as a "fundamental principle of the First Amendment"); Missouri v. Biden, — F.4th –, No. 23- 30445, 2023 WL 6425697, at *11 (5th Cir. Oct. 3, 2023) (holding that the "right to listen is 'reciprocal' to the … right to speak" and "constitutes an independent basis" for relief). Thus, injuring President Trump's ability to speak injures the First Amendment rights of over 100 million Americans who listen to him, respond to him, and amplify his message.
The claim to have 100 million listeners is a bit like calling his NY penthouse 33,000 square feet, insofar as it relies on overlapping numbers, including the 87 million followers he has but does not tweet to on Xitter.
Trump necessarily dedicates a very long footnote to explaining how he has standing to appeal this gag on behalf of his mob.
3 President Trump unquestionably has third-party standing to defend the rights of his audiences in this context. The Supreme Court is "quite forgiving" of third-party standing requirements "[w]ithin the context of the First Amendment." Kowalski v. Tesmer, 543 U.S. 125, 130 (2004). The First Amendment's overbreadth doctrine, for example, relieves the third-party plaintiff of the burden to show the usual "close relationship" and "hindrance" required by the third-party standing doctrine, id.; instead, Article III injury is all that is required. See id.; United States v. Sineneng-Smith, 140 S. Ct. 1575, 1586 (2020) (Thomas, J., concurring) ("Litigants raising overbreadth challenges rarely satisfy either requirement ['close relationship' and 'hindrance'], but the Court nevertheless allows third-party standing.") (citing Dombroski v. Pfister, 380 U.S. 479, 487 (1965)); N.J. Bankers Ass'n v. Att'y Gen., 49 F.4th 849, 860 (3d Cir. 2022) (noting that "the requirement that an impediment exist to the third party asserting his . . . own rights" does not apply when the challenged government action "substantially abridges the First Amendment rights of other parties not before the court"). Further, as the Supreme Court held in Bantam Books Inc. v. Sullivan, it is particularly important to allow third-party standing to vindicate First Amendment interests because "freedoms of expression … are vulnerable to gravely damaging yet barely visible encroachments" and must be protected by "the most rigorous procedural safeguards." 372 U.S. 58, 66 (1963); see also id. at 64 n.6 (upholding the third-party standing of book publishers to assert the rights of distributors because "[t]he distributor … is not likely to sustain sufficient economic injury to induce him to seek judicial vindication of his rights," whereas the seller has a "greater . . . stake" in vindicating those rights). In addition, the doctrine of third-party standing applies "when enforcement of the challenged restriction against the litigant would result indirectly in the violation of third parties' rights." Kowalski, 543 U.S. at 130. Here, the interference and restriction of President Trump's First Amendment rights "would result indirectly in the violation of third parties' rights," id.—i.e., the rights of his audiences to receive, respond to, and amplify his speech.
I think this footnote is suspect, legally and practically. I mean, the notion that Stephen Miller's NGO for fascism couldn't vindicate these rights is nonsense. But it is nevertheless telling.
Trump makes that argument even while complaining that Judge Chutkan had to rely on the potential actions of others — that very same mob riled up by the amplified false victimization of Trump — to justify the gag itself.
Unable to justify the Gag Order based on President Trump's actions, the prosecution pivots to third parties, alleging that unnamed others, outside of President Trump's control, acted improperly before this case began. Such concerns cannot justify the Gag Order. The Supreme Court has repeatedly explained that citizens of this country cannot be censored based on a fear of what others might do. Brandenburg v. Ohio, 395 U.S. 444, 447 (1969) ("[T]he constitutional guarantees of free speech and free press do not permit a State to forbid or proscribe advocacy . . . except where such advocacy is directed to inciting or producing imminent lawless action and is likely to incite or produce such action.").

[snip]

In entering the Gag Order, the Court relied heavily on the anticipated reactions of unidentified, independent third parties to President Trump's speech. The Court found that "when Defendant has publicly attacked individuals, including on matters related to this case, those individuals are consequently threatened and harassed." Id. at 2. But the Court cited no evidence that President Trump's statements—as distinct from the statements of millions of others—caused such alleged threats or harassment, let alone that the statements were directed to inciting imminent lawless action.
Remember, Trump has repeatedly denied that the indictment accuses him of mobilizing the mob against Congress. Even after DOJ disabused Trump of that fantasy, he is playing coy about the fact that the crime he is alleged to have committed significantly involves riling up a mob to use as a weapon.
Indeed, Trump admits this is the plan to get elected: to rile up the mob again, this time by using this prosecution as a trigger.
The prosecution filed the indictment in this matter on August 1, 2023. Doc. 1. As this case is pending, President Trump continues to campaign for President, and one of his core messages is that the prosecutions against him are part of an unconstitutional strategy to attack and silence the Biden Administration's chief political rival. To advance this message, President Trump has made many public statements criticizing individuals he believes are wrongly prosecuting him, including President Biden, Attorney General Garland, and Special Prosecutor Jack Smith and his team. This viewpoint—that the prosecution is politically motivated—is one shared by countless Americans.

[snip]

President Trump's speech in support of his re-election campaign—which is inextricably intertwined with this prosecution and his defense—lies "at the core of our electoral process of the First Amendment freedoms—an area . . . where protection of robust discussion is at its zenith." Meyer v. Grant, 486 U.S. 414, 425 (1988) (citations and quotations omitted); see also Buckley v. Am. Const. Law Found., Inc., 525 U.S. 182, 186–87 (1999); McIntyre v. Ohio Elec. Comm'n, 514 U.S. 334, 347 (1995) ("[C]ore political speech" encompasses any "advocacy of a politically controversial viewpoint." "No form of speech is entitled to greater constitutional protection than" core political speech.).
Some of this is just cynicism: by claiming all this is political speech, Trump does base his appeal on the most expansive First Amendment precedent. The legal arguments here, some of them, anyway, are not frivolous.
But he's not wrong about his campaign strategy. The key to Trump's political success since he was sworn in was to polarize the electorate based off false claims that any investigation of Trump's crimes is an attack on him and his mob.
And at one point, Trump's argument admits that this is all an argument about democracy.
The Gag Order's carve-outs exacerbate the vagueness problems by imposing new layers of confusion upon the Order. Doc. 105, at 3. The carve-outs seem to authorize "criticizing the government generally, including the current administration or the Department of Justice," but that does not seem to include criticizing the most relevant figure of the Department of Justice, i.e., Jack Smith. Id. The carve-outs supposedly allow President Trump to state "that his prosecution is politically motivated," but the Gag Order prevents him from "targeting" the specific actors involved in his prosecution, so it prevents him from giving any specific or detailed justification for this claim. Id. Where claiming that the prosecution is politically motivated ends, and "targeting" the prosecutors against President Trump begins, is anyone's guess. The carve-outs apparently authorize "statements criticizing the platforms or policies of . . . former Vice President Pence," id., but the "platforms or policies" of candidates like Pence (and Biden) are deeply intertwined with their views on election integrity, with specific reference to the 2020 election. When does criticism of Mike Pence's "platforms or policies" become a statement "that target[s] . . . the substance of [his] testimony," id., when questions about the integrity of the 2020 election are "central" to the 2024 Presidential campaign?
Joe Biden (comments about whom this gag does not restrict) is running on democracy. Mike Pence is running on defending the Constitution.
Trump is running on a promise that none of that matters: no election outcome — not that of 2020, not that of 2024 — should be respected, unless he wins.
And the way to ensure that happens, Trump knows, is to guard the right of his mob to amplify and respond to his false claims of victimization.
https://www.emptywheel.net/wp-content/uploads/2021/02/Screen-Shot-2021-02-10-at-9.37.01-PM.png
974
1708
emptywheel
https://www.emptywheel.net/wp-content/uploads/2016/07/Logo-Web.png
emptywheel
2023-10-23 05:19:36
2023-10-23 05:27:21
Trump's First Amendment Defense of Mobilizing His Violent Mob