There's one more thing I've been trying to understand from the Sandusky presentment: How did the grand jury find the victims described in the presentment?
For some of the victims, the answer is clear. The mother of Victim 1 (the boy who Sandusky met at his high school) for example, told his school and the school, in turn, told the cops. That's what set off this investigation.
From there, they would have quickly found Victim 6 (the boy whose mother called the University cops), because there was a lengthy report on what happened between him and Sandusky in 1998. And it seems that Victim 6 may have led investigators to contact Victims 5 and 7, both of whom he knew (he also alerted investigators to a B.K. who was also allegedly abused; the grand jury couldn't subpoena him because he is serving in the military overseas).
And it's always possible that a victim or a witness came forward after the first reports of the grand jury investigation were made public this spring.
But for some of the kids, it seems much more likely that an insider–someone from Penn State's Football program–alerted the grand jury. This is particularly true for Victims 2 (the boy McQuery witnessed being raped in 2002) and 8 (the boy a janitor witnessed being fellated in 2000), since their identities remain unknown to the grand jury.
Here's a summary of the victims with a description of any obvious way by which they would come to the attention of the grand jury.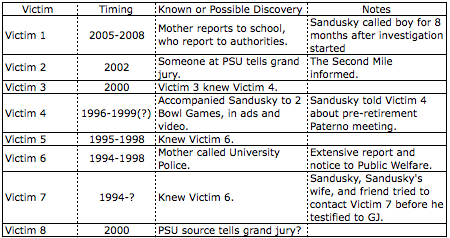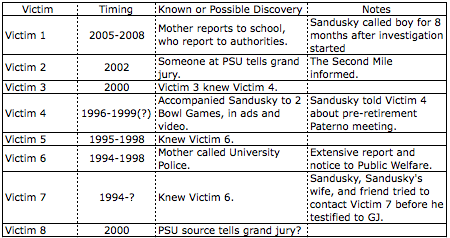 https://www.emptywheel.net/wp-content/uploads/2016/07/Logo-Web.png
0
0
emptywheel
https://www.emptywheel.net/wp-content/uploads/2016/07/Logo-Web.png
emptywheel
2011-11-11 20:13:36
2011-11-12 08:37:04
How Did Investigators Find the Victims?