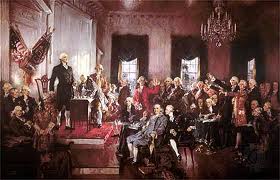 As about everyone knows by now, the great debate is still ongoing on the issue of the debt ceiling. The frustration of those on the left with the intransigence of the Republican Tea Party, coupled with the neutered Democratic Congress, has led many to call for President Obama to immediately "invoke the 14th". The common rallying cry is that legal scholars (usually Jack Balkin is cited), Paul Krugman and various members of Congress have said it is the way to go. But neither Krugman nor the criers in Congress are lawyers, or to the extent they are have no Constitutional background. And Balkin's discussion is relentlessly misrepresented as to what he really has said. "Using the 14th" is a bad meme and here is why.
The Founders, in creating and nurturing our system of governance by and through the Constitution provided separate and distinct branches of government, the Legislative, Executive and Judicial and, further, provided for intentional, established and delineated checks and balances so that power was balanced and not able to be usurped by any one branch tyrannically against the interest of the citizenry. It is summarized by James Madison in Federalist 51 thusly:
First. In a single republic, all the power surrendered by the people is submitted to the administration of a single government; and the usurpations are guarded against by a division of the government into distinct and separate departments.
….
We see it particularly displayed in all the subordinate distributions of power, where the constant aim is to divide and arrange the several offices in such a manner as that each may be a check on the other — that the private interest of every individual may be a sentinel over the public rights. These inventions of prudence cannot be less requisite in the distribution of the supreme powers of the State.
which must be read in conjunction with Madison in Federalist 47:
The accumulation of all powers, legislative, executive, and judiciary, in the same hands, whether of one, a few, or many, and whether hereditary, selfappointed, or elective, may justly be pronounced the very definition of tyranny.
This is the essence of the separation of powers and checks and balances thereon that is the very Read more →
https://www.emptywheel.net/wp-content/uploads/2016/07/Logo-Web.png
0
0
bmaz
https://www.emptywheel.net/wp-content/uploads/2016/07/Logo-Web.png
bmaz
2011-07-31 16:56:30
2011-08-01 01:46:02
The Unstated Constitutional Problems With Obama "Using the 14th"