Why The DOJ Can't Prosecute Banksters: Map of Clemens Investigation
At a time when there are still no significant prosecutions of major players, banks and investment shops responsible for the financial fraud that nearly toppled the world economy and is still choking the US economy, we get an explanation why from an unlikely source – the Roger Clemens trial in Judge Reggie Walton's courtroom in the DC District. During defense examination of FBI special agent John Longmire today, a map of the FBI/DOJ investigation of Roger Clemens, who was accused of lying about getting a few steroid shots in the late 90s and early 2000s, was displayed. We are now two full months into the second trial of Roger Clemens stemming from this investigation.
Any more questions on why DOJ cannot get around to prosecuting banksters??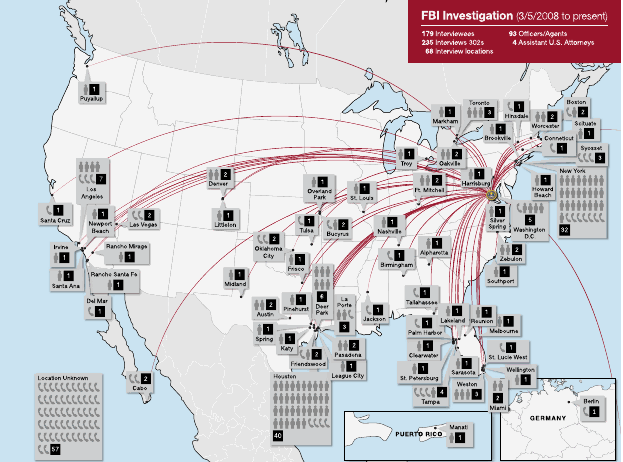 https://www.emptywheel.net/wp-content/uploads/2016/07/Logo-Web.png
0
0
bmaz
https://www.emptywheel.net/wp-content/uploads/2016/07/Logo-Web.png
bmaz
2012-06-08 16:51:39
2012-06-08 16:57:37
Why The DOJ Can't Prosecute Banksters: Map of Clemens Investigation