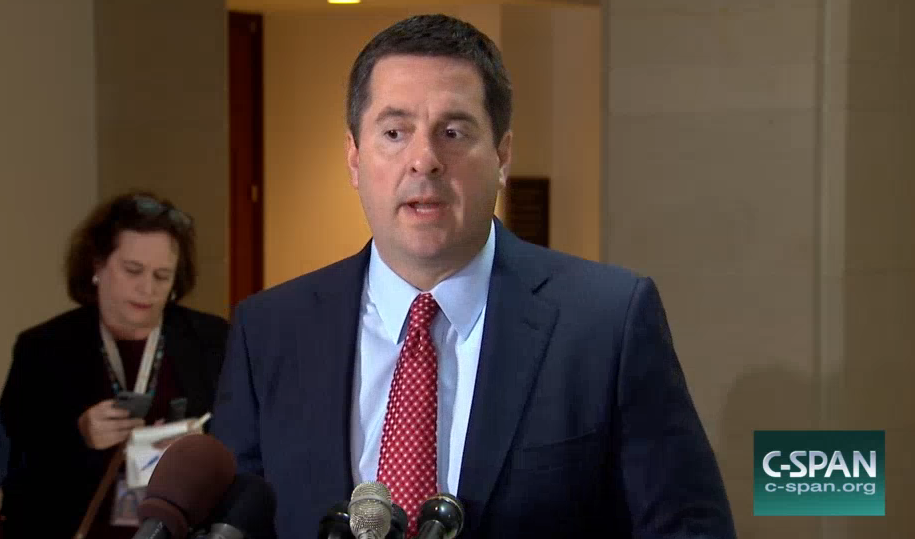 We know what a Devin Nunes-led investigation into possible Russian compromise looks like. Just in December, after all, the House Intelligence Committee released their investigation into Edward Snowden.
Using the Snowden investigation as a guide, we know that HPSCI believes that if there's an ongoing investigation, it should avoid speaking to anyone who knows evidence first-hand. It can instead rely on the impressions of people who don't like the target of the investigation, as HPSCI did for claims that Snowden went to a hackers conference in China. It can also avoid reviewing official records, including public school records or even official Army records. Rather than do that, it may rely on imprecise citations of public reporting, interpreted in the light designed to be most damning. Any lies told — such as Snowden's cover story that he'd be undergoing epilepsy treatment or Mike Flynn's lies to Mike Pence — are themselves evidence of the worst possible guilt. Numbers are interpreted in the most damning possible light, even if more recent and informed numbers suggest something far less damning; those damning numbers came, in Snowden's case, from a decision made by former DIA Director and recently fired National Security Advisor Flynn to assume any contact involved potential compromise.
Very importantly, HPSCI's standard is that if anyone alleges contact between Russians and the target of an investigation, they should believed, even if that person is not in a position to know first hand. According to HPSCI standard, it is permissible to rely on dubious translations of Russian comments.
That's the standard a Devin Nunes-led investigation holds to — or at last held to, with Snowden — before it deems an American citizen a traitor (irrespective of the very specific requirements of a treason charge).
Now, you can certainly argue that that's a horrible standard for an intelligence committee investigation into allegations that an American citizen is spying for Russia. I have made that argument myself. But that is the standard HPSCI very recently set for serious allegations of possible intelligence compromises involving Russia.
Which is mighty curious, because Devin Nunes just gave a press conference claiming, categorically, that no Trump campaign personnel had any contact with any Russian official. That, in spite of public reporting relying on an interview with Russian Ambassador Sergey Kislyak that said his contacts with Trump campaign advisor Mike Flynn went back before November 8. That's pretty good evidence that Trump's campaign was in contact with a Russian official. (Later in his presser, Nunes acknowledged that Flynn spoke with Russia, though suggested that happened after Trump became President-Elect.)
And if Nunes applied the same standard to Trump's associates he applied to Edward Snowden, then clearly the allegations in the Trump dossier should be presumed to be true (again, I'm not advocating for this, I'm talking about what would happen if HPSCI applied the same standard). That would mean Carter Page's contacts with Kremlin Internal Affairs official Diyevkin would count as evidence of a contact. Carter Page's other contacts were not named. Michael Cohen's, which were alleged to be even more inflammatory, were done with Russian Presidential Administration figures working under cover, but would seem to meet the Nunes HPSCI standard. Paul Manafort's contacts were with Ukrainians.
Finally, if HPSCI applied the same standards they did with Snowden, then the claims from Sergei Ryabkov that there were discussions before the election should amount to sufficient evidence to substantiate the claim.
Devin Nunes invoked McCarthyism in insisting his committee shouldn't just investigate American citizens without evidence. But he apparently extends that standard differently to men on whose transition team he served.
https://www.emptywheel.net/wp-content/uploads/2017/02/Screen-Shot-2017-02-27-at-12.48.16-PM.png
539
915
emptywheel
https://www.emptywheel.net/wp-content/uploads/2016/07/Logo-Web.png
emptywheel
2017-02-27 13:16:10
2017-02-27 14:22:32
Devin Nunes Doesn't Think Donald Trump Should be Subject To the Kind of "Witch Hunt" He Conducted with Edward Snowden