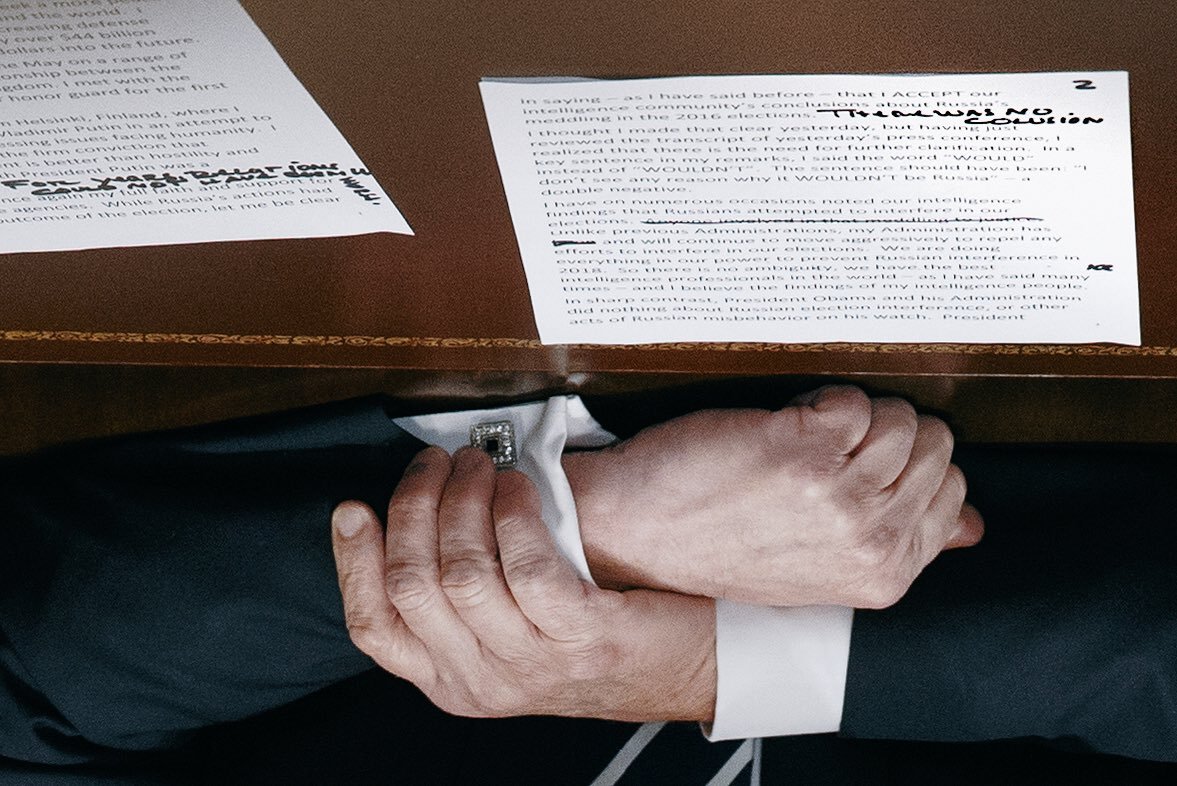 As I disclosed last month, I provided information to the FBI on issues related to the Mueller investigation, so I'm going to include disclosure statements on Mueller investigation posts from here on out. I will include the disclosure whether or not the stuff I shared with the FBI pertains to the subject of the post. 
On Monday, Rudy Giuliani revealed that Robert Mueller had gone ten days without responding to the White House's latest set of conditions under which President Trump would be willing to sit for an interview.
We have an offer to [Mueller] — by now, like, the fifth offer back and forth, so you'd have to call it a counter-counter-counteroffer. And, where it stands is, they haven't replied to it and it's been there about 10 days," he said. "Despite the fact that we're getting more and more convinced that maybe he shouldn't do it, we still have that offer outstanding, and in good faith, if they came back and accepted it, or if they came back and modified it in a way that we can accept, we would consider it.
By yesterday afternoon, ABC, showing unbelievable credulity, reported that Mueller wanted to ask Trump questions about obstruction.
Special counsel Mueller wants to ask Trump about obstruction of justice: Sources

Special Counsel Robert Mueller's office wants to ask President Donald Trump about obstruction of justice, among other topics, sources close to the White House tell ABC News. According to sources, the president learned within the last day that the special counsel will limit the scope of questioning and would like to ask questions both orally and written for the President to respond to.
This left the impression — not just among readers who aren't paid to know better, but among journalists who are — that the focus of any interview would be obstruction, not the President's role in a conspiracy with the Russians.
By the end of the day, more responsible reporting revealed that pretty much the opposite of what ABC reported had occurred. In his latest proposal, Mueller offered to drop half the obstruction questions.
In a letter sent Monday, Mueller's team suggested that investigators would reduce by nearly half the number of questions they would ask about potential obstruction of justice, the two people said.
That would, of course, mean that a greater proportion of the questions would be on that conspiracy with Russia, not on obstruction. That's not surprising. Between January and March, after all, the focus of Mueller's questions (as interpreted by Jay Sekulow) shifted more towards that conspiracy than obstruction.
Meanwhile, the President's favorite scribes pushed another bullshit line he has been pushing for over six months: in spite of what you might conclude given his increasing attacks on Mueller on Twitter, the NYT would have you believe, Trump wants to do an interview, against his lawyers' better judgment, and isn't just stalling while trying to claim he's not obsessed with and afraid of this investigation.
President Trump pushed his lawyers in recent days to try once again to reach an agreement with the special counsel's office about his sitting for an interview, flouting their advice that he should not answer investigators' questions, three people briefed on the matter said on Wednesday.

Mr. Trump has told advisers he is eager to meet with investigators to clear himself of wrongdoing, the people said. In effect, he believes he can convince the investigators for the special counsel, Robert S. Mueller III, of his belief that their own inquiry is a "witch hunt."

[snip]

Mr. Trump has put his lawyers in the vexing position of trying to follow the desires of their client while seeking to protect him from legal jeopardy at the same time.
Here's CNN showing Rudy planting the bullshit line, as well as another bullshit line the press continues to repeat uncritically, that this inquiry is leading towards a report to Congress and not another set of indictments.
He added that Trump has "always been interested in testifying. It's us, meaning the team of lawyers, including me, that have the most reservations about that."

Giuliani also sent a message to Mueller: It's time for the special counsel to "put up or shut up."

"They should render their report. Put up — I mean I guess if we were playing poker (you would say) 'Put up or shut up.' What do you got?" Giuliani said. "We have every reason to believe they don't have anything of the President doing anything wrong. I don't think they have any evidence he did anything wrong."
Why is it that the press can easily identify outright bullshit when it comes directly from Trump or Rudy's mouth, but when they tell you equally obvious bullshit on terms that they're telling you a secret, it somehow gets reported as if it's true, all the evidence notwithstanding?
Ferfecksake, people. Trump and his legal team have spent weeks claiming that "collusion" is not a crime. He stood next to Vladimir Putin as the latter replayed the June 9 script, looking like a whipped puppy, and denied he got elected thanks to Putin's assistance, siding with a hostile foreign leader over the United States' intelligence community. The last indictment Mueller released included a paragraph nodding vigorously towards GRU's hackers responding to requests from Trump, as if responding to a signal (a practice for which Mueller has already shown evidence).
For example, on or about July 27, 2016, the Conspirators attempted after hours to spearphish for the first time email accounts at a domain hosted by a third party provider and used by Clinton's personal office. At or around the same time, they also targeted seventy-six email addresses at the domain for the Clinton Campaign.
Do you really think Mueller would put Donald Trump right there on page 8 of the GRU indictment and be focused primarily on obstruction? Do you really think Mueller doesn't have the conspiracy to defraud the US (and conspiracy to commit CFAA) indictment that has been clear since February planned out, where even without an interview he could include Trump as "Male 1" to indicate how he communicated acceptance of a Russian deal over and over? Do you really think people with a significant role in the conspiracy would know that Trump was moving within 14 hours of the polls closing to pay off his debts to Russia if there weren't more evidence that Donald J Trump willingly joined a conspiracy with Russia?
I even got asked the other day, by a self-described expert on this case, why so many witnesses are talking about being asked questions about obstruction. I noted that the only witnesses we've heard from recently — close associates of Roger Stone — were instead describing questions about meetings attended and Russian deals floated and social media campaigns launched. That is, they were asked about conspiracy, not obstruction. We don't even know what Jared Kushner was asked in his lengthy April questioning, but I assure you it wasn't focused primarily on obstruction.
I get it. Mueller isn't leaking and readers want more Russia stories so any time the White House seeds one, all secret like except that CNN films it, you gotta tell it in such a way that you'll get those cable-televised secrets the next time. But please please please treat those claims with the same skepticism you treat Trump and Rudy bullshit when it is delivered where the public can see it. If Trump and Rudy are lying in public, there is zero reason to believe they're telling you the truth when they claim to be feeding you secrets.
Robert Mueller is investigating the President of the United States for willfully entering a conspiracy with Russians offering to help him get elected, I believe in exchange for certain policy considerations, including changes to US Syria policy. Yes, Mueller obtained evidence demonstrating that conspiracy in large part because, in an effort to thwart any investigation into how he got elected, Trump fired the last guy who was investigating it (and investigating it less aggressively). Yes, that means obstruction is one of the crimes that Mueller believes Trump may have committed (if you're going to harp on obstruction, then please focus on Trump's pre-emptive offers of pardons to Mike Flynn and Paul Manafort, because it's one of the most grave examples of obstruction and it's critical to understanding what is going on now in EDVA).
I can't predict how this will end — whether Mueller will decide he has enough evidence to implicate a sitting president, if so, how Mueller might lay out Trump's involvement along with that of his family and aides, what Congress will do in response, what the long term impact on the country will be.
But that doesn't mean the press is doing its readers any favors by playing dumb about what Mueller is really pursuing.
https://www.emptywheel.net/wp-content/uploads/2018/08/There-Was-No-Collusion.jpg
786
1177
emptywheel
https://www.emptywheel.net/wp-content/uploads/2016/07/Logo-Web.png
emptywheel
2018-08-02 10:45:51
2018-08-02 12:12:24
How ABC Broke a Story about Mueller LIMITING Questions on Obstruction and Claimed It Showed a Focus on Obstruction