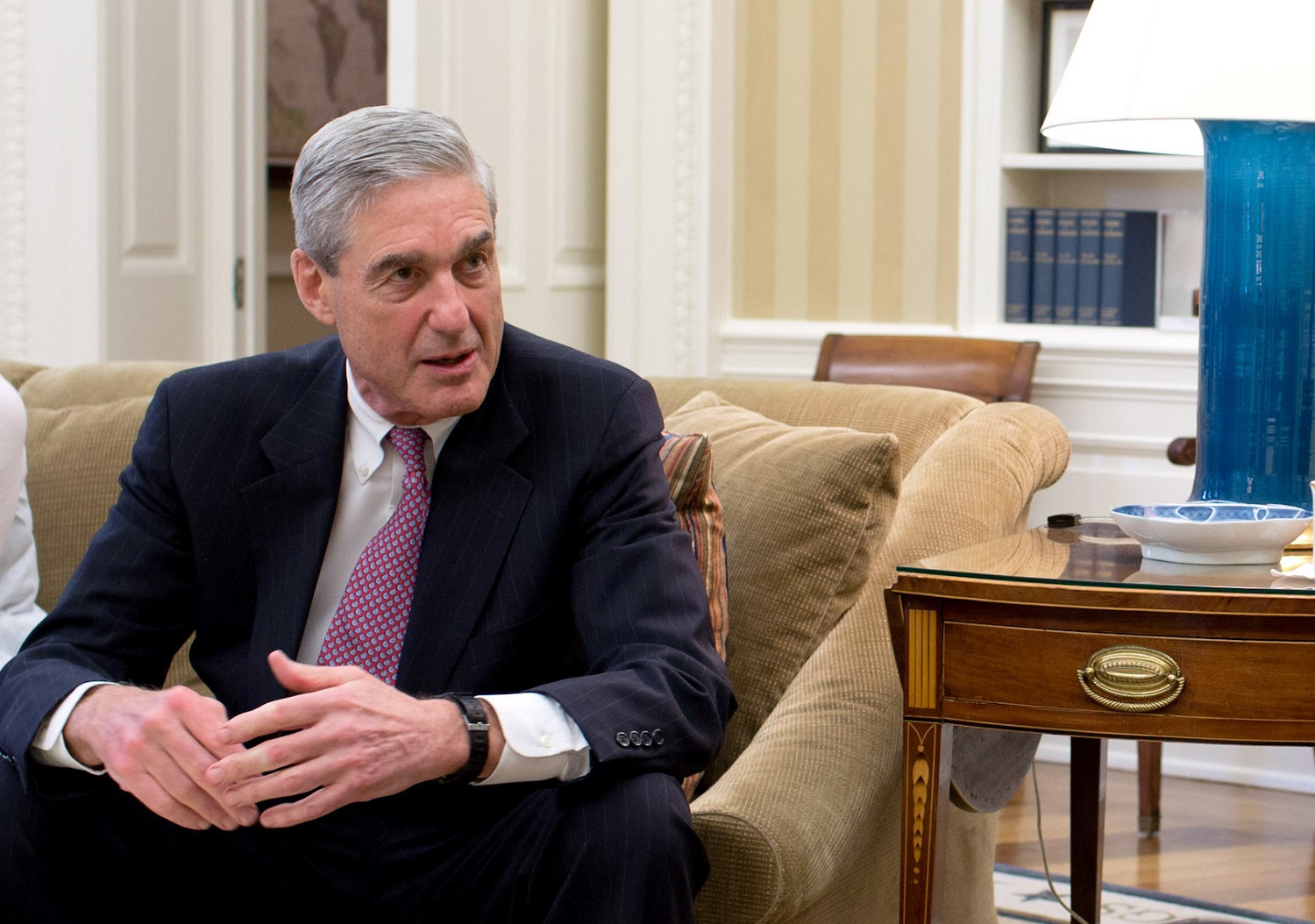 This is off-topic, but I wanted to share that I was on KPFA in the last few days and the host talked about how great this site is (!!), paying particular attention to the quality of the commenters. He's right: you guys rock.
Yesterday, the Atlantic captured Rudy Giuliani's despair, in fairly inexcusable language for a purported defense attorney, of being able to rebut an eventual Mueller report. Rudy himself ascribed his inability to prepare for a Mueller report to the difficulties he faced even getting the President to answer a few questions.
Giuliani said it's been difficult in the past few months to even consider drafting response plans, or devote time to the "counter-report" he claimed they were working on this summer as he and Trump confronted Mueller's written questions about the 2016 campaign.

"Answering those questions was a nightmare," he told me. "It took him about three weeks to do what would normally take two days."
He blames that difficulty not on the fact that his client is a compulsive liar, but on what looks like a staged interruption from John Kelly, who oh by the way is not in his office this morning, amid reporting that Mueller has already interviewed him.
There was the sheer problem of finding time—Giuliani recalled one instance when they were working on the list and Chief of Staff John Kelly broke in to tell Trump about the migrant caravan, which grabbed the president's attention immediately. And there was the specificity of the questions themselves: "He's got a great memory," Giuliani said. "However, basically we were answering questions about 2016, the busiest year of his life. It's a real job to remember."
He also comes perilously close to admitting how uncontrollable this client is.
Giuliani initially pushed back on the prediction that Trump would take center stage after the report drops. "I don't think following his lead is the right thing. He's the client," he told me. "The more controlled a person is, the more intelligent they are, the more they can make the decision. But he's just like every other client. He's not more … you know, controlled than any other client. In fact, he's a little less."

For Giuliani, letting Trump guide the response post-report may not be ideal, but "I don't think there's anyone in the world that can stop Donald Trump from tweeting," he acknowledged. "I've tried."
That may be necessary to excuse some of the more obvious explanations for Trump's complaints about his epically corrupt campaign manager being held in protective custody.
The president has also devoted much of his energy to following Paul Manafort's case rather than prepping for the full report. "The thing that upsets potus the most is the treatment of Manafort," Giuliani said. When Trump learned that the former campaign chairman was in solitary confinement, Giuliani said, "he said to me, 'Don't they realize we're America?'"
I mean, maybe Trump wants his former campaign manager to meet an untimely death in jail?
Rudy repeated some of the same comments to the WaPo.
Giuliani pronounced himself "disgusted" by the Mueller team's tactics, complained about the length of time it took to complete written answers to questions from the special counsel's team and said Mueller's probe was essentially out of control.

"I think he crossed the line a while ago. I think it's a situation badly in need of supervision," Giuliani said. He's "the special prosecutor of false statements."
As Jonathan Chait (yes, I am linking Chait, it's Pearl Harbor Day if you want to mark the date) noted, this despair from Rudy comes as his boasts about progress on a the report have dwindled from an almost-finished report to 58 pages to 45 to not started yet.
So we've gone from the first half alone being 58 pages, to the entire report being 45 pages, to "it's difficult to even consider drafting" the report at all. This is like an episode of Matlock that lasts all season long and where the client is actually guilty and Matlock is going through early-stage dementia.
Meanwhile, others in the Atlantic article describe the problem posed by responding to a "report" that might include real allegations of impeachable offenses.
There have also been few frank conversations within the White House about the potential costs of Mueller's findings, which could include impeachment of the president or the incrimination of his inner circle. Those close to Trump have either doubled down on the "witch hunt" narrative, they said—refusing to entertain the possibility of wrongdoing—or decided to focus on other issues entirely.

[snip]

Attempting to plan "would mean you would have to have an honest conversation about what might be coming," a former senior White House official, who requested anonymity to speak freely, told me.
So the White House is just going to follow the lead of the Tweeter-in-Chief.
"We would always put together plans with the knowledge that he wouldn't use them or they'd go off the rails," one recently departed official told me. "And at this point, with Mueller, they've decided they're not even going to do that."

"It's like, 'Jesus, take the wheel,'" the source added, "but scarier."
Speaking of the Tweeter-in-Chief, very early this morning, Trump started wailing about the Mueller report, in what even for him is a long string of unthreaded (grr) tweets.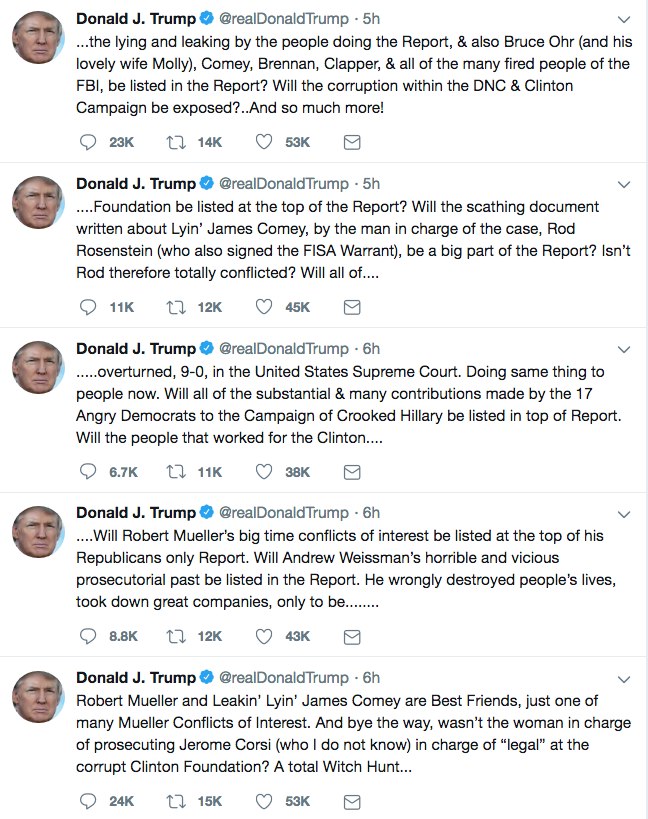 That rant was followed a few hours later by a specific denial of Rudy's comments, followed by a boast (take that, Chait!) that he's got 87 pages written.

A remarkably chastened Rudy followed up on Trump's denial to complain that the media was misrepresenting his comments about how difficult answering a few questions was.

This morning at WaPo, I reprised an argument you're all familiar with: that as Rudy and Trump focus their entire strategy on responding to a final Mueller report, he continues to produce his report in snippets in one after another "speaking indictment."
Mueller has already been submitting his report, piece by piece, in "speaking indictments" and other charging documents. He has left parts of it hiding in plain sight in court dockets of individuals and organizations he has prosecuted.
Click through for my latest summary of what we've seen.
We may (or may not, given the Flynn precedent) see far more before the day is out, with Cohen reports and one Manafort report.
In any case, if you're counting just the fragments we're already seeing, Mueller has released the following details beyond what was legally required:
How Paul Manafort runs campaigns for his Russian paymasters: 38 pages (Manafort plea exhibits)

How Russians dangled a Trump Tower to entice Trump: 9 pages (legally superfluous Cohen plea)

How Russian assets dangled stolen emails to entice Trump: 14 pages (Papadopoulos plea)

How Russians hacked — and continued to hack, literally in response to Trump's request — Hillary: 29 pages (GRU indictment)

How Russians magnified attacks on Hillary and fed disinformation: 37 pages (IRA indictment)
So Mueller has released 127 pages of reporting, much of it legally superfluous, even before charging anyone in the case in chief.
All that's before Jerome Corsi leaked his 6-page draft statement of the offense, revealing how Roger Stone tried to cover up their advance knowledge of the timing and content of the stolen John Podesta emails. And before whatever we get in the Michael Cohen (which is unlikely to be very detailed) and Paul Manafort (which is) filings today.
Since I first started pointing out how much reporting Mueller was doing in these filings, a whole slew of people in the media have adopted the observation. And now I've stolen it myself for the WaPo (note, I didn't write the headline; I in no way think Mueller has released "most" of his report).
But even with all that reporting, it seems half the Trump strategy still lies in plotting feebly in fearful anticipation of what Mueller might one day report, without noticing what he has already reported.
As I disclosed in July, I provided information to the FBI on issues related to the Mueller investigation, so I'm going to include disclosure statements on Mueller investigation posts from here on out. I will include the disclosure whether or not the stuff I shared with the FBI pertains to the subject of the post. 
https://www.emptywheel.net/wp-content/uploads/2018/02/RobertMueller_PeteSouza_2012_Wikimedia.jpg
1054
1500
emptywheel
https://www.emptywheel.net/wp-content/uploads/2016/07/Logo-Web.png
emptywheel
2018-12-07 13:12:23
2018-12-07 18:13:43
Trump Boasts of His Imaginary 87-Page Rebuttal Without Noticing Mueller Has Already Released 127 Pages