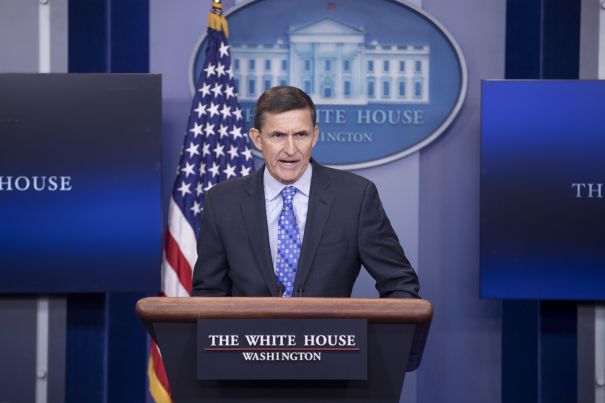 In Friday's pre-trial hearing for former Mike Flynn partner Bijan Kian, Kian's attorneys revealed something prosecutors had told them in discovery: that Flynn had more ties with Alptekin than has been made public.
Prosecutors wrote to lawyers for Flynn's ex-lobbying partner Bijan Kian that the US government was "in possession of multiple, independent pieces of information relating to the Turkish government's efforts to influence United States policy on Turkey and Fethullah Gulen, including information relating to communications, interactions, and a relationship between Ekim Alptekin and Michael Flynn, and Ekim Alptekin's engagement of Michael Flynn because of Michael Flynn's relationship with an ongoing presidential campaign, without any reference to the defendant of FIG."
Flynn's new firebreather lawyer Sidney Powell thinks this is all about him, and as such suggests this is a last minute attack on Flynn because he reneged on a key part of his plea allocution.
Kian's attorney Mark MacDougall read the statement at a court hearing Friday morning. He implied that the newly revealed information about Flynn — which was not part of his admitted crimes in his plea deal with special counsel Robert Mueller — may be classified.

Flynn's attorney Sidney Powell responded to the new accusation Friday, saying, "We have no idea what the government is talking about. It smacks of desperation."
Admittedly, having blown up his plea deal, she now has to worry about anything that would provide cause to change the government stance on Flynn's sentencing. And she's probably — though not definitely — correct that this is something the government had in hand when they supported probation for Flynn. I do keep thinking of the redaction in the Mueller Report — a footnote that must explain the outcome of the counterintelligence investigation into Flynn — signaling an ongoing investigation.


Though I still think that likely relates to the investigation into Flynn's Russian ties, not his Turkish ones.
That said, Powell's concerns have to go beyond whether this is new information. The revelation that the government has proof that Alptekin's efforts to influence Flynn go beyond the Flynn Intelligence Group consulting contract provide key background information to some of the files Powell released in an already unpersuasive effort to claim Flynn was fully forthcoming with his former, competent attorney, Rob Kelner, when they filed Flynn's FARA submission in 2017. Of particular note, in the notes of the last interview recorded before the filing itself, Flynn told Kelner that he didn't remember key parts of the relationship with Alptekin — neither the "consulting" agreement itself (which was really a kickback scheme) nor any side conversations about it.

It may well be that Flynn forgot those details, but if there are independent communications between Flynn and Alptekin, his claim to Kelner that Bijan was conducting all discussions with Alptekin seems demonstrably false.

The very last line of the first interview between Covington and Flynn, on January 6, 2017, shows him claiming he spoke with Alptekin "a handful of times."

More interestingly, in that interview and elsewhere, Flynn downplays his role in the FIG consulting because he was on the campaign trail, away from Washington.

From the standpoint of claiming you weren't lobbying, noting you were on the campaign with Trump might help. But if the point of all this, for Turkey, was to pay Flynn a half million dollars to (as his firebreather attorney claims) write an op-ed precisely to ensure they had access to someone who was spending all his time with Trump, then it actually hurts him.
The government claims that when Flynn downplayed the involvement of Turkey in his FARA filing, he did it knowingly and intentionally. If these notes — released by his own firebreather defense attorney — show him downplaying the extent of his relationship with Alptekin, that's going to seriously undermine that claim.
https://www.emptywheel.net/wp-content/uploads/2017/12/michael-flynn.jpg
403
605
emptywheel
https://www.emptywheel.net/wp-content/uploads/2016/07/Logo-Web.png
emptywheel
2019-07-14 07:40:58
2019-07-14 07:50:37
On Mike Flynn's Previously Undisclosed Interactions with Ekim Aptekin