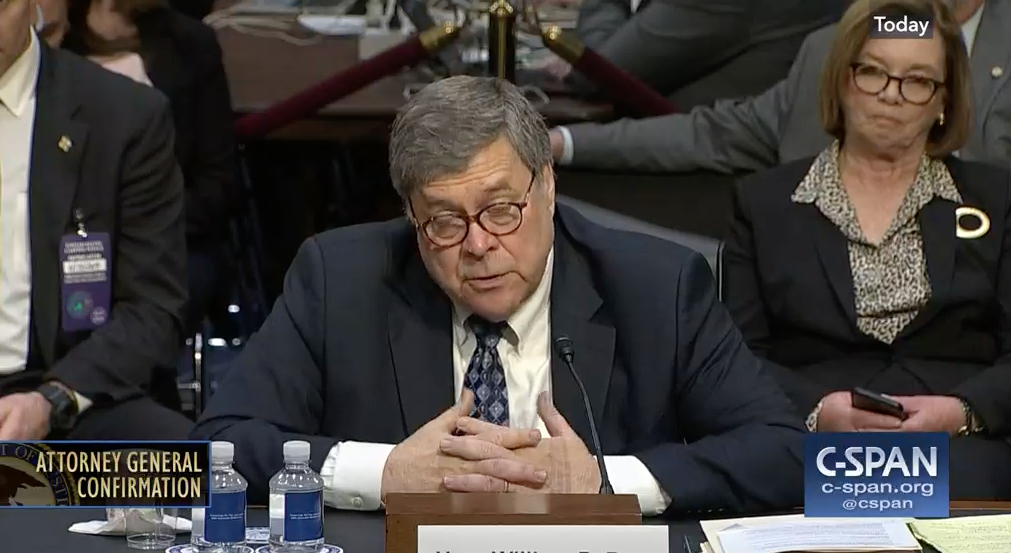 Yesterday, NYT broke the news that Attorney General Barr had issued a memo, as promised, requiring his approval before opening an investigation into a presidential candidate. (Update: here's the memo.)
The memo, which said the Justice Department had a duty to ensure that elections are "free from improper activity or influences," was issued on the same day that President Trump was acquitted on charges that he had abused his office to push a foreign power to publicly announce investigations into his political rivals. The memo said that the F.B.I. and all other divisions under the department's purview must get Mr. Barr's approval before investigating any of the 2020 presidential candidates.
The NBC version of this — written by Barr mouthpiece Pete Williams — falsely suggests this decision was justified by the entirety of the IG Report.
His directive follows a report by the Justice Department's inspector general that harshly criticized the FBI's investigation of the 2016 Trump campaign. It recommended an evaluation of the kind of sensitive matters that should require high-level approval, particularly those involving politics.
While the IG Report recommended different practices for sensitive investigations going forward, the report actually showed that a lot of conspiracy theories that Barr had embraced about the opening of the investigation and the use of informants were false. The criticisms — as distinct from recommendations — were largely limited to the Carter Page FISA.
The distinction is important because the other excuse Barr offers is that, if an investigation became known — like both the Hillary email investigation and the Breitbart-dirt predicated Clinton Foundations ones — it might affect the election.
"In certain cases, the existence of a federal criminal or counterintelligence investigation, if it becomes known to the public, may have unintended effects on our elections," Mr. Barr wrote.

Those concerns, combined with the inspector general's findings, seemed to underpin Mr. Barr's memo to top Justice Department officials.
All the evidence in the world suggests that the known problems in Crossfire Hurricane stemmed from the opposite problem, working too hard to keep the investigation secret. Had the FBI not worked so hard to keep it secret, it wouldn't have been run out of FBI HQ, and so would have had more resources available. Had the FBI not avoided overt steps, it would have obtained call records to indicate that George Papadopoulos (and Paul Manafort and Roger Stone), and not Carter Page, should have been the priority targets. Had the FBI not worked so hard to keep this secret, it might have caught several of Trump's flunkies in the act of selling out the country. (And all three of those men hid information to prevent their actions from becoming known.) And now Bill Barr wants to make it harder, not easier, to find people selling out our country before they do real damage.
Indeed, this extends even to the larger investigation into Russian interference. SSCI released its report on what the Obama Administration should have done better in 2016 yesterday, and many of the criticisms stem from how closely it held the intelligence about the attack, from Congress, election professionals, and agencies that might respond. (The report also undermined Barr's justification for the Durham investigation, in that it suggested the IC should have warned policy makers far earlier than happened about Russian intentions, and points to John Brennan's sensitive intelligence about the operation as the first alarm.)
So the stated purpose doesn't hold up, as most of Barr's stated purposes don't. That's all the more true when you look at how Barr's rule has dramatically expanded since he first floated it.
As both NYT and NBC noted, Barr announced the policy in January. The policy, as laid out back then, was far more limited — extending just to counterintelligence investigations.
Attorney General William Barr on Monday announced the Justice Department's first policy change in response to the FBI's mucking around in the 2016 election. Henceforth, both an AG and the FBI director must sign off on any proposed counterintelligence investigation into a presidential campaign.
Neither the NYT nor NBC describe any such limitation. Indeed, the make it clear that criminal investigations, including into donors!!!, must be approved.
While the department must respond "swiftly and decisively" to credible threats to the electoral process, "we also must be sensitive to safeguarding the department's reputation for fairness, neutrality and nonpartisanship," he wrote.

He previewed the new policy at a news conference in January, when he said his approval would be required in future investigations involving presidential candidates or campaigns.
In the memo, Mr. Barr established a series of requirements governing whether investigators could open preliminary or full "politically sensitive" criminal and counterintelligence investigations into candidates or their donors.

No investigation into a presidential or vice-presidential candidate — or their senior campaign staff or advisers — can begin without written notification to the Justice Department and the written approval of Mr. Barr.

The F.B.I. must also notify and consult with the relevant leaders at the department — like the heads of the criminal division, the national security division or a United States attorney's office — before investigating Senate or House candidates or their campaigns, or opening an inquiry related to "illegal contributions, donations or expenditures by foreign nationals to a presidential or congressional campaign."
This rule would have protected the following people from any investigation in 2016:
Trump, for paying off former sex partners
Paul Manafort, for taking $2.4M after discussing carving up Ukraine to Russia's liking in 2016
Roger Stone, for dark money activity and coordination still unresolved as well as optimizing materials stolen from the Democrats
Mike Flynn, for being on Turkey's payroll while attending Top Secret candidate briefings
George Papadopoulos, for trying to monetize his access to Trump with foreign countries including Israel
Illegal donations from Russians, Malaysians, Emiratis, and Ukrainians in 2016
Illegal coordination between the campaign and its SuperPAC
The only criminal investigations into Trump flunkies that wouldn't have been covered in 2016 would be the money laundering investigation into Manafort (which started two months before he joined the campaign) and, possibly, the counterintelligence investigation into Page (because his tie to the campaign was not known at the time).
As stated, the rule would require pre-approval for the Ukrainian grifter investigation and any investigation into known coordination problems Trump campaign manager Brad Parscale has engaged in. It would protect not just Trump, but also (because they work on his campaign) his failson and son-in-law.
Plus, Barr believes that because the President can't be indicted, he should not be investigated. So this is, quite literally, a guarantee that no crime Trump commits between now and election day will be investigated — not even shooting someone on Fifth Avenue  (at the federal level, at least, but DOJ has maintained that NYS cannot investigate the sitting president either). Barr has just announced, using fancy language to avoid headlines describing what this is, that from now until November, he will hold President Trump above the law.
Citizens United has opened up a floodgate of barely hidden cash from foreign donors into our elections. This is not a partisan thing; as noted, Mohammed bin Zayed was dumping huge money into both Hillary and Trump's campaign. And the Attorney General of the United States has just made it easier for foreigners to tamper in our elections.
Barr has snookered reporters into believing this is the same announcement as he made in January.
It's not. This is not about spying on a campaign, much as Pete Williams wants to pretend it is. This is about telling Trump and his associates they will not be prosecuted by DOJ, going forward, for the same crimes they've committed in the past.
Update: Two more details. The memo requires signed approval by the Deputy Attorney General to open a preliminary investigation of any presidential candidate. But it also requires prompt notice to the Assistant Attorney General for any assessment. That means the AG is demanding that his top deputies learn when someone does a database search.
https://www.emptywheel.net/wp-content/uploads/2019/03/Screen-Shot-2019-03-26-at-2.35.58-PM.png
553
1011
emptywheel
https://www.emptywheel.net/wp-content/uploads/2016/07/Logo-Web.png
emptywheel
2020-02-07 08:07:28
2020-02-07 08:31:48
The Real News in Bill Barr's Announcement: He's Vetoing Campaign Finance Investigations, Too