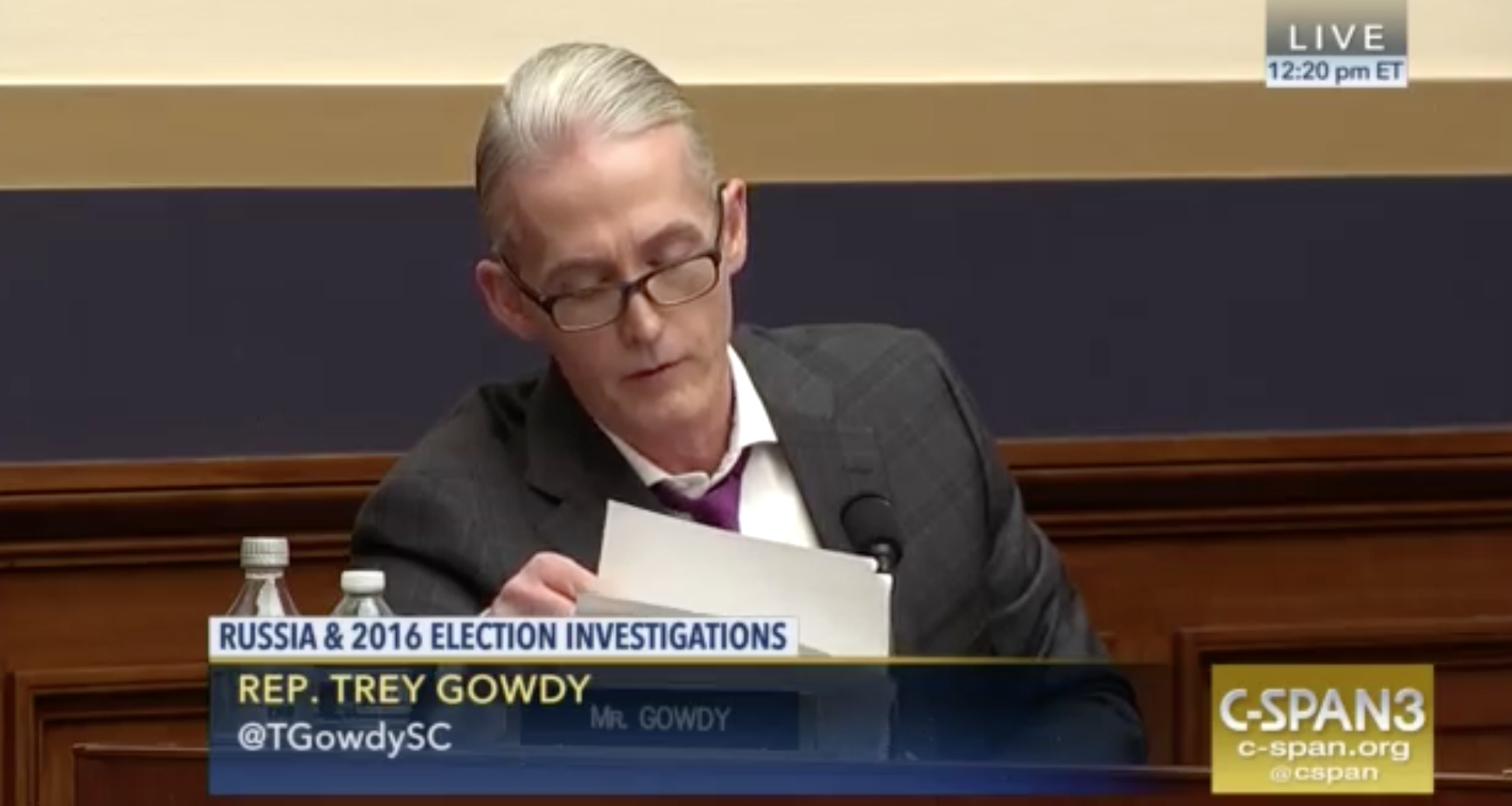 If I had had to imagine an amicus brief from frothy right wingers to submit in the Mike Flynn case, one that Judge Emmet Sullivan could permit to prove he's being equitable, but one that highlights what a shitshow the Mike Flynn argument is and therefore would likely backfire, it would look like this one. That Trey Gowdy —  who, while still in Congress, was the Republican most active in writing the House Intelligence Committee Report on Russia — signed on  along with Ken Starr and Margot Cleveland — just makes it even more special.
The amicus does three things.
It attempts to dismiss an argument the Watergate prosecutors made in an amicus brief, which argued that there's a DC Circuit precedent clearly permitting a judge to reject a motion Rule 48 motion when the motion has no basis in fact.
But the D.C. Circuit has explained, in a decision that the Government fails to cite, that "considerations[] other than protection of [the] defendant . . . have been taken into account by courts" when evaluating consented-to dismissal motions under Rule 48(a). United States v. Ammidown, 497 F.2d 615, 620 (D.C. Cir. 1973). Courts have exercised their authority under Rule 48(a) where "it appears that the assigned reason for the dismissal has no basis in fact." Id. at 620– 21. Even when the Government represents that the evidence is not sufficient to warrant prosecution, courts have sought to "satisf[y]" themselves that there has been "a considered judgment" and "an application [for dismissal] made in good faith." Id. at 620.
The frothy amici basically argue that this precedent is old and so doesn't count anymore (even though they rely heavily on a decision, Rinaldi, from just four years later, and elsewhere on another precedent from 50 years earlier).
Amici who oppose the granting of the Government's Rule 48 motion rely heavily on the D.C. Circuit's 1973 decision in Ammidown. 7 But that decision did not address the profound separation of powers issue implicated by its theory of judicial power. In the almost half century since, the Supreme Court—and the D.C. Circuit—have substantially developed the separation of powers jurisprudence. Although Ammidown has not been expressly overruled, it has been superseded by subsequent teaching, and it can no longer reasonably be considered as the law of the Circuit.
The amicus brief also argues that Flynn's perjury (of which the brief considers only his plea allocutions, and not his grand jury testimony), which led to Judge Sullivan tying up his court for two years, didn't affect Sullivan's performance of his duty as a judge and therefore can't constitute contempt of court.
Gen. Flynn's statements in connection with his plea plainly did not obstruct this Court in the performance of its duty. Thus, they simply cannot constitute contempt of court under long-standing precedent. The Court should therefore not embark on any contempt proceeding against Gen. Flynn.
But the most remarkable argument the amici make — remember, Trey Gowdy is on this brief — pertains to the "new" information that DOJ used to justify its flip-flop on Flynn's prosecution.
In the amici presentation of "facts," they mention, but don't get into, the details of Flynn's second allocution.
The case proceeded to a sentencing hearing on December 18, 2018, at which the Court made a further plea inquiry, and ultimately continued the case for sentencing at a later date.
They then quote the government's irrelevant (to this legal argument) claim that Flynn didn't have exculpatory information before he pled guilty
The Government concluded that Gen Flynn had entered his plea "without full awareness of the circumstances of the newly discovered, disclosed, or declassified information as to the FBI's investigation of him. Mr. Flynn stipulated to the essential element of materiality without cause to dispute it insofar as it concerned not his course of conduct but rather that of the agency investigating him, and insofar as it has been further illuminated by new information in discovery." (Id. at 19.)

This new information had not been previously disclosed to Gen. Flynn, his counsel, or the Court.
They return to the issue at the end of their brief, basically making an argument (to Judge Sullivan, in a brief that also argues that he doesn't have discretion to reject a motion to dismiss and doesn't have the authority to hold Flynn in contempt for lying in his plea allocutions) about Judge Sullivan's own discretionary standing order on Brady. It lays out the discovery Flynn had gotten under Sullivan's discretionary order, relying on this government filing, which among other things makes it clear Flynn got a summary of the Mary McCord and Sally Yates 302s submitted as part of the government's motion to dismiss, and also a summary of an investigation into allegations about the pre-interview meetings at FBI, the notes from which are one of the "new" documents the government presented with its motion to dismiss.
Once this case was reassigned to this Court, it promptly entered its Standing Order, which evidently had a significant effect on the subsequent proceedings. In March 2018, the Government provided to the defense 1,160 pages of documents relating to the alleged false statement to the FBI agents and 21,142 pages relating to alleged false statements in a filing under the Foreign Agents Registration Act (FARA) that was included as relevant conduct in the Statement of Offense. (Id.) In May 2018, the Government provided a draft of the FBI 302 report; summaries of the interviews of four individuals related to the false statement; a summary of a document in which the FBI advised the DOJ that it did not believe that Gen. Flynn was acting as an agent of Russia; a summary of interviews of other officials concerning Gen. Flynn's conversations with Ambassador Kislyak; and more documents related to the FARA filings. (Id.)

In November 2018, the Government provided the defense a summary of its investigation into whether: (i) the FBI 302 report was altered to strengthen a false statement charge; and (ii) the interviewing agents were pressured to "get" Gen. Flynn. In December 2018, before the original scheduled sentencing, the Government provided the defense with a summary of an interview of another individual related to the alleged false statement. (Id.) [my emphasis]
It then describes details about the Jeffrey Jensen review not included in the government motion to dismiss, leading to an argument that might be viewed as brown-nosing about how good Judge Sullivan's standing motion for Brady is if it didn't, along the way, ignore that Sullivan has already ruled this stuff isn't Brady and even reviewed some of the files (the Mary McCord and Sally Yates 302s) that the amici claim were previously unavailable to anyone, including to Sullivan.
In January 2020, Attorney General Barr directed Jeffrey Jensen, the U.S. Attorney for the Eastern District of Missouri, to review the investigation of Gen. Flynn that the FBI had conducted. (Doc. 180-1.) Mr. Jensen had been an FBI agent for ten years and an Assistant U.S. Attorney for another ten years before becoming the U.S. Attorney. On April 24, 2020, the Government made an initial disclosure of documents that had been obtained and reviewed by Mr. Jensen. (Id.) On April 29, 2020, the Government made a second disclosure of documents. (Doc. 187-1.) On May 5, 2020, the Government made a third disclosure of documents. (Doc. 193-1.) On May 7, 2020, the Government filed its motion to dismiss, and on May 18, 2020, the Government made a fourth disclosure. (Doc. 210-1.)

[snip]

Viewed from a "big picture" perspective, the Government's motion to dismiss was a product of the Court's ongoing effort, through its Standing Order, to promote justice by requiring the Government, at all stages of a criminal proceeding, to examine its case and disclose information that may affect a defendant's guilt or punishment. As such, the Government's motion is a successful, and just, outcome.
Before it gets there, though, this brief — signed by Trey Gowdy! — claims that there was no way Flynn could have uncovered facts about FBI almost closing the Flynn investigation before DOJ turned it over in recent weeks.
The information which the Government disclosed about the FBI's conduct of the investigation was within its exclusive possession. There is simply no way that Gen. Flynn could have known or uncovered these facts, which undermined an essential element of the charge against him, without the Government providing them to him. This is the paradigm of why the Constitution requires the Government to disclose such information to the defense. See Brady v. Maryland, 373 U.S. 83 (1963).
Trey Gowdy, as I've noted, was the key player behind this March 2018 report, which cites from one of the documents that, a brief signed by Trey Gowdy argues, was totally unavailable to Flynn or anyone else outside of government when he reallocuted his guilty plea in December 2018. Here's the passage that Trey Gowdy helped write in 2018, giving Flynn nine months notice (even ignoring the congressional staffers providing it directly) that they kept the investigation into Flynn open because of his calls to Kislyak.
Director Comey testified that he authorized the closure of the CI investigation into General Flynn by late December 2016; however, the investigation was kept open due to the public discrepancy surrounding General Flynn's communications with Ambassador Kislyak.
In short, the best argument the frothy right can make in a brief signed by Trey Gowdy is that poor General Flynn must be let free because he shouldn't be expected to read anything that Trey Gowdy has a hand in writing.
https://www.emptywheel.net/wp-content/uploads/2017/12/Screen-Shot-2017-12-14-at-8.50.43-AM.png
1036
1944
emptywheel
https://www.emptywheel.net/wp-content/uploads/2016/07/Logo-Web.png
emptywheel
2020-05-29 09:30:39
2020-05-29 11:34:30
Trey Gowdy Argues There's No Way Mike Flynn Would Read Anything Trey Gowdy Wrote