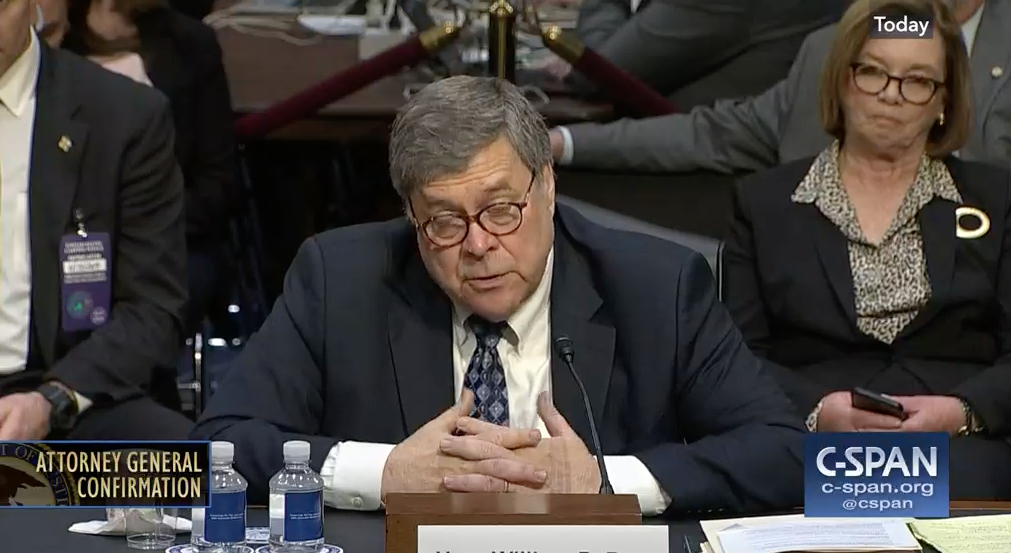 In His Mike Flynn Opinion, Emmet Sullivan Made a Finding of Fact Against Billy Barr's New Reality
I've been unpacking the Judge Emmet Sullivan opinion dismissing Mike Flynn's guilty verdicts.
This post lays out how Sullivan asserts authority to refuse the government's motion to dismiss Flynn's prosecution, but does not do so, because the question is moot.
This post shows that Sullivan laid out evidence that DOJ's motion to dismiss was pretextual. He declined to rule that the motion itself was pretextual, because the question is moot. But he made it clear he thinks DOJ's excuses for blowing up the Flynn prosecution are bullshit.
And this post notes that, before Sullivan started mooting the shit out of DOJ's interest in his docket, he struck some documents that Sidney Powell had submitted to his docket because the government had not authenticated them, without at the same time striking another document that the government didn't rely on but had not authenticated. It's a tactical step, I think, that leaves everything else in his docket as authenticated, even though DOJ stopped short of standing by all those exhibits.
Before I get into what Sullivan says about Trump's pardon power — which, make no mistake, Sullivan affirms as expansive — I'd like to lay out some findings of fact that Sullivan includes in this opinion. He includes a number of other findings of fact that are tangential to the question of a pardon but which Bill Barr and Donald Trump have staked a lot on. He does so, he explains, because the government has invited him to.
The Court is mindful that it is "particularly ill-suited" to reviewing the strength of the case. Wayte v. United States, 470 U.S. 598, 607 (1985); see also In re United States, 345 F.3d 454, 455 (7th Cir. 2003) (finding that the trial court's belief that "the evidence was strong and conviction extremely likely" was an inappropriate basis to deny leave). That said, the role of the Court is to conduct an "examination of the record" in order to ensure that the government's "efforts to terminate the prosecution [are not] tainted with impropriety." Rinaldi, 434 U.S. at 30. Moreover, the Court examines the factual basis underlying the government's reasons because not doing so would amount to rubber stamping the government's decision, contrary to the requirement of Rule 48(a). Here, the government has invited the Court's examination of its evidence. See Hr'g Tr., ECF No. 266 at 42:22-43:1 (stating that "we're completely unafraid here to address . . . the specifics as to why we thought we needed to dismiss this case. . . . we'd be happy to go through the evidence."). Accordingly, the Court will briefly address some of the evidence the government points to as it is troubled by the apparently pretextual nature of certain aspects of the government's ever-evolving justifications. See Foster v. Chatman, 136 S. Ct. 1737, 1751 (2016) ("[T]he prosecution's principal reasons for the strike shifted over time, suggesting that those reasons may be pretextual.").
The findings of fact Sullivan addresses primarily come in this paragraph on materiality… [my numbering throughout]
Several of the government's arguments regarding materiality also appear to be irrelevant or to directly contradict previous statements the government has made in this case. For example, as Mr. Gleeson points out, many of the "bureaucratic formalities" [1] the government asserts reveal the "confusion and disagreement about the purpose and legitimacy of the interview and its investigative basis"—such as the drafting of the FBI's Closing Communication or internal conversations between FBI and Department of Justice officials regarding whether to notify the Trump administration of Mr. Flynn's false statements—are not relevant to proving materiality. See Amicus Reply Br., ECF No. 243 at 19. Nor is it [2] relevant whether Mr. Flynn was an "agent of Russia" or guilty of some other crime at the time he made the false statements. Furthermore, while the government argues that, "since the time of [Mr. Flynn's guilty] plea, [3] extensive impeaching materials had emerged about key witnesses the government would need to prove its case," Gov't's Reply, ECF No. 227 at 35; the government had been aware of much of this evidence since early on in the case, see, e.g., Gov't's Response Def.'s Mot. Compel, ECF No. 122 at 8-9.
And this passage assessing the evidence that Flynn's lies were lies.
[4] With regard to the "inconsistent records" rationale, the government has not pointed to evidence in the record in this case that contradicts the FD-302 that memorialized the FBI agents' interview with Mr. Flynn. Furthermore, the government's reliance on Director Comey's opinion about whether Mr. Flynn lied is suspect given that Director Comey was not present at the interview and that there are valid questions regarding the admissibility of his personal opinion.

With regard to Mr. Flynn's alleged "faulty memory," Mr. Flynn is not just anyone; he was the National Security Advisor to the President, clearly in a position of trust, [5] who claimed that he forgot, within less than a month, that he personally asked for a favor from the Russian Ambassador that undermined the policy of the sitting President prior to the President-Elect taking office. With regard to the government's concerns about the Assistant Director for Counter Intelligence's contemplating the goal of the interview, [6] an objective interpretation of the notes in their entirety does not call into question the legitimacy of the interview. Finally, and critically, under the terms of Mr. Flynn's cooperation agreement, [7] the government could have used his admissions at trial, see Plea Agreement, ECF No. 3 at 8 ¶ 11; but the government ignores this powerful evidence.
In these passages, District Court Judge Emmet Sullivan finds as fact that:
The government's assertion that there was confusion surrounding Mike Flynn's interview does not change that his lies were material.
DOJ's [draft] conclusion that Flynn was not an agent of Russia does not change that his lies were material.
The evidence impeaching Peter Strzok and others does not change that Flynn's lies were material (and, as Sullivan notes, even the government agreed before Flynn pled guilty).
Nothing in the public record substantiates that the 302 of Janaury 24, 2017 Flynn's interview does not accurately reflect what happened in the interview.
Flynn's claims to be forgetful are not consistent with the fact that, as the incoming National Security Advisor, he personally asked Sergey Kislyak to undermine President Obama's policy before Trump took office.
Nothing in Bill Priestap's notes call into question the legitimacy of the Mike Flynn interview.
The government could have relied on Mike Flynn's admissions at trial.
One way to think about this language is that Billy Barr attempted to create a new set of facts by submitting documents from the Jeffrey Jensen investigation to Sullivan's docket and making false claims about them, thereby attempting to annul the set of facts that led DOJ (even DOJ under Bill Barr, repeatedly) to argue that Mike Flynn's lies were serious. Judge Sullivan is having none of Billy Barr's new reality, in significant part because DOJ has not explained what changed from its prior assertions of fact and partly because none of the claims it has made about the so-called new evidence refutes DOJ's prior representations.
These findings of fact may have a more specific effect, though. Billy Barr has served up his different set of facts and based off those, John Durham is attempting to criminalize the decisions of the people that prosecuted Mike Flynn for telling the FBI material lies. DOJ generally has no basis to appeal Sullivan's findings, because its position in the docket is (as Sullivan notes repeatedly) moot. But Durham has even less ability to contest Sullivan's findings of fact; he has no standing.
So unless DOJ finds a way around the fact that they themselves have mooted any further involvement before Judge Sullivan, then, any further investigation into the circumstances of Flynn's prosecution will have to contend with the fact that a judge has already found a number of key premises entertained by those pushing the investigation into the investigation to be false.
At least as of right now, it is not relevant to Trump's pardon of Mike Flynn. But one thing Sullivan did in his opinion was to reject Billy Barr's new reality in a way that may be invoked for any related matters before DC District courts.
https://www.emptywheel.net/wp-content/uploads/2019/03/Screen-Shot-2019-03-26-at-2.35.58-PM.png
553
1011
emptywheel
https://www.emptywheel.net/wp-content/uploads/2016/07/Logo-Web.png
emptywheel
2020-12-09 08:21:24
2020-12-09 08:47:21
In His Mike Flynn Opinion, Emmet Sullivan Made a Finding of Fact Against Billy Barr's New Reality