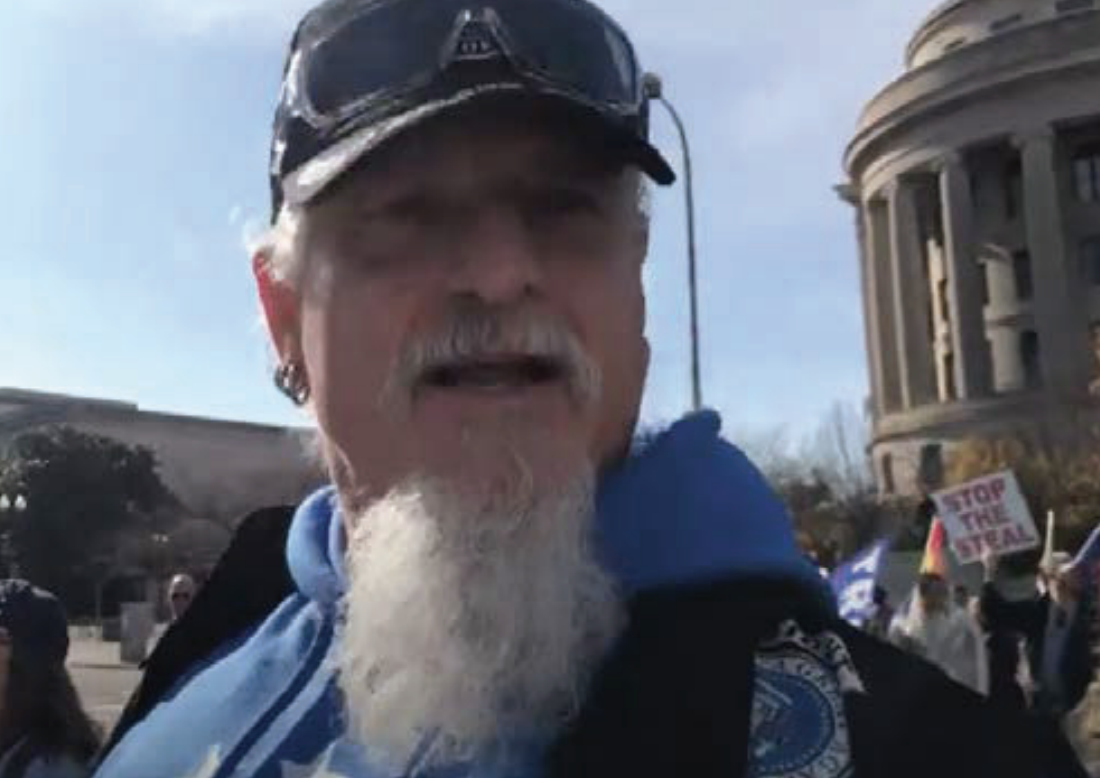 Jon Schaffer's Plea Deal Brands Premeditated Use of Force with the Oath Keeper Brand
Here's Oath Keeper Jon Schaffer's statement of offense. There's boilerplate in there making it clear that, "This proffer of evidence is not intended to constitute a complete statement of all facts known by SCHAFFER or the government," meaning it may not include the information Schaffer traded for his cooperation agreement.
But what his statement of offense establishes is premeditation to use force and brands that premeditated use of force with the Oath Keeper brand.
It quotes (as his arrest affidavit also quoted) his prediction in November that he and others might resort to violence to fight against what he saw as the hijacking of the country.
A group of thugs and criminals hijacked this country a long time ago. And now they're making their big move, and it's not gonna happen … People need to wake up and snap out of the Matrix because they're going down. They made the move, they're messing with the wrong people here, trust me on that. And we needed it to be open like this. Open fraud. Open theft. Because now we see you, and you're going down, mark my words.

[snip]

[I]f somebody wants to bring violence, I think there's a lot of us here that are ready for it. We don't want that, but if they bring it we're going to respond to that, trust me.

[snip]

We're not going to merge into some globalist, communist system, it will not happen. There will be a lot of bloodshed if it comes down to that, trust me. The American people will not go for that bullshit once they understand what's actually happening. So that's where we're at. Nobody wants this, but they're pushing us to a point where we have no choice.
And then it describes how Schaffer, knowing that Congress was about to certify the vote, and having just learned that Mike Pence was not going to challenge the vote, marched to the Capitol and used force against cops trying to protect it. Altogether, he was in the Capitol for just nine minutes.
SCHAFFER joined a large crowd that marched from the Ellipse to the Capitol, where the Joint Session to certify the Electoral College vote was underway-a fact of which SCHAFFER was aware. During the march to the Capitol, SCHAFFER learned that Vice President Pence planned to go forward with the Electoral College vote certification. After arriving on Capitol grounds, SCHAFFER walked through a dense crowd of people, past barriers that restricted access to the public, and right up to a set of doors located on the west side of the Capitol building.

At approximately 2:40 p.m., as legislators and their staff were being evacuated to secure locations, SCHAFFER-still wearing his Oath Keepers hat and tactical vest, and still carrying on his person bear spray-positioned himself at the front of a large mob that broke open the Capitol building doors being guarded by four Capitol Police officers wearing riot gear. SCHAFFER was among the first six individuals to push past the damaged doors and into the building, forcing the officers to retreat. As the mob swelled inside, and officers were being assaulted, SCHAFFER and other members of the mob continued to advance while aggressively gesturing toward a row of five to six backpedaling officers trying to maintain a security line in front of them. The officers' effort quickly failed as SCHAFFER and the rest of the mob overwhelmed the officers, who ultimately deployed a chemical irritant to disperse the mob. SCHAFFER was among those who were sprayed in the face by the irritant. He thereafter exited the building, with his unholstered bear spray now in hand, through the same doors that he had entered through approximately nine minutes earlier.
Per his plea agreement, that nine minutes exposes him, even with the plea, to over four years of prison time. There is 5K language in the plea suggesting he may get a cooperation letter for his assistance. So if Schaffer is really useful to the government, he may end up getting the three months of jail time he has already served.
But it may be that this deal gave both sides something they needed. It helps a musician avoid an assault charge that might prevent him from touring to the EU in the future (and springs him from jail with permission to tour in the US). And it brands the premeditated violence in support of an effort to undermine the official proceedings of the US government with the Oath Keeper brand. It also may provide the government with proof of a specifically anti-government ideology that would be necessary for any seditious conspiracy charge.
https://www.emptywheel.net/wp-content/uploads/2021/04/Screen-Shot-2021-04-06-at-12.45.42-PM.png
778
1100
emptywheel
https://www.emptywheel.net/wp-content/uploads/2016/07/Logo-Web.png
emptywheel
2021-04-17 09:35:22
2021-04-17 09:45:58
Jon Schaffer's Plea Deal Brands Premeditated Use of Force with the Oath Keeper Brand