Scott Fairlamb Pled Guilty to Obstruction and Assault; Does That Amount to Terrorism?
Two January 6 assault defendants pled guilty yesterday, Scott Fairlamb and Devlyn Thompson, the first defendants to plead to assault. Here's my live tweet of Fairlamb's sentencing.
There's a detail of those plea agreements that has not gotten the attention it deserves.
While both plea agreements (Fairlamb, Thompson) include the Estimated Guidelines sentence for the crimes the men pled to, both allow DOJ to request an upward departure for a terrorism enhancement. That means that, while the existing guidelines make it look like these men face around four years in prison, DOJ may come back and argue they should be sentenced to something closer to ten years. I wouldn't be surprised if DOJ did so with Fairlamb.
Here's how the sentencing works for Fairlamb, who pled guilty to assault and obstruction.
It starts with the math for both crimes. In both cases, Fairlamb faces an enhancement off base level charges. On the obstruction charge, Fairlamb got penalized for both his physical threats and engaging in substantial interference. On the assault charge, he got an enhancement for punching a cop, an official victim.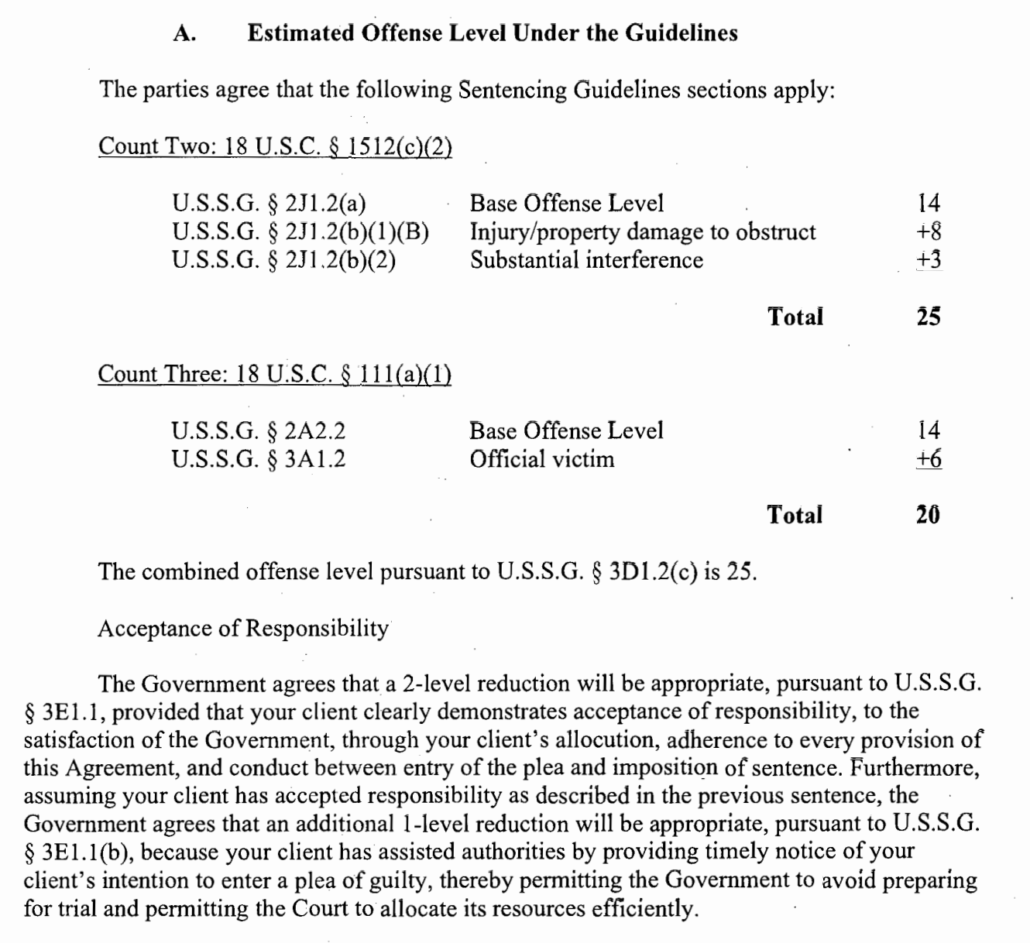 From there, Fairlamb gets two-plus-one-points off for pleading guilty.
That results an Estimated Offense Level of 22, based on the assumption the sentences will be served concurrently. Once you factor in Fairlamb's past assault convictions, his Estimated Guidelines sentence is 41 to 51 months.
But!
There's a big *but* in the plea deal. The plea deal lays out what each side can argue about next month when Fairlamb will be sentenced.
The parties agree that, solely for the purposes of calculating the applicable range under the Sentencing Guidelines, neither a downward nor upward departure from the Estimated Guidelines Range set forth above is warranted, except the Government reserves the right to request an upward departure pursuant to U.S.S.G. § 3A1.4, n. 4. Except as provided for in the "Reservation of Allocution" section below, the parties also agree that neither party will seek any offense-level calculation different from the Estimated Offense Level calculated above in subsection A. However, the parties are free to argue for a Criminal History Category different from that estimated above in subsection B. [my emphasis]
Neither side will deviate from this math except that both sides can argue that Fairlamb's past assaults result in a different criminal history category than used to calculate these guidelines. Since the guidelines calculated here are based off the lowest category, this can only work against Fairlamb going forward.
More importantly — as AUSA Leslie Goemaat made a point of noting explicitly for the record in yesterday's sentencing — the government reserves the right to argue for an upward departure under U.S.S.G. § 3A1.4.
That's a reference to a terrorism enhancement.
4. Upward Departure Provision.—By the terms of the directive to the Commission in section 730 of the Antiterrorism and Effective Death Penalty Act of 1996, the adjustment provided by this guideline applies only to federal crimes of terrorism. However, there may be cases in which (A) the offense was calculated to influence or affect the conduct of government by intimidation or coercion, or to retaliate against government conduct but the offense involved, or was intended to promote, an offense other than one of the offenses specifically enumerated in 18 U.S.C. § 2332b(g)(5)(B); or (B) the offense involved, or was intended to promote, one of the offenses specifically enumerated in 18 U.S.C. § 2332b(g)(5)(B), but the terrorist motive was to intimidate or coerce a civilian population, rather than to influence or affect the conduct of government by intimidation or coercion, or to retaliate against government conduct. In such cases an upward departure would be warranted, except that the sentence resulting from such a departure may not exceed the top of the guideline range that would have resulted if the adjustment under this guideline had been applied.
This language allows the judge to bump that Offense Level up 12 points, up to but no further than 32.
Even assuming the government does not argue that Fairlamb's criminal history category should be higher, that would still bump up his potential Guidelines Sentence — if the government were to choose to exercise this option and if Royce Lamberth were to agree that Fairlamb's crimes were an attempt to influence the conduct of government by intimidation or coercion — to 121 to 151 months.
In other words, while the headlines are saying that Fairlamb could face a roughly 4-year sentence, if the government argues that his actions had a political motive and Judge Lamberth agrees, then in reality Fairlamb could be facing a 10-year sentence or more. And in Fairlamb's case, he already pled to a crime, obstruction, that admits to that political purpose.
As part of Fairlamb's Statement of Offense, he agreed under oath that,
When FAIRLAMB unlawfully entered the Capitol building, armed with a police baton, he was aware that the Joint Session to certify the Electoral College results had commenced. FAIRLAMB unlawfully entered the building and assaulted Officer Z.B. with the purpose of influencing, affecting, and retaliating against the conduct of government by stopping or delaying the Congressional proceeding by intimidation or coercion. FAIRLAMB admits that his belief that the Electoral College results were fraudulent is not a legal justification for unlawfully entering the Capitol building and using intimidating [sic] to influence, stop, or delay the Congressional proceeding.
That is, he already admitted his actions were intended to intimidate or coerce the government, the language required to invoke the terrorism enhancement.
Even if this application of the obstruction statute were thrown out (meaning his sentence would start at 17 instead of 22), if Judge Lamberth decided the terrorism enhancement applied, he could still face an 87 to 108 month sentence.
The government will not necessarily invoke this language. The terrorism enhancement language also appeared in Paul Hodgkins' plea agreement, but AUSA Mona Sedky specifically noted at sentencing that the government was not invoking it in Hodgkins' case.
The language does not appear in the five known cooperation pleas (Caleb Berry, Josiah Colt, Mark Grods, Jon Schaffer, Graydon Young). Indeed, as I've noted, by pleading their way out of the existing Oath Keeper conspiracy, Young and the other Oath Keepers also got out of the depredation of government property charge that is explicitly among those that can carry a terrorism enhancement. There appear to be at least three Proud Boys charged in conspiracies considering pleading, and I imagine they'd be looking at the same deal, a way out of being treated as a terrorist in exchange for their cooperation. For those willing to cooperate against their buddies, it seems, the government is willing to trade away the possibility of calling the person's actions terrorism.
There has already been at least one case where a defendant's lawyer described reluctance to accept a plea offer because it included this terrorism enhancement language. I would imagine the inclusion of this language in plea deals is one reason why so few defendants have taken pleas even when faced with abundant video evidence of their own crimes.
I likewise imagine that the government won't argue for the enhancement in all cases where it appears in a plea (as noted, Sedky specifically declined to invoke it with Hodgkins).
But in Fairlamb's case, as part of their argument to hold Fairlamb in pretrial detention, the government has argued he was arming and preparing for war. And Fairlamb swore under oath both that he engaged in violence and that he did so with the intent of coercing the government to stop or delay the certification of a democratic election.
Fairlamb will be sentenced on September 27. So we may learn then whether Federal judges — and as I noted, many of the ones presiding over January 6 cases, including Lamberth, also had key roles in the War on Terror — consider January 6 to be terrorism.
Update: Here's Lamberth's order upholding the government request for pre-trial detention. It was one of the first he issued after he was sort-of reversed in Munschel, and as such may reflect more chastened language. But he clearly thinks that Fairlamb's behavior on January 6 fairly exceptional.
Here's how he described January 6 in the original Munchel decision, though.
The grand jury charged Munchel with grave offenses. In charging Munchel with "forcibly enter[ing] and remain[ing] in the Capitol to stop, delay, and hinder Congress's certification of the Electoral College vote," Indictment 1, ECF No. 21, the grand jury alleged that Munchel used force to subvert a democratic election and arrest the peaceful transfer of power. Such conduct threatens the republic itself. See George Washington, Farewell Address (Sept. 19, 1796) ("The very idea of the power and the right of the people to establish government presupposes the duty of every individual to obey the established government. All obstructions to the execution of the laws, all combinations and associations, under whatever plausible character, with the real design to direct, control, counteract, or awe the regular deliberation and action of the constituted authorities, are destructive of this fundamental principle, and of fatal tendency."). Indeed, few offenses are more threatening to our way of life.
https://www.emptywheel.net/wp-content/uploads/2021/08/Screen-Shot-2021-08-07-at-11.56.50-AM.png
554
530
emptywheel
https://www.emptywheel.net/wp-content/uploads/2016/07/Logo-Web.png
emptywheel
2021-08-07 07:12:41
2021-08-07 11:55:58
Scott Fairlamb Pled Guilty to Obstruction and Assault; Does That Amount to Terrorism?