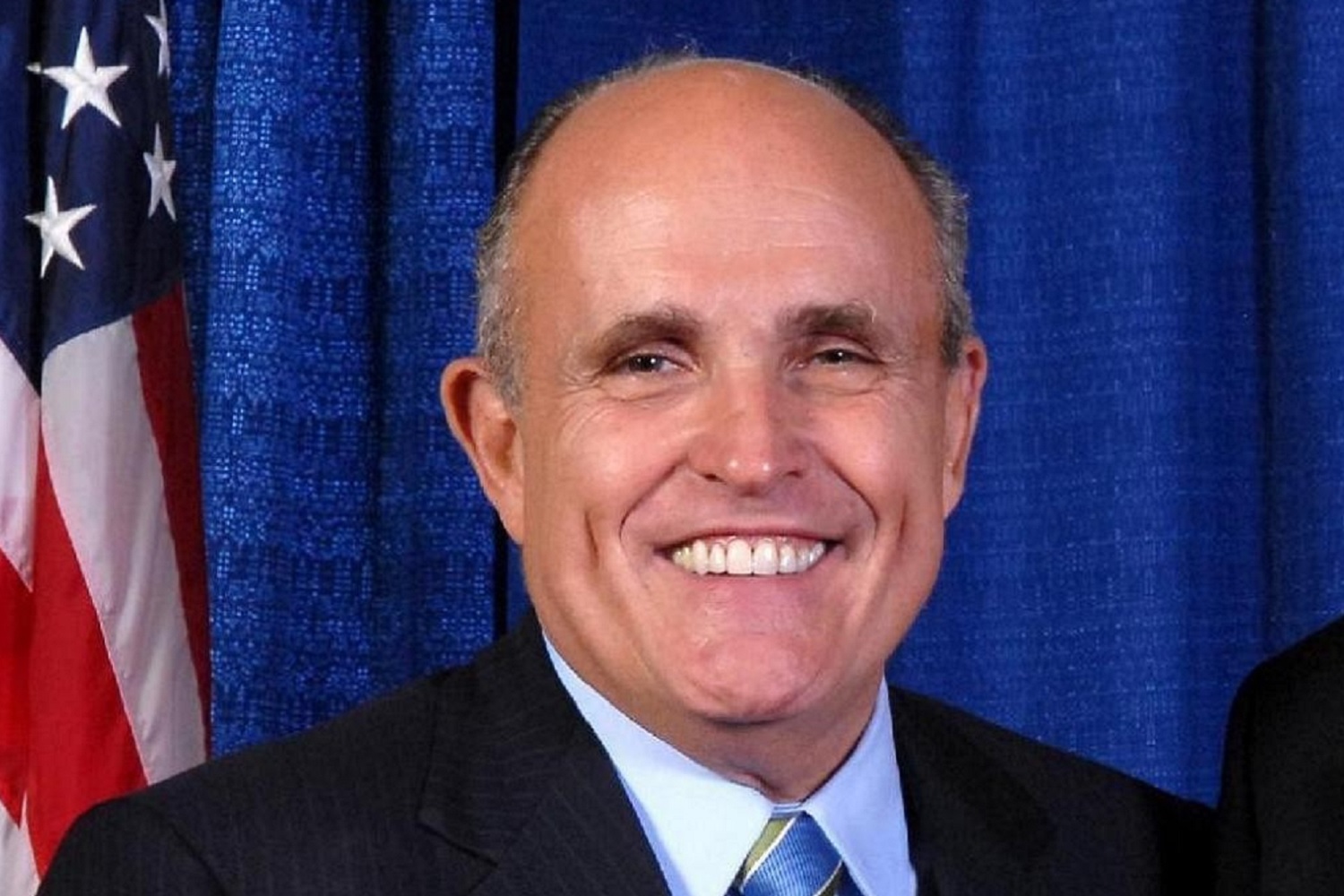 "I do share information[,] Rudy. You never read your emails, you never read your texts," Sidney Powell purportedly said, while plotting a coup
In Patrick Byrne's February 1, 2021 telling of a series of December 18, 2020 meetings that was just retold by the NYT, Sidney Powell — who is currently under grand jury investigation — told Rudy Giuliani — who is currently under grand jury investigation– that she hadn't been leaving him out of the loop. On the contrary, Powell explained as she tried to convince Rudy and with him the former President to adopt the plan she and Mike Flynn concocted to seize the voting machines, Powell had sent Rudy this information via email and text.
Finally, Trump stopped and scanned the three of us, and asked simply. "So what are you saying?" Thinking of the difference between the highly organized and disciplined approach I had experienced with Flynn and Sidney, versus the college sophomore bull-session approach of the Campaign and Rudy-World, I spoke up again: "Mr. President, I think you should appoint Sidney Powell your Special Counsel on these election matters and make General Flynn your Field Marshall over the whole effort. I know Rudy's your lawyer and friend, and he can have a great role in this. Rudy should be personally advising you, and we don't want to do anything to embarrass him. But it needs to be Sidney taking point legally on this. And if you really want to win, make General Flynn here the Field Marshall. If you do I put your chances at around 50-75%. You should see how he well he has this planned, it would run like clockwork…"

The President shook me off, saying, "No no, it's got to be Rudy."

[snip]

The three male [White House Counsel] lawyers edged closer to the front, and then as though as some hidden signal, they all started being bitches.

First was some comment about it not being right to use the National Guard. "The optics are terrible, Mr. President," said one. "It would have to be the DHS." I liked the National Guard idea because we needed to reestablish trust of the American people in the electoral process, and the US institution with the most trust is the one where people dress in military uniforms. Yet the National Guard is local, they are all around us, our colleagues at work, our "Citizen Soldiers". But perhaps in a sign of flexibility, Flynn and Sidney allowed as how one could use the DHS instead of the National Guard.

[snip]

I took another shot at it with the President. "Again Sir, I know that Rudy is a friend of yours, he's wonderful. He's America's Mayor. I love Rudy, I don't want to embarrass him. But you should see how what Mike and Sidney have got going. It is so organized, so well-planned-" Again he cut me off, saying, "No no, it's got to be Rudy…" On the inside I slumped.

[snip]

Eventually President Trump said that we would all meet in 30 minutes in the living quarters, in the "Yellow Oval" (I believe the room is called). In the meantime, Rudy was coming in and we had to find a way to make things work between Rudy and Sidney. As we parted he said, "You know, in 200 years there probably has not been a meeting in this room like what just happened…". As he was leaving he brushed past me, stopped, and speaking low and quiet, said something quite kind and meaningful, showing me that he knew a lot more about me than I had guessed.

A few minutes later Sidney, Mike, Alyssa, and I were in the Cabinet Room. waiting for Rudy. It was dark, and we had to find a couple lamps to turn on. Mike and I were intent on making sure the meeting went well between Sidney and Rudy, so everyone could work happily together.

After 10 minutes Rudy came in, tying his tie, and said in not too gruff a manner, but with perhaps the gruffness of a man disturbed from his evening meal, "You know Sidney, if we are going to work together you have to share information." I did not take his tone as being too aggressive, but one of trying to turn over a new leaf in a relationship, perhaps.

Sidney immediately told him, "I do share information Rudy. You never read your emails, you never read your texts."

"That's not true Sidney! I just need you to stop keeping me in the dark-"

""Rudy I don't keepo [sic] you in the dark! You-"

"Sidney you have to stop keeping everything to yourself! I cannot work with you if you don't share with me!"

Within moments the conversation had spiraled out of control. After a minute of squabbling I tried to interject something helpful. "Mr. Mayor, it is true that since I arrived, everything we ever brought Sidney, she always said, 'Get this to Rudy right away.' It's true. Absolutely everything we turned up, she told us to share with you. She never asked us to keep you in the dark about anything." [my emphasis]
As NYT tells this story, a bunch of subpoenas pertaining to Powell and seizure and privilege review of 16 Rudy devices later, Rudy "vehemently opposed" the idea of having the military seize the voting machines, acceded to asking DHS to do so, but — after all the other witnesses had left the room, according to the story — warned Trump that the plan would get him impeached.
Six weeks after Election Day, with his hold on power slipping, President Donald J. Trump directed his lawyer, Rudolph W. Giuliani, to make a remarkable call. Mr. Trump wanted him to ask the Department of Homeland Security if it could legally take control of voting machines in key swing states, three people familiar with the matter said.

Mr. Giuliani did so, calling the department's acting deputy secretary, who said he lacked the authority to audit or impound the machines.

Mr. Trump pressed Mr. Giuliani to make that inquiry after rejecting a separate effort by his outside advisers to have the Pentagon take control of the machines. And the outreach to the Department of Homeland Security came not long after Mr. Trump, in an Oval Office meeting with Attorney General William P. Barr, raised the possibility of whether the Justice Department could seize the machines, a previously undisclosed suggestion that Mr. Barr immediately shot down.

[snip]

Mr. Giuliani was vehemently opposed to the idea of the military taking part in the seizure of machines, according to two people familiar with the matter. The conflict between him and his legal team, and Mr. Flynn, Ms. Powell and Mr. Byrne came to a dramatic head on Dec. 18, 2020, during a meeting with Mr. Trump in the Oval Office.

At the meeting, Mr. Flynn and Ms. Powell presented Mr. Trump with a copy of the draft executive order authorizing the military to oversee the seizure of machines. After reading it, Mr. Trump summoned Mr. Giuliani to the Oval Office, according to one person familiar with the matter. When Mr. Giuliani read the draft order, he told Mr. Trump that the military could be used only if there was clear-cut evidence of foreign interference in the election.

Ms. Powell, who had spent the past month filing lawsuits claiming that China and other countries had hacked into voting machines, said she had such evidence, the person said. But Mr. Giuliani was adamant that the military should not be mobilized, the person said, and Mr. Trump ultimately heeded his advice.

Shortly after the Oval Office meeting, Mr. Waldron amended the draft executive order, suggesting that if the Defense Department could not oversee the seizure of machines then the Department of Homeland Security could, the person said.

Around that time, Mr. Trump asked Mr. Giuliani to call Kenneth T. Cuccinelli II, the acting deputy secretary at the Department of Homeland Security, to ask about the viability of the proposal, according to two people familiar with the matter. Mr. Cuccinelli said that homeland security officials could not take part in the plan.

[snip]

Even Mr. Giuliani, who had spent weeks peddling some of the most outrageous claims about election fraud, felt that the idea of bringing in the military was beyond the pale.

After Mr. Flynn and Ms. Powell left the Oval Office, according to a person familiar with the matter, Mr. Giuliani predicted that the plans they were proposing were going to get Mr. Trump impeached. [my emphasis]
The CNN version of this story (which, like Maggie Haberman, first started reporting this story out in December 2020, even before January 6, and long before the overt seizures of materials from two of the lawyers involved) chose not to grant Robert Costello anonymity for a quote about Rudy being "vehemently" opposed to the plan to use the military to seize the voting machines.
Reached earlier this month, Cuccinelli said his discussion with Giuliani "never developed to the point of talking about an executive order including such action that I recall."

When asked about the executive order involving the military, Giuliani's attorney, Robert Costello, said his client also shut that idea down when he became aware of it.

"As soon as he heard about this idea, he was vehemently against it, as was White House Counsel Pat Cipollone and then-President Trump," Costello said.

But Giuliani and his team did continue to pursue other avenues for overturning the election based on the same conspiracies about election fraud cited in the draft executive order to justify the seizure of voting machines.

Trump also continued to entertain some of the same core elements of those executive orders, including the idea of installing a special counsel to investigate election fraud.

Nearly two weeks after White House aides pushed back on the suggestion of naming Powell to such a role, Trump raised the idea again during another Oval Office meeting, but this time floated Cuccinelli as a possible candidate, according to testimony provided to the Senate Judiciary Committee by former senior Justice Department officials who were present.

Meanwhile, Flynn remained adamant that election equipment was going to be seized and personally reached out to at least one senior defense official in mid-December attempting to enlist their help with his cause, according to a source familiar with the outreach. [my emphasis]
There's really not all that much new in the story as laid out here, except that a bunch of people who know their communications are in the FBI's hands (and, in the case of Costello, who has spent the last nine months reviewing the content of those communications, including those Byrne describes Powell claiming to have sent Rudy) providing updated versions of the least-damning story they can tell here.
Just one more key part of the story that has changed.
As CNN described it in the 2020 version of the story (but NYT did not), Mark Meadows was also involved.
White House aides who participated in the meeting, including White House chief of staff Mark Meadows and counsel Pat Cipollone, also pushed back intensely on the suggestion of naming Powell as a special counsel to investigate voter fraud allegations Trump's own administration has dismissed (or, as seems more feasible, hiring her in the administration for some kind of investigatory role).
Meadows shows up in yesterday's NYT story only as not being the one who let Powell and Flynn and Byrne in the White House.
When Mr. Flynn, Ms. Powell and Mr. Byrne arrived at the White House to discuss their plan to use the military to seize voting machines, they were not let into the Oval Office by a typical gatekeeper, like Mark Meadows, Mr. Trump's chief of staff. Rather, they were escorted in by Garrett Ziegler, a young aide to another Trump adviser, Peter Navarro, according to Mr. Ziegler's account.

"I waved in General Flynn and Sidney Powell on the Friday night of the 18th — for which Mark Meadows's office revoked my guest privileges," Mr. Ziegler said on a podcast, adding that he had done so because he was "frustrated with the current counsel" Mr. Trump was getting.
That guy — the former Chief of Staff who also was getting and sending a bunch of texts on his phone — that guy has also spent some time recently reviewing his communications. Not only did he review — and withhold — a bunch of communications before sharing some with the Select Committee, but once the Select Committee figured out that Meadows had violated the Presidential Records Act by failing to turn over those communications he conducted on his personal — but his emails! — devices, Meadows has been spending time trying to find such communications so he can share them with the National Archives to uncommit some crimes.
NARA, of course, has been ordered by a court to share such communications, even the ones that Trump might otherwise have invoked Executive Privilege over, with the Committee.
We're going to get a lot of revised least-damning versions of these stories as more and more people review the communications that will be handed over to investigative bodies.
It's worth comparing, then, the versions we're getting now with those people were telling when they thought none of the emails and texts Sidney Powell sent would come out.
Update: Harpie is right. The Jonathan Swan version of this exchange, published exactly a year ago, is worth reading as well.
https://www.emptywheel.net/wp-content/uploads/2019/09/Rudy_Giuliani_1500x1000.jpg
1000
1500
emptywheel
https://www.emptywheel.net/wp-content/uploads/2016/07/Logo-Web.png
emptywheel
2022-02-01 12:46:00
2022-02-01 17:14:42
"I do share information[,] Rudy. You never read your emails, you never read your texts," Sidney Powell purportedly said, while plotting a coup