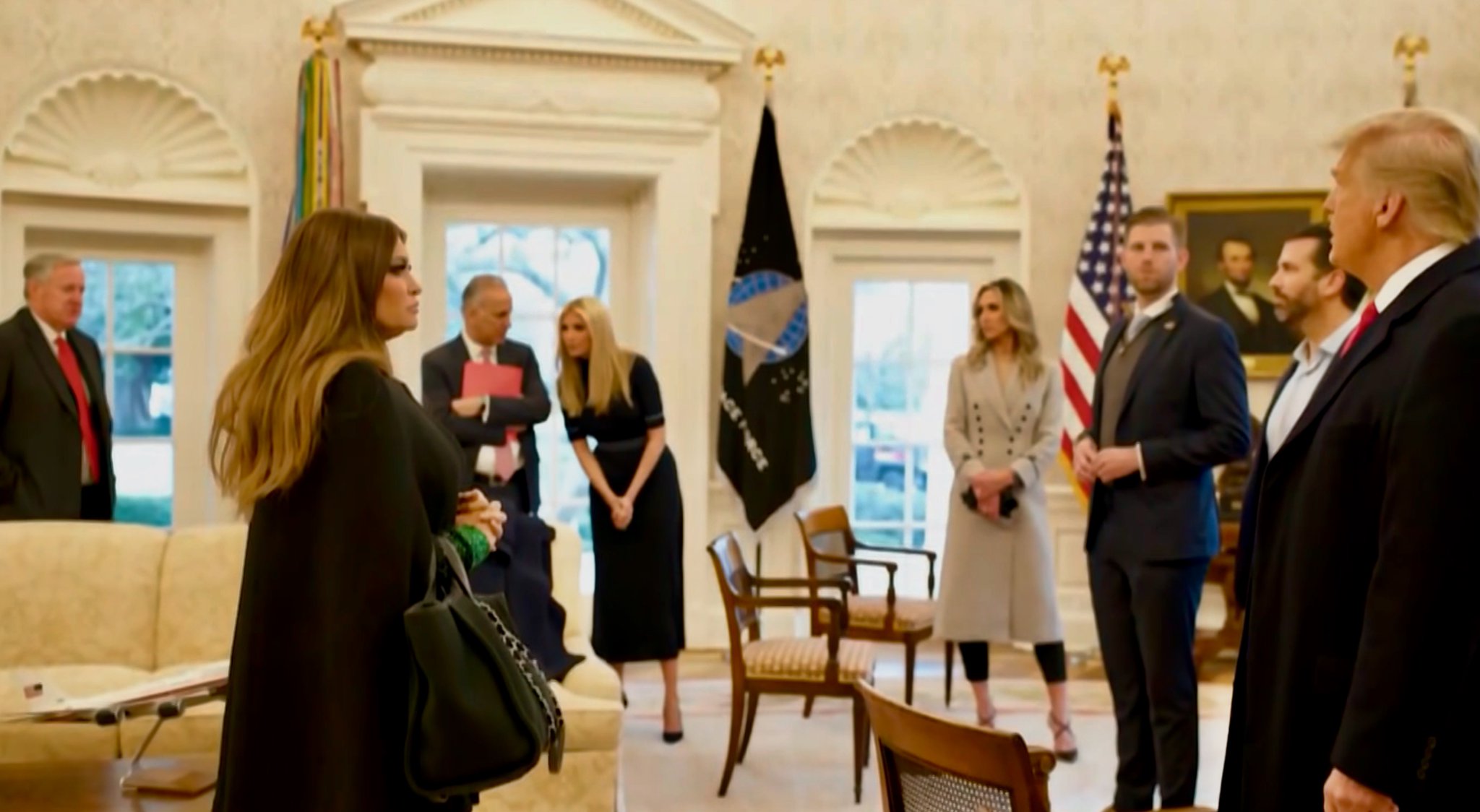 There's a funny detail in Cassidy Hutchinson's September 14 January 6 Committee testimony.
She claimed that on May 20, after a third appearance before the committee and after firing her lawyer, Stefan Passantino earlier that day, Eric Herschmann called her and told her, "I didn't know you remembered so much."
And Eric called me that evening, and I just apologized. And he was like, you know, "I didn't know that you remembered so much, Cassidy. Mark [Meadows] really put you in bad positions. I'm really sorry that he didn't take care of you better. You never should've had to testify to any of that. That's all of our jobs. I don't know why they didn't ask us, they asked you instead."

And I was just like, "Look, Eric like, it is what it is." And he kind of talked for — it was probably a 30-minute conversation.
"Remembered," she described Herschmann saying, not "knew" or "witnessed."
It's an interesting word choice, if accurate, because in Herschmann's testimony before the committee back on April 6 (and so after Passantino had sat through Hutchinson's first two appearances before the committee, on February 23 and March 7), he didn't remember much.
The word "remember" shows up (sometimes used as part of a question to him) 482 times in the transcript. The word "recall" shows up 166 times. The word "recollection" comes up 24 times.
Among the things Herschmann professed to have little memory of were the fake electors casting votes in December, Trump's December 19 tweet announcing the January 6 event,  the date of a key January 5 meeting involving Marc Short and John Eastman, the details (beyond an "intellectual discussion about [John] Eastman") of a call he had with Rudy Giuliani — out of the blue! — on the morning of the 6th, what he said to Pat Philbin to try to convince him to join him at the rally before proceeding on his own, what Trump said to him while waiting to speak at the Ellipse (Herschmann invoked Executive Privilege to cover a call between him and Trump at 10:50PM that day), any claims in Trump's Ellipse speech that Herschmann knew to be bullshit,  what Mark Meadows, Dan Scavino, and Trump were talking about in the dining room after returning from the Ellipse, and whether he had auto-delete set for his texts.
What Herschmann did recall — aside from the times he screamed at Jenna Ellis, Sidney Powell, and John Eastman, which made him a hero of the January 6 Committee hearings — was writing a note calling on people to leave the Capitol.
Q So do you recall, did you tell them what was happening or did they seem to already be aware?

A I don't remember. I know I wrote out something, but I don't remember if they were aware when they came back or I told them when I came in. I just don't remember that detail.

Q And why did you write something out?

A I thought we should put out a statement.

Q Okay. Do you remember what you wrote?

A I don't remember the exact words, but I remember going down to Mark's outer office, chief of staff, and asking someone there to get me something to write on. And normally, if I had to — if I was grabbing something, it would be the chief of staff.

They have one of those cards, I don't know, it's a rectangular card that says chief of staff.

Q So this was a handwritten note?

A It was a handwritten note, yeah.

Q Okay. Let's go — we'll pull up Exhibit 11. Is that the note you're referring to?

A That is the note.

Q Okay. And what did you do with the note?

A The actual physical note.

Q Yeah. Did you give it to the President?

A No, I didn't give it to the President. I may have given it to Meadows, but I didn't hand it to the President. I would have — I think the reason I edited "illegally," is someone had a discussion, I don't remember who it was — and it wasn't the President, but someone had the discussion, how do we establish it's illegally — that they entered illegally? Which I thought, okay, I don't want to say overlawyering, but overlawyering, in my view. So I crossed out "illegally" and said "without proper authority." Okay, that solves that issue, right? And I thought we should put out the statement.

Q Did you tell the President that he should put out a statement?

A Generally, I had discussions with the President about putting out a statement. I don't remember if I read this or I handed it to Mark, or Mark and I discussed it in front of the President. I just don't remember that detail. But this was my first reaction to seeing the violence and what I thought the White House should do.

Q Did the President have a reaction?

A I don't recall his reaction, but obviously he didn't put out this statement. [my emphasis]
It's funny that that was one of the few things Herschmann recalled on April 4, because after Hutchinson testified in her May 17 testimony to remembering a whole bunch of things that Herschmann couldn't remember (including a discussion between Meadows, Herschmann, and Pat Cipollone about Trump's comment that Mike Pence might deserve to be hung), she went on to publicly testify, on June 28, that she physically wrote that note as Meadows dictated it, with Herschmann chiming into to offer the alternative, "without proper authority."
LIZ CHENEY: Now let's look at just one example of what some senior advisers to the president were urging. Ms. Hutchinson, could you look at the exhibit that we're showing on the screen now? Have you seen this note before?

CASSIDY HUTCHINSON: That's a note that I wrote at the direction of the chief of staff on January 6th, likely around 3:00.

LIZ CHENEY: And it's written on a chief of staff note card, but that's your handwriting, Ms. Hutchinson?

CASSIDY HUTCHINSON: That's my handwriting.

LIZ CHENEY: And why did you write this note?

CASSIDY HUTCHINSON: The chief of staff was in a meeting with Eric Hirschman and potentially Mr. Philbin, and they had rushed out of the office fairly quickly. Mark had handed me the note card with one of his pens, and sort of dictating a statement for the president to potentially put out.

LIZ CHENEY: And — no, I'm sorry. Go ahead.

CASSIDY HUTCHINSON: That's Ok. There are two phrases on there, one illegal and then one without proper authority. The illegal phrase was the one that Mr. Meadows had dictated to me. Mr. Herschmann had chimed in and said also put without legal authority. There should have been a slash between the two phrases. It was an — an or if the president had opted to put one of those statements out. Evidently he didn't. Later that afternoon, Mark came back from the Oval Dining Room and put the palm card on my desk with illegally crossed out, but said we didn't need to take further action on that statement.

LIZ CHENEY: So, to your knowledge, this statement was never issued.

CASSIDY HUTCHINSON: It was — to my knowledge, it was never issued.
The difference between Herschmann and Meadows dictating the note to Hutchinson (who is not once mentioned in Herschmann's testimony) and Herschmann writing it himself is negligible in the larger story, so he could have left it well enough alone. Especially given the number of times Herschmann claimed not to remember details of what happened with the note, such as how it was presented to Trump or how the then-President responded.
But Herschmann didn't leave it well enough alone. Shortly after Hutchinson's public testimony, Herschmann's spox put out a formal statement claiming he had written the note.
"The handwritten note that Cassidy Hutchinson testified was written by her was in fact written by Eric Herschmann on January 6, 2021," a spokesperson for Herschmann told ABC News Tuesday evening.

"All sources with direct knowledge and law enforcement have and will confirm that it was written by Mr. Herschmann," the spokesperson said.
This statement became one of two bases — along with the pushback from people in the vicinity of Tony Ornato about the Beast story — on which Hutchinson's credibility was attacked in the days after her testimony.
The discrepancy on the note could be just that, a discrepancy. All of Herschmann's claimed memory lapses might one day come to be refreshed.
The dispute, however minor, between Herschmann and Hutchinson is noteworthy for several reasons though.
First, Hutchinson told the committee that the first time she met with Passantino, after being referred by Herschmann via Alex Cannon, she asked him if he was representing anyone else before the Committee. Passantino wouldn't answer, but according to Hutchinson, he did say he had represented Eric Herschmann, among others, in the past, and that "we really want to work to protect Eric Herschmann."
Ms. Hutchinson. ~ You previously asked about individuals he had raised with me. In my conversation with him earlier that afternoon, when I [sic] asking him about the engagement letter, I did also ask Stefan if he was representing any other January 6th clients. And he had said, "No one that I believe that you would have any conflicts with."

And I said, "Would you mind letting me know?" Now, again, to this day, I still don't know if that's really a kosher question to ask an attorney, if they can share their clients with me, but I wanted to make sure that there actually weren't any conflicts, because I didn't have anything in writing.

He wouldn't tell me anybody he was representing before the January 6th Committee, but he did tell me that he had previously represented Eric Herschmann and Jared Kushner and Ivanka Trump in unrelated matters.

And in that same conversation, he said, "So if you have any conversations with any of them, especially Eric Herschmann, we want to really work to protect Eric Herschmann."

And| I remember saying sarcastically to him, "Eric can handle himself. Eric has his own resources. Why do I have to protect Eric?" He said, "No, no, no. Like, just to keep everything straight, like, we want to protect Eric with all of this."

Ms. Cheney. Did he explain what he meant?

Ms. Hutchinson. No. And, to be honest, I didn't ask. I didn't have anything with Eric anyway that I felt that I had to protect. And I say that because, at the time of being back in Trump world — this is where I look back and regret some of this, but — like, I did feel a need to protect certain people. But with somebody like Eric, I didn't feel that need, I didn't find it necessary.  didn't — I didn't think that Eric did anything wrong at the time.

Ms. Cheney. Did it have something to do with NARA?

Ms. Hutchinson. He never really explained to me what it was exactly that we wanted to protect Eric on. I sort of erred on the side of: Maybe he just represents Eric in ongoing litigation, whether it's financial disclosures or whatever it might be.

And, again, I just didn't prod too much on that either, because, you know, I was under the impression that Eric helped set me up with Stefan, so I didn't — I was worried that Stefan would then go back-channel to Eric and — this is my very paranoid brain at the time, but I was worried that if I, you know, pushed this subject a little too much, that he would then go back to Eric Herschmann and say, "Cassidy asked a lot of questions about you, like, why she needs to protect you." So just didn't really press the subject too much on that.
By the end of that first day, per her testimony, she learned that Passantino was business partners on the election-related business Alex Cannon had with Justin Clark and, possibly, Herschmann.
S0 I — "I want to make sure that I'm getting the dates right with these things?

He goes, "No, no, no." He said, "Look, we want to get you in, get you out.

We're going to downplay your role. You were a secretary. You had an administrative role. Everyone's on the same page about this. It's extremely unfair that they're" "they're" being the committee – "that the committee is putting you in this position in the first place. You really have nothing to do with any of this. It's Mark's fault that you're even involved in this. We're completely happy to be taking care of you now. We had no idea that you weren't being taken care of this last year. So we're really happy that you reached back out to us. But the less you remember, the better. I don't think that you should be filling in any calendars or anything."

[Redacted] When he said a

Ms. Cheney. Go ahead.

[Redacted] So everyone's on the same page about this, did he explain who he was referring to when he said "everyone"?

Ms. Hutchinson. He didn't at that moment. Then there are times throughout my working relationship with Stefan where he said similar things that I asked.

Later that day, sort of put together that the "they" he was referring to then were Justin Clark, Alex Cannon, Eric Herschmann. I think that's — yeah, think that's all of them.

Ms. Cheney. And how did you put that together?

Ms. Hutchinson.  Because he — he had said that — Justin — yeah, Justin Clark. Stefan had told me that — towards the end of the day that because he was involved with Elections, LLC, and tangentially, I guess Trump's PACs, he had law partners. And unless I was extremely unwilling for him to share, he said it would be natural for him to have to share that information with the people that he works with that are his partners that are involved in Trump world.
Then, after her third interview — the one in which Hutchinson remembered a lot of details about the response to the attack that Herschmann had already testified to not remembering — Passantino responded by confirming to Maggie Haberman that Meadows' former aide had testified, and telling Meadows' lawyers, his partners, and Herschmann about her testimony, all in defiance of Hutchinson's wishes, according to her testimony.
Ms. Cheney. Did he also – so you said that he talked to Terwilliger, to his law partners. Did he also talk to Herschmann?

Ms. Hutchinson. He did. I'm sorry. I neglected to mention that. He –as we were leaving that evening, I got an Uber, and he walked me to my Uber, and he reiterated that he was going to have a conversation with his law partners. He was going back to Michael Best, and he said that he was going to have a conversation with his law partners that night.

And he asked — he asked — I forget how he said it. He said something to the effect of, "I think its best if we tell Eric about this, too. He's not technically my law partner, but I think Eric deserves to know some of this, too."

And I said, "Look, at this point, one, I kind of know you're going to do what you're going to do." And I said, "Whatever you think is best"
That's what led to the 30-minute call from Herschmann, the one where he expressed surprise that she remembered so much.
The discrepancy looks somewhat different give Hutchinson's claim that Passantino told her, from the start, "they" were trying to protect Herschmann.
Particularly given that the transcripts reveal just how amorphous Herschmann's job was. He has often been referred to as part of the White House Counsel's office. I've done it. General Keith Kellogg did it in his interview with the Committee, which is why, Kellogg explained, he was so surprised that Herschmann sat silent in the Oval Office as Trump told Mike Pence he could reject electors from contested states, some details of which were something else Herschmann claimed not to remember.
Herschmann's job was providing legal advice (he was also involved in Jared Kushner's portfolio of pardons and Middle East negotiations, though when asked, he was coy about his relationship with the kids: "I had met them beforehand," he said) And he did report through Pat Cipollone. But he was not part of the White House Counsel's Office.
It's almost like he was an in-house minder, paid by taxpayers, installed by the family or Bill Barr for the last five months of the presidency.
While working at the White House, Herschmann teamed up with Passantino and Don Jr's buddy, Arthur Schwartz, to pitch the first Hunter Biden smears to the WSJ, even before Rudy disseminated the "laptop."
Yet even in that short time period, Herschmann became a key gatekeeper for the President, ostensibly to prevent him from getting outrageous pitches.
Which makes a key discrepancy between Pat Cipollone and Herschmann's testimony rather interesting, particularly given Passantino's concern (at least per Hutchinson's testimony) with protecting Herschmann.
Herschmann claimed that the reason Cipollone wasn't in that meeting in the Oval Office on January 6, sometime after he spoke with Rudy out of the blue and at which he didn't remember the Joint Session of Congress coming up, is because Cipollone hadn't arrived to work yet. In fact, Herschmann remembered that even after the Oval Office meeting, Cipollone still wasn't in the office; Herschmann described talking to just Pat Philbin before deciding to go, without prior planning, to the Ellipse.
I don't remember, I don't think Cipollone was in the office yet, but Philbin was.
The way Cipollone remembered it is that he came to the Oval Office before the meeting, but Herschmann specifically told him he didn't need to participate — it was just family.
I remember Eric Herschmann was standing there and came and my recollection is he came to me as I was standing in the door and said, this is — this is family — just kind of –you don't need to be here. And said, fine. And believe I went back to my office at that point.
And so, as Herschmann described, when he was in the Oval Office not hearing a discussion about the Joint Session of Congress, he was just on a social visit, just saying hello.
Q You were not there for any legal purpose. It was just, you indicated, sort of a social gathering?

A Yeah, when I first came in, it was just saying hello.
I'm sure that relative veracity of these claims are all being weighed by Jack Smith and his prosecution team. Indeed, after these events, DOJ started adding Passantino's name to subpoenas.
I'm interested in one more detail about it. Immediately after Hutchinson testified about her claims of obstruction to J6C on September 14 and 15 (testimony which should have been secret), Maggie Haberman came out with two stories pitching Herschmann — who worked so closely on Jared's portfolio at the White House — in positive light. On September 16, Maggie Haberman reported on Herschmann's demand to get an Executive Privilege invocation in writing just in time to avoid testifying sometime that month. In it, Herschmann got to impugn Boris Epshteyn's legal ability, just like he was made a star of the J6C hearings by yelling at Eastman and Powell.
The claim that Herschmann was invoking Executive Privilege is particularly interesting given two things he said in his J6C interview. First, he said that "based on his understanding" with the two Pats, he would not invoke privilege, at least with respect to Trump's call to Mike Pence on January 6.
Q And could you hear the Vice President, or only hear the President's end?

A Only hear the President's end.

Q Okay. And what did you hear him say?

A Well, I guess from this, based on my understanding with Pat Philbin and Pat Cipollone — I don't want to assert privilege on that as much as tell you that, at some point, it started off as a calmer tone and everything, and then became heated.
Given his claimed status as a social visitor and his role as an aide giving legal advice reporting to, but not part of, the White House Counsel's Office, I'm curious what privilege he would claim.
Almost immediately thereafter, Herschmann asked to review with his own lawyers (former colleagues of his from Marc Kasowitz' firm who also repped Ivanka, Jared, Ivanka Trump's Chief of Staff Julie Radford and aide Rachel Craddock, and two of Trump's Executive Assistants, Molly Michael and Austin Ferrer, as well as Alex Cannon, the latter of whom was represented pro bono), in part, whether "if I don't recall something" it's invoking a privilege.
Q  Okay. Others have said that President Trump said, I made the wrong decision four years ago?

Do you recall that.

A Let me — can we take a two-second break, so I get the privilege down in my head? Because if I don't recall something, I presume it's not invoking anything, right?

So can we take a five-minute break, so I can get my own ground rules covered.
Herschmann did, as noted, invoke privilege to cover one of two private conversations he had with Trump that day, one after the attack on the Capitol. But that was it. The single solitary thing all day he invoked privilege over. And yet somehow, there would be a lengthy discussion about privilege before he appeared before a grand jury.
The reason I find these discussions of privilege so interesting, though, is because while we know that the two Pats testified before a grand jury after Beryl Howell overruled Trump's privilege invocation, we've never heard whether Herschmann did.
That's relevant, too, because (like Alex Cannon), Herschmann also reportedly has a role in the stolen documents case. A few days after the story on privilege, on September 19, Haberman reported that Herschmann had warned Trump to return his stolen documents at some otherwise vague meeting in 2021.
As Hutchinson's testimony and years of past practice make clear, sometimes people share stories with Maggie as a way to telegraph what has gone on in an investigation.
https://www.emptywheel.net/wp-content/uploads/2023/01/Family.jpeg
1124
2048
emptywheel
https://www.emptywheel.net/wp-content/uploads/2016/07/Logo-Web.png
emptywheel
2023-01-20 08:01:29
2023-01-20 13:10:17
The Primary Thing Eric Herschmann Remembers from January 6 Is that Cassidy Hutchinson Was Wrong about That Note