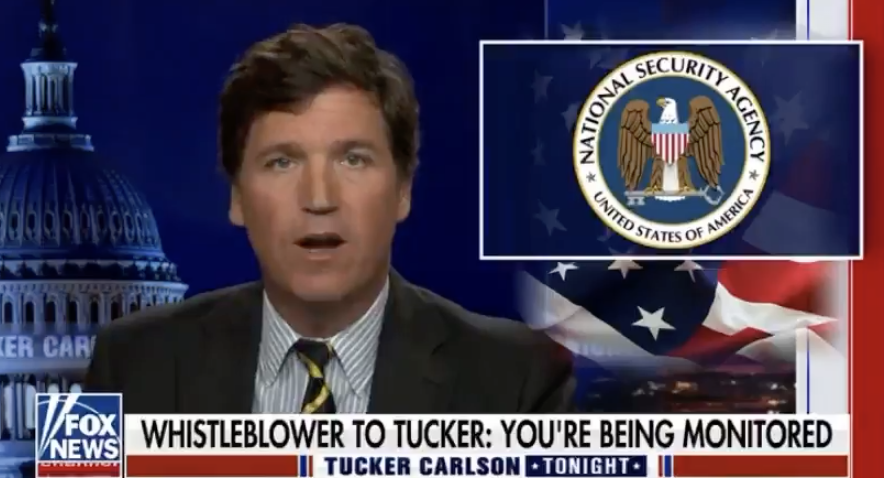 CNN reports that in a GOP leadership meeting, concerns were (anonymously) expressed about the way that Kevin McCarthy gave exclusive access to sensitive security footage from the Capitol to a self-described fan of Vladimir Putin, Tucker Carlson.
[S]ome lawmakers in the closed-door leadership meeting asked whether sensitive security protocols or certain evacuation routes would be exposed by taking that step.

Others questioned how long the footage is going to be dragged out in the press, with some lawmakers concerned about the optics of appearing to try to downplay a deadly insurrection in the US Capitol.

"Let's just rip the Band-aid off and get this over with," one GOP lawmaker told CNN.

Sources said McCarthy assured his leadership team that he wants to move swiftly, but said they need to be deliberate about how they handle it to ensure the release does not endanger their security.
Remarkably, it was Marjorie Taylor Greene who had to voice, on the record, the potential danger of showing where the secure back hallways of the Capitol were.
[Marge] told CNN she played a role in McCarthy's decision to turn the footage over to Carlson, but she wouldn't go into further detail.

Greene, who was not in the Monday night meeting, said she's spoken with McCarthy, and that the speaker's office is coordinating a process for how to release the footage more widely, beyond Fox News, while also ensuring it doesn't violate any security concerns.

"We can't give away our national security," Greene said, "Everyone in Congress agrees. And I think the American people agree. We don't want Russia or China or any of these other countries being able to study all the entries and exits of our capital. That's foolish."

Greene told CNN that Carlson's team was also given certain parameters for what they could and couldn't air. "Yes … of course (there were parameters) they're being extremely careful and responsible."
Except no one cited in this article — not Marge, not Elise Stefanik (who showed less understanding about the security concerns than Marge), and not CNN itself — raised the problem here.
Kevin McCarthy has already shared this sensitive video with someone that — as a Gang of Eight member — he must know was in discussions about setting up a back channel with Putin, purportedly a long-term effort to set up an interview. Tucker's own FOIA suggests that effort extended for at least thirty months, as of July 2021. Tucker continues to proudly root for Putin.
The problem is not, just, in Tucker airing surveillance footage that compromises the security of the Capitol. It's not just that Russian spies might watch Tucker Carlson and decide how to attack the Capitol.
The problem is also that Tucker will either give it to Putin, or store it insecurely and make it available to Russian hackers, a means of obtaining sensitive records that Russia has used in the past.
One of the first things Kevin McCarthy did as Speaker was to give exclusive access to security information to someone openly rooting for Putin, someone who has launched hostile operations against US democracy in recent years.
And McCarthy is only now considering the security implications of having done so.
https://www.emptywheel.net/wp-content/uploads/2021/06/Screen-Shot-2021-06-30-at-12.32.35-PM.png
478
884
emptywheel
https://www.emptywheel.net/wp-content/uploads/2016/07/Logo-Web.png
emptywheel
2023-02-28 07:55:49
2023-02-28 15:24:56
Marjorie Taylor Greene Admits Kevin McCarthy Should Have Considered National Security before Harming It