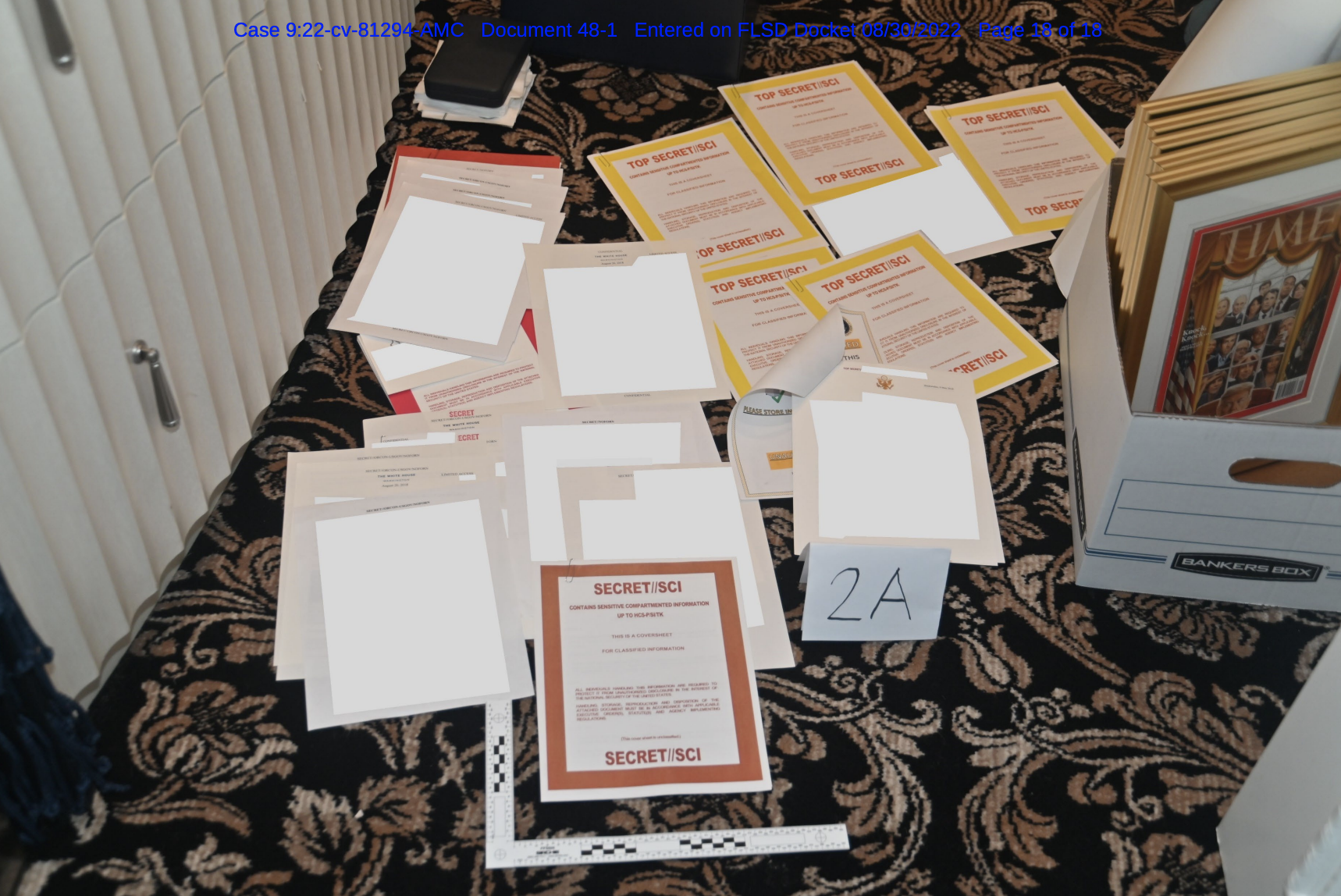 Tim Parlatore Quit After Trump Lawyers Couldn't Find the Iran Document
Tim Parlatore's decision to quit the Trump team — and the reports on the infighting on Trump's legal team that followed shortly thereafter — sure look a lot different in light of CNN's report, from a team that includes the journalist to whom Parlatore has twice given big scoops, Paula Reid, that Trump's lawyers haven't been able to find an Iran document Trump got caught on tape claiming to have at Bedminster.
Attorneys for Donald Trump turned over material in mid-March in response to a federal subpoena related to a classified US military document described by the former president on tape in 2021 but were unable to find the document itself, two sources tell CNN.

[snip]

Prosecutors sought "any and all" documents and materials related to Mark Milley, Trump's chairman of the Joint Chiefs of Staff, and Iran, including maps or invasion plans, the sources say. A similar subpoena was sent to at least one other attendee of the meeting, another source tells CNN.

The sources say prosecutors made clear to Trump's attorneys after issuing the subpoena that they specifically wanted the Iran document he talked about on tape as well as any material referencing classified information – like meeting notes, audio recordings or copies of the document – that may still be Trump's possession.
Parlatore, remember, is the guy who oversaw searches in November and December of Trump's other properties. He then appeared before the grand jury to attest to the thoroughness of the searches, effectively playing the same role that Christina Bobb had last summer. Bobb, an OAN host, was smart enough to include caveats before she did that.
According to Hugo Lowell's account of the clusterfuck legal team, Parlatore didn't similarly protect himself. He told the grand jury that there were no impediments to his searches and then brought a transcript back to the team to make clear what he had said.
In fact, the legal team is said to be confident that Parlatore will not flip on Trump after he told the grand jury hearing evidence in the case last year that Trump gave him free rein to search for any remaining documents at his properties last year, according to a transcript of his testimony.
Trump's team seems to be confident that Parlatore won't revise that story because he's already on the hook for perjury for it.
In mid-March, in the same time period Trump's lawyers would have first learned of the recording Trump made, Parlatore gave my favorite quote of any regarding Boris Ephsteyn: that the rest of Trump's lawyers would be okay so long as Ephsteyn was not named a target (he didn't say, in which investigation).
"Boris has access to information and a network that is useful to us," said one of the team's lawyers, Timothy Parlatore, whom Mr. Epshteyn hired. "It's good to have someone who's a lawyer who is also inside the palace gates."

Mr. Parlatore suggested that he was not worried that Mr. Epshteyn, like a substantial number of other Trump lawyers, had become at least tangentially embroiled in some of the same investigations on which he was helping to defend Mr. Trump.

"Absent any solid indication that Boris is a target here, I don't think it affects us," Mr. Parlatore said.
That would also have been around the time that the subpoena — the one that Trump's lawyers ultimately couldn't completely fulfil because they couldn't find the Iran document — would have made the past searches Parlatore vouched for, the searches he reportedly told a grand jury he had unfettered access to conduct, seem incomplete.
Even as Parlatore was publicly hailing the value of Boris, he was staging an attempted intervention, to get him removed as a gatekeeper to Trump.
Parlatore and Trusty's interpersonal conflicts with Epshteyn reached new levels as they grew increasingly annoyed at what they considered their inability to directly consult Trump without having to go through Epshteyn.

The pair chafed that when they spoke to Trump on the phone, Epshteyn was typically also on the line. At other times, they sniped that Epshteyn would give overly rosy outlooks to Trump and, in March, travelled to Mar-a-Lago to seek Trump's permission to exclude him from future deliberations.

It was not clear whether the issue was actually resolved. Parlatore came away from the meeting content that he no longer needed to speak to Epshteyn. However, Epshteyn remained Trump's in-house counsel and the legal team's liaison with the Trump 2024 campaign.

Around that time, Parlatore and Trusty also started withholding information from Corcoran because they worried that Corcoran was too close to Epshteyn and was briefing him behind their backs.
Just over a month after this attempt to get Boris removed as gatekeeper, Boris spent two days interviewing with prosecutors (but not appearing before the grand jury, the kind of thing someone might do if he were trying to stave off a target letter).
In the same period, Jack Smith subpoenaed Trump Organization for details of his business deals, including the golf deal with the Saudis. He also kept pursuing gaps in the surveillance footage (gaps the details of which Parlatore may know, but the public does not).
And then, after attempting to stage an intervention to get Boris removed, Parlatore quit himself. Shortly after, he provided a public story (to Paula Reid) that seems to dramatically conflict with his grand jury testimony as described by Lowell, specifically citing Boris' interference with a search of Bedminster.
Boris Epshteyn [] had really done everything he could to try to block us [the lawyers], to prevent us from doing what we could to defend the President, and ultimately it got to a point where — it's difficult enough fighting against DOJ and, in this case, Special Counsel, but when you also have people within the tent that are also trying to undermine you, block you, and really make it so that I can't do what I know that I know that I need to do as a lawyer, and when I'm getting in the fights like that, that's detracting from what is necessary to defend the client and ultimately was not in the client's best interest, so I made the decision to withdraw.

[snip]

He served as kind of a filter to prevent us from getting information to the client and getting information from the client. In my opinion, he was not very honest with us or with the client on certain things. There were certain things — like the searches that he had attempted to interfere with, and then more recently, as we're coming down to the end of this investigation where Jack Smith and ultimately Merrick Garland is going to make a decision as to what to do – as we put together our defense strategy to help educate Merrick Garland as to how best to handle this matter, he was preventing us from engaging in that strategy. [my emphasis]
All that may have been an effort to be invited to clarify his testimony.
It didn't come. As of last Tuesday, Jack Smith had shown no interest in this apparently revised story.
Parlatore noted that Smith's investigators have not yet reached out to him as of Tuesday night.
Or Parlatore may have changed his tune too late for his own good. NBC reports that this grand jury, which had been on a month-long hiatus, is set to meet again this week.
The notion that four or five real lawyers have tolerated — for months — having a guy whose phone had already been seized by the prosecutor investigating their client to serve as a gatekeeper between them and their client is nuts. Crazier still is that you'd put your career on the line even after that guy had obstructed your effort to do your work diligently.
https://www.emptywheel.net/wp-content/uploads/2022/08/Screen-Shot-2022-08-31-at-6.40.53-AM.png
1148
1718
emptywheel
https://www.emptywheel.net/wp-content/uploads/2016/07/Logo-Web.png
emptywheel
2023-06-04 00:09:48
2023-06-04 00:13:33
Tim Parlatore Quit After Trump Lawyers Couldn't Find the Iran Document