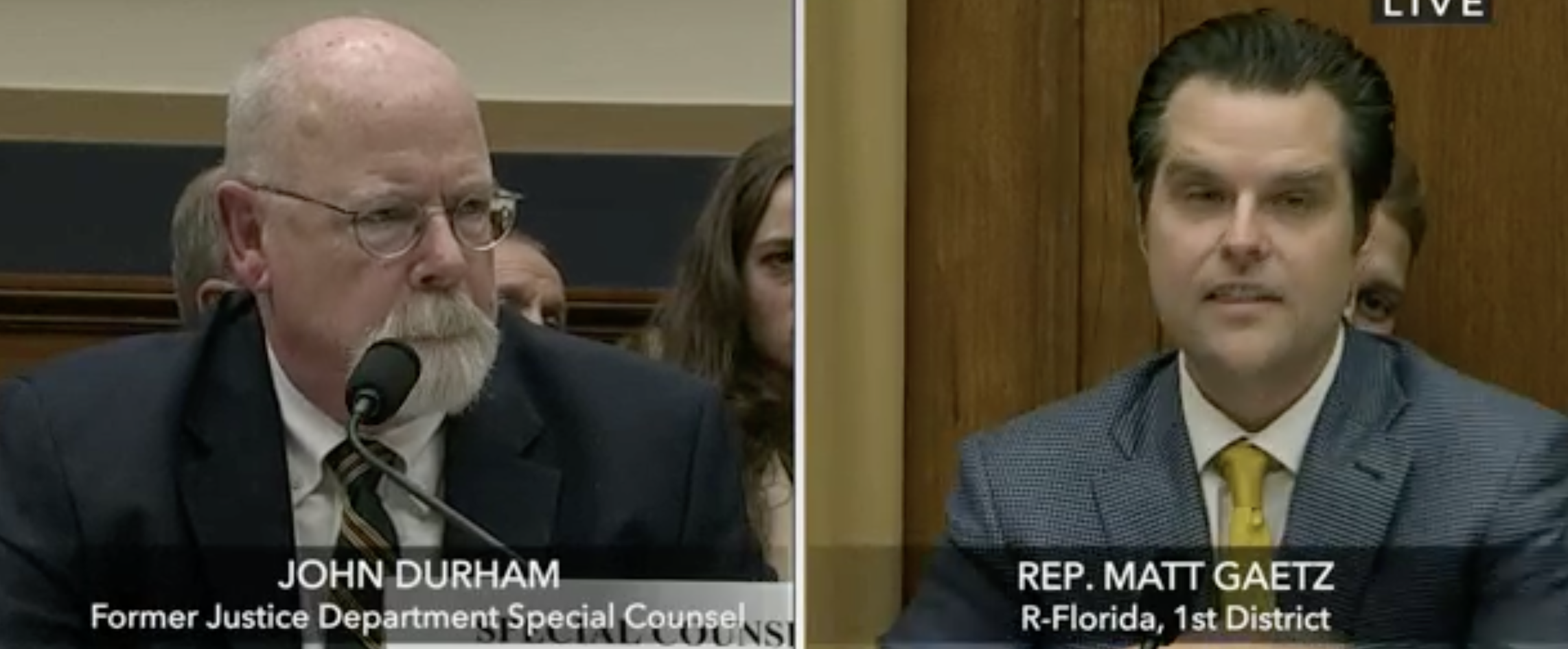 In the End, the Leopards Who Launched the Durham Investigation Ate His Face
I'm visiting family, so my longer analysis of John Durham's appearance before Congress will have to wait until the weekend. Here's my live thread of the hearing.
The arc of the hearing should begin with Durham's final answer (in response to an insane rant from Harriet Hageman, Liz Cheney's replacement in Congress), in which Durham claimed that if people believed there is a two-tiered system of justice, the nation cannot stand.
Before he provided this answer, Adam Schiff, to whom many Democratic members deferred, had noted that in Durham's comparison of Hillary's treatment by the FBI with Trump's in his report, Durham had completely ignored the way Jim Comey had tanked Hillary's campaign, first in July and then again in October 2016. Durham had ignored, in his treatment, the most consequential events in the 2016 campaign, arguably the decisive set of events. (As I've noted, even CNN concluded that Durham's actual evidence, as opposed to his conclusions, actually shows that even on other investigations, Hillary was treated worse than Trump.)
So Durham, after having been called out for ignoring the way the FBI may have decided the election against Hillary, nevertheless reiterated his false claim that he showed the FBI applying a two-tiered system of justice against Trump.
Then Durham said that if people believe his false claim, it will sink the nation. In his final answer, Durham effectively said that if people believe his false claim, it will sink democracy in the United States.
With that endpoint in mind, let's review what happened leading up to it.
An important recurring theme from most Democrats is that Merrick Garland respected Durham's independence. Democrats repeatedly got Durham to confirm that Garland had never interfered with Durham's independence and even got him to endorse the independence of Special Counsels, generally. As I predicted, Durham's testimony will undercut GOP efforts to interfere in Jack Smith's ongoing investigations into Trump and some Republicans in Congress.
Democrats also repeatedly laid out how Durham had spent $6.5 million and found no new crime.
A really central moment came — in advance of a procedural vote to censure Schiff on the floor — where Schiff laid out that his prior claims about the Russian investigation all proved true. Both with Trump's public call for Russia to find Hillary's emails and Don Jr's enthusiastic acceptance of an offer of dirt on Hillary, Trump invited Russia's help. He got the help he asked for in the form of further hacking of Hillary. And Trump made use of it, by relying on the stolen emails over and over again.
At one point, Schiff said that if you don't want to call Paul Manafort handing internal campaign information to a Russian spy "collusion," then you could just call it Republicans cheating with the enemy.
In another exchange, Schiff laid out how George Papadopoulos' prediction of help from Russia came true, in the form of the release of stolen emails via cut-outs. Durham (whose claim to be aware of Trump's emails and public news coverage was selective throughout), claimed to have no awareness that the Russian operation released stolen emails via three different cut-outs — dcleaks, Guccifer 2.0, and WikiLeaks. He had no idea, about that, he claimed!
In short, the Durham hearing gave Schiff (and others, but especially Schiff) several opportunities to lay out just how damning the Mueller investigation results were, particularly as compared to Durham's own flimsy outcome. Each time, Durham claimed ignorance of key details of the Mueller Report.
That said, Durham was under oath. Throughout the hearing, he stopped short of making claims that he had — while still a prosecutor with near-total immunity — made in his report. For example, Durham did not state, in the hearing, that Hillary had a plan to frame Donald Trump, as opposed to simply pointing out his very real Russian ties.  He even, in the hearing, acknowledged that Igor Danchenko did not hide his ties to Charles Dolan, when asked. MoJo is out claiming that Durham lied under oath, but the way Durham backed off key claims he made in his report is far more telling about his witting actions. The claims Durham did not repeat under oath are the ones deserving of further scrutiny.
Which brings us to the three MAGAt members of Congress who questioned Durham after a break for votes, too late for any Democrat to rebut Durham.
First, there was Hageman's rant.
Then, Andy Biggs stated as fact that there were crimes Durham had not prosecuted, including immigration crimes by Igor Danchenko. Biggs also stated that, "the division in this country, I can trace back, it is the Steele dossier paid for by Hillary Clinton." Of course, the Durham Report provided yet more evidence that the disinformation in the dossier came from Oleg Deripaska, so I guess Andy Biggs is congratulating Deripaska for the damage that he did to the country. And doubling down on that damage.
The most heated challenge to Durham, however, came from Matt Gaetz (again, after a half-hour break for votes; somehow Gaetz got two chances to question Durham). Gaetz demanded to know how Durham was unable to find Joseph Mifsud — the guy whose comments to Trump's Coffee Boy started this whole investigation — for an interview, even after Durham patiently described that no US prosecutor can demand subpoena compliance for suspected Russian spies located overseas. Durham described that, as happened with former counterintelligence investigative subject Sergei Millian, Mifsud's lawyer refused to disclose Mifsud's location.
In response, Gaetz accused Durham of being part of a cover-up.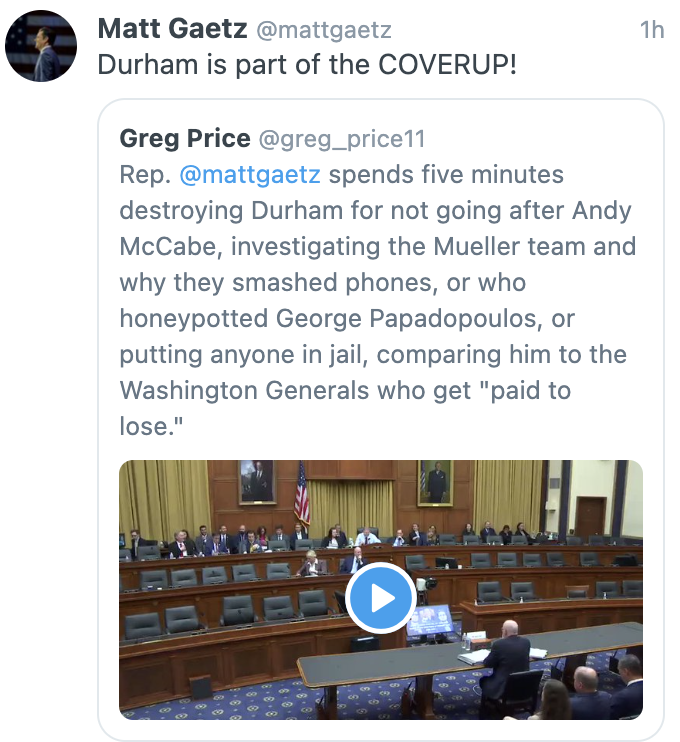 Durham was like the Washington Generals, Gaetz accused, paid to lose the game. Because Durham couldn't find someone against whom the SSCI Report showed ties of Russian intelligence ties, Gaetz suggested that Durham had, from the start, planned to cover up a Deep State operation against Donald Trump.
This whole thing was an op. This wasn't bumbling fumbling FBI that couldn't get FISA straight. This was an op. It begs the question whether you were really trying to figure that out.
As he did in response to a parallel line of questioning from Cori Bush and even Jerry Nadler, Durham insisted on the good faith of his team. He talked about the four years he spent away from his family to conduct this investigation that made America less safe.
I don't doubt he believes his team engaged in a good faith investigation. As he said, sometimes confirmation bias can undermine even good faith actions.
The Durham investigation was kicked off in 2018 when a bunch of Tea Partiers like Gaetz gave Papadopoulos an opportunity to float conspiracy theories in the Congressional record. That's literally what sent Durham and Barr on a junket together to Italy, the failed attempt to find Joseph Mifsud that Gaetz presents as proof that Durham was just part of a Deep State plot.
Durham ended his investigation with the leopards who kicked it off eating his face.
I'm not happy that more of Durham's lies weren't exposed at today's hearing. The hearing could have been far more effective, as an effort to get to the truth.
But I can think of no more fitting way to end Durham's four year effort to chase the conspiracy theories of George Papadopoulos than to have Matt Gaetz accuse him of being part of a Deep State op.
Durham set off in 2019 to chase down the conspiracy theories of people with close ties to Matt Gaetz. And Durham ended it by having Gaetz accuse Durham of the same things of which Durham accused others.
The leopard always eats your face.
Update: Fixed which Washington team intentionally loses rather than does so as the result of the right wing owner's ineptitude.
https://www.emptywheel.net/wp-content/uploads/2023/06/Screenshot-2023-06-21-at-19.40.29.png
946
2284
emptywheel
https://www.emptywheel.net/wp-content/uploads/2016/07/Logo-Web.png
emptywheel
2023-06-21 16:50:39
2023-06-21 17:24:05
In the End, the Leopards Who Launched the Durham Investigation Ate His Face