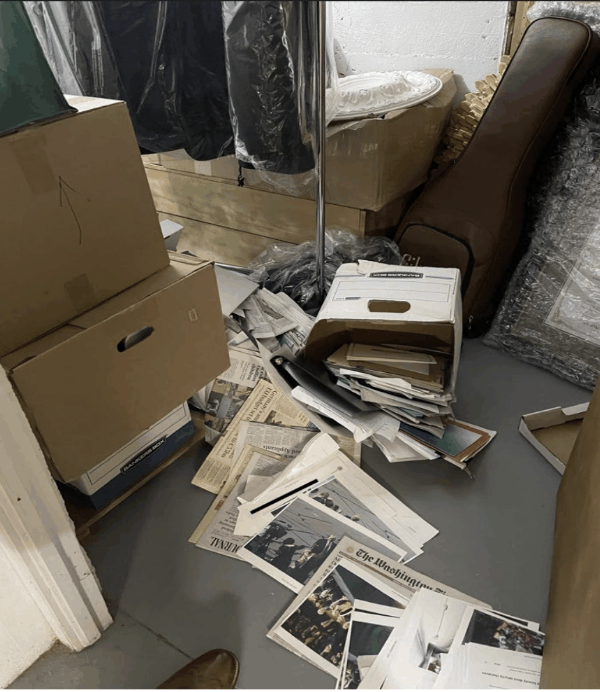 How 9 Months of Camera Footage became 8 Years
Even while Trump's attorneys argued that he should be permitted to discuss classified information on private property that was already targeted by foreign spies before it became clear he was hoarding boxes of classified records there and may not have turned everything back, they argued that to investigate what happened with the stolen classified documents while in Trump's custody, the FBI had to get 8 years worth of camera footage.
Actually, more than that. Trump's response claimed that three-quarters of the total surveillance video turned over to date makes up 8 years, meaning the total would amount to around 128 months of surveillance footage.
To be sure, this is part of competing efforts to inflate (Trump) or understate (DOJ) the amount of discovery in this case.
I'm tracking those competing claims about what has been turned over in this table.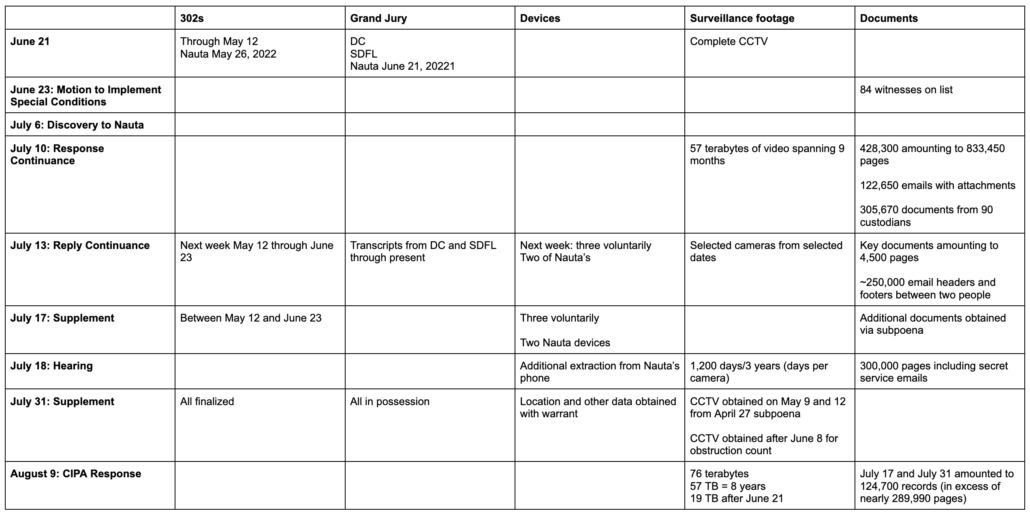 The latest claims — that would suggest that DOJ had turned over around 128 months worth of surveillance footage — reflect an evolving methodology on Trump's part. On July 10, Trump's lawyers described the initial batch of surveillance footage to be "approximately nine months of CCTV footage."
The initial production also included some 57 terabytes of compressed raw CCTV footage (so far there is approximately nine months of CCTV footage, but the final number is not yet certain).
On July 18, Todd Blanche described that the footage Trump's discovery vendor had uploaded as of that morning amounted to 1,186 days — or "over three years" worth of video.
Your Honor, just starting with a question you asked Mr. Bratt a while ago about just one part of the discovery, which is the CCTV footage, which is extraordinarily significant to this case, not only as what's obvious from the indictment, but it also in part gave rise to the search warrant, the affidavit, and the probable cause to search Mar-a-Lago. As of this morning, there's 1,186 days of footage that we have uploaded so far, and our vendor is not finished uploading it. And again, I'm not questioning Mr. Bratt's position about the time period, but there's multiple cameras that were subpoenaed and that have been produced to us as Rule 16 discovery; and as of today, it's over three years' worth of video.

Now, I'm not suggesting to the Court that we're going to sit for three years and watch three years' worth of video, but it's a tremendous amount of data and information, and we're just — I'm just talking right now about the CCTV footage. While the Government is correct that they have pointed us to the few days that they believe are the most significant to them as it relates to the charges in the indictment and presumably the search warrant, they're not the most significant to us. I mean, the movement of boxes and where boxes were on given days is extraordinarily significant not only to the justification for the search warrant of the President's residence but also to the defense of the case. And so the CCTV footage alone, over 1,186 days, makes the schedule the Government proposed pretty disingenuous, Your Honor.
Yesterday's filing describes that when Trump's vendor finished uploading that first batch of surveillance footage — which was 57 terabytes out of 76 total — it amounted to 8 years of footage.
Furthermore, the government has produced approximately 76 terabytes of compressed raw CCTV footage, which is itself an incredible volume of material. Last week defense counsel finally finished processing the intake of CCTV footage that the government produced on June 21—the 57 terabytes of CCTV footage produced on June 21 totals nearly eight years of video. On July 31, the government produced an additional 19 terabytes of CCTV footage, including, according to the government's production letter, "footage that was produced to the government in May that was not included in the government's first discovery production." Counsel recently received a hard drive with CCTV footage referenced in the government's July 31 letter, and we are still processing that discovery to assess the total length of additional video the government produced.
That's where my 128 months estimate comes from: if 57 terabytes amounted to eight years, then 76 might amount to 10.66.
To be sure, this effort to maximize the scope of the surveillance footage is just meant to impress Judge Cannon and it might well work.
But it also provides some way to reverse engineer what the scope of the surveillance footage really is.
For example, if the scope of this includes footage spanning 9 months of time, as Trump originally claimed, then 10.66 years of footage might suggest 10 cameras were ultimately obtained; according to the search affidavit, there were 4 cameras — from the hallway outside the storage room — covered by the initial production, and by counting using Trump's new method, 2 months of footage from four cameras would amount to eight months of surveillance footage.
It's funny math, but now there's more than 16 times that.
Note that in July, Bratt confirmed the unsurprising detail that some of the footage is from Bedminster (which is probably why DOJ hasn't done a search on Bedminster — because they could validate the thoroughness of the search done in November or December).
MR. BRATT: So it covers a nine-month period, but not all the cameras were — but it is not all the cameras at Mar-a-Lago or Bedminster; not all the cameras were always running. And the retention period that the Trump organization had varied from camera to camera, so it is not a solid nine months of video footage.
Now, I'm interested in the scale of the footage for several reasons. Yesterday's motion pointed to the 8 years of footage as proof that nothing ever got deleted.
As relevant here, the charges allege various obstruction-related conduct arising out of false claims of efforts to destroy certain video tapes. No videotapes were deleted or destroyed and the government does not so allege; indeed, President Trump has produced to the Special Counsel's Office what amounts to more than eight years of CCTV footage.
It's certainly possible that when DOJ started the investigation that led to multiple obstruction charges, they were just trying to figure out why Trump totally blew off the part of the initial subpoena that asked for locations in addition to the hallway outside the storage room (which I laid out here).
Particularly given that the claim accompanied the suggestion that the alleged attempt to delete footage in June 2022 was "false," I certainly wouldn't credit the amount of footage eventually obtained by the government as proof that nothing was deleted. It's not even clear that all the footage comes from Trump Organization, much less the guy who used to be President.
But the other reason I remain obsessed about the amount and types of surveillance footage here (besides, perhaps, my PhD in literature), has to do with the types of questions investigators may have been trying to answer.
Take, for example, the claim by Bratt on July 18 that the movement of boxes key to the initial obstruction conspiracy happened on May 24 through June 2.
With respect to the closed circuit television and the movement of boxes, I would just note that the movement of boxes occurred between May 24th and June 2nd. So it's not years' worth of video with respect to the movement of boxes.
If so, that would suggest Nauta's movement of a single box on May 22 was something besides an attempt to obstruct the subpoena response.
Or consider the way Trump's lawyers boast about what an unusual place Mar-a-Lago is.
We similarly reminded the government of the uniqueness of President Trump's residence, including that it is in a highly protected location guarded by federal agents that previously housed a secure facility approved for not only the discussion, but also the retention, of classified information. The government's Motion suggesting we anticipated discussing classified information in an unsecure area is wrong, and they are fully cognizant of that fact. Similarly, the government's statement to the court in its Motion that President Trump's personal residence should be compared to the residence of "any private citizen" is misleading. This is especially true given the necessary protections afforded to our nation's leaders after they leave office and the uniqueness of the location of President Trump's residence, coupled with the fact that a secure location already existed for the relief sought herein and can be re-established with appropriate safeguards.6

6The statement comparing President Trump's personal residence at Mar-a-Lago to that of "any private citizen" is all the more disingenuous considering a member of the prosecution's trial team has visited the Mar-a-Lago property during the course of the investigation and is therefore personally aware of the differences between President Trump's residence and that of "any private citizen."
This neglects to explain why no sane person would want to restore a SCIF at Mar-a-Lago as explained very easily in the indictment.
The Mar-a-Lago Club was located on South Ocean Boulevard in Palm Beach, Florida, and included TRUMP's residence, more than 25 guest rooms, two ballrooms, a spa, a gift store, exercise facilities, office space, and an outdoor pool and patio. As of January 2021, The Mar-a-Lago Club had hundreds of members and was staffed by more than 150 full-time, part-time, and temporary employees.

Between January 2021 and August 2022, The Mar-a-Lago Club hosted more than 150 social events, including weddings, movie premieres, and fundraisers that together drew tens of thousands of guests.
Mar-a-Lago shouldn't be compared to the residence of "any private citizen," sure, but for entirely different reasons than Trump's lawyers want to admit: it's a counterintelligence nightmare, and was long before Trump started hoarding classified documents in the gaudy shower, and was even ignoring the known targeting of the compound by foreign spy services.
One thing those surveillance videos are going to show is people besides Walt Nauta who got into the storage closet, perhaps to stash their guitar there, and in the process knocking over and discovering classified records that as a result have to be burned.
If there really is over 10 years worth of video surveillance, spread across a bunch of cameras and two properties, it's likely some of the surveillance will show stuff Trump didn't control, but stuff for which he should be held accountable.
Update: Added the quote about Bedminster bc as coalesced notes, Bratt's comment about retention period is also worth noting.
https://www.emptywheel.net/wp-content/uploads/2023/06/Screenshot-2023-06-10-at-08.02.55.png
692
600
emptywheel
https://www.emptywheel.net/wp-content/uploads/2016/07/Logo-Web.png
emptywheel
2023-08-10 11:53:48
2023-08-10 12:28:25
How 9 Months of Camera Footage became 8 Years