Iraq has been seeping back into the headlines lately, as civilian deaths there have now reached a level last seen in 2008. What is striking about this increase is that it did not occur until almost 18 months after the last US troops left Iraq.
Here is a screen capture of the latest data on civilian deaths in Iraq by Iraq Body Count: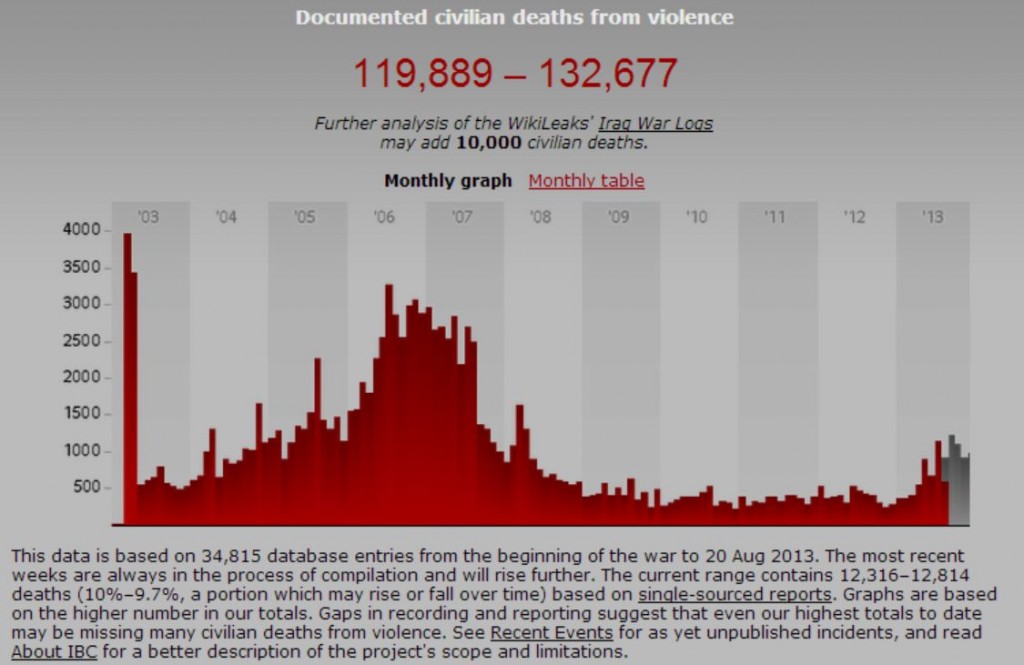 Recall that the final US troops left Iraq in the middle of December, 2011. The civilian death rate had leveled off in 2010 and remained steady throughout all of 2012, not rising significantly until May of 2013. Recall that earlier this week, conclusions of a National Intelligence Estimate on Afghanistan were leaked, suggesting that should the US completely withdraw troops from Afghanistan as we did in Iraq, the situation would deteriorate very rapidly. With Iraq now at high levels of violence, it would be very easy for politicians to lose sight of the very long gap between withdrawal of our troops and the rise in civilian deaths. Iraq should not be used as a cautionary tale against complete withdrawal though, since there was such a long gap between the withdrawal and the degradation of security.
Recall that David Petraeus was quick to accept praise for the drop in civilian death rates that began in late 2007 and continued throughout 2008. Many attributed this calming to Petraeus' surge and others ascribed it to the "Anbar Awakening" that Petraeus exploited:
Controversially, he even started putting some Sunni groups – including some that had previously fought the U.S. – on the American payroll. The "Anbar Awakening" of Sunni groups willing to cooperate with the Americans had begun in 2005, but at a smaller scale. Petraeus recognized that the groups had real community influence and ability to bring security, whether he liked them or not, and brought them on board. At the program's peak in 2008, the U.S. had "contracted" 103,000 fighters who were now ostensibly paid to assist an American-dominated peace rather than the disrupt it. That same year, according to Ricks, the U.S. signed ceasefire deals with 779 separate Iraqi militias.
Other analysts, especially Daniel Davis, came to the conclusion that most of the decline in violence was due to Sunni citizens in Anbar rejecting the extreme violence to which al Qaeda had sunk and especially its toll on fellow Muslims.
As is well known, the turning point in 2007 Iraq came when the heart of the Sunni insurgency turned against al-Qaeda and joined with US Forces against them, dramatically reducing the violence in Iraq almost overnight. The overriding reason the Sunni insurgency turned towards the United States was because after almost two years of internal conflict between what ought to have been natural allies – al Qaeda in Iraq (AQI) and the greater Sunni insurgency – a tipping point was reached whereby the Iraqi Sunnis finally and decisively turned against AQI. Had this unnatural split not occurred, by all accounts I have been given on both the Iraqi side and the US military side, "we would still be fighting in Iraq today," in the words of two officers I know who fought there.
Although there likely are many factors that contributed to the eventual outbreak of violence in Iraq that elevated civilian death rates, one possibility that intrigues me is that the timing fits reasonably well to be a part of Saudi intelligence chief Bandar bin Sultan's play for regional dominance. Marcy noted this week that the recent bombings in Russia fit with Bandar's warning delivered to Putin in a secret meeting last July. But if we go back to the report on that meeting, we see this about Bandar's regional plan and especially how it applied to Syria: Read more →
https://www.emptywheel.net/wp-content/uploads/2016/07/Logo-Web.png
0
0
Jim White
https://www.emptywheel.net/wp-content/uploads/2016/07/Logo-Web.png
Jim White
2014-01-02 12:28:02
2014-01-02 12:28:02
After Petraeus Paid Them For Peace, Are Sunnis of Anbar Now Paid by Bandar For Killing?