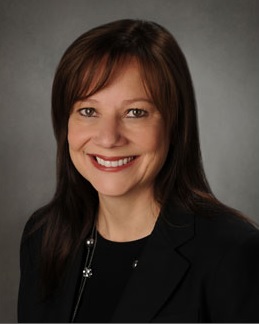 The woman in the photo at the right has big titanium ovaries — not malleable brass or rusting iron. Do I know Mary Barra personally to attest to this fact? No. But I have a pretty damned good idea where GM's new CEO has been, and it takes a pretty tough set of specifications to survive the road she's traveled.
Like her I grew up in the I-75 corridor in Michigan, where much of the automotive industry's OEM facilities and Tiers 1 through 3 suppliers could be found. Like her father, my father worked in the automotive business; if her household was like mine, there were copies of Car and Driver, Road & Track, machinist, tool-and-die, and metalforming magazines cluttering coffee tables or in dad's man-cave. The smell of machine oil and the grit of metal chips are familiar, as are an ever-present collection of safety glasses, hearing protection, and greasy jumpsuits. Picture a garage like that in Clint Eastwood's movie Gran Torino; I'll lay good money her dad probably spent a lot of his free time between shifts in a home shop like that, and where she might have been found as well if he needed a hand or she needed a tool to fix something.
It was in her blood, I'm sure; I'll bet she could taste it. I'm pretty certain this is why she went into engineering, and likely why she went to that particular private engineering school.
After working for a couple years as a high school engineering co-op student I had been accepted at the same school, but I went a different road, preferring business and then-nascent computing technology over engineering. My daughter, though, is at that school now. She could taste it, too; we have pictures of her at age nine, wearing safety glasses, proudly holding her first aluminum machined part. She's the first person her dad asks for help when working on the cars at home.
I wish now I'd taken pictures of her the time she was so damned mad at her brother and his friend for accidentally breaking the sibling-shared PlayStation 2 console. She ripped it down, diagnosed it using internet research, fixed and reassembled it on her own in an afternoon.
Driven to identify and solve the problem — that's what it takes to choose engineering as a career, particularly if you are a woman.
Sure, men too must be driven to pursue the same field, but they don't face the hurdles that women faced then or even now, 30 years after General Motors' new CEO first started college at the former General Motors Institute. Nobody ever questions a boy's right to pursue engineering, or a man's right to practice that discipline. Nobody ever questions the gender of a man with an engineering degree when he makes it to the pinnacle of the corporate ladder. Read more →
https://www.emptywheel.net/wp-content/uploads/2016/07/Logo-Web.png
0
0
Rayne
https://www.emptywheel.net/wp-content/uploads/2016/07/Logo-Web.png
Rayne
2013-12-12 11:30:17
2013-12-12 11:23:30
GM's New CEO: This Model Has Titanium Features