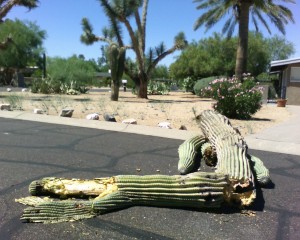 Despite the wall to wall coverage, not just on NBC and MSNBC, but all the networks, the hand wringing, the eulogizing, the lionization, the body lying in state at the Kennedy Center, and the funeral worthy of royalty, not enough has been said about the recent passing of a giant. Probably because all that bleating was about Saint Tim of Russert. I am talking about a different giant. A giant in my own family has passed. Granpa Pricky.
Granpa Pricky was our 24 foot tall saguaro cactus that majestically guarded the east entrance to Casa de bmaz since at least several decades before Casa de bmaz was built, and our house is almost fifty years old. Just woke up one morning and there it was, keeled over into the road. Saguaros are truly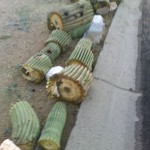 grand and majestic entities, standing tall as the guardians of the Sonoran desert. Granpa Pricky was not just a centurion, he was a home as well. There are now a couple of homeless woodpeckers. Actually these peckars don't even peck wood that much. They like to perch on my chimney and wail on the metal vent cover on the top. Sounds like a freaking machine gun or jackhammer in the house. Very annoying. Metalpeckers.
At any rate, an autopsy was conducted. Any and all of these photos can be enlarged by clicking on them.
The whitish material in the center is very squishy. There is simply a ton of moisture in saguaros. And we don't even have the cacti on drip systems; all they get is rain water, and it does not rain that much here. It is kind of fibrous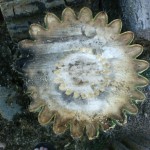 pulp like stuff. People trying to survive in the desert desperate for water cut up that pulp and put chunks in their mouth to suck the water (and there is a lot) out. The cactus does produce a red, bulbous, pretty sweet fruit that is fully edible and not bad. Granpa Pricky died on June 5. Here is a photo just taken of the same cross section depicted above.
Note how the pulp is shrinking as opposed to the outer shell and especially the spine. The spine is the circle of dowel like looking things in the middle. When you tap on the outer surface of the pulp, which has hardened, you can tell from the sound that Read more →
https://www.emptywheel.net/wp-content/uploads/2016/07/Logo-Web.png
0
0
emptywheel
https://www.emptywheel.net/wp-content/uploads/2016/07/Logo-Web.png
emptywheel
2008-06-22 13:53:54
2014-02-28 19:12:18
Mourning The Loss Of A Giant Recently Passed - Sunset Musings II