The 99% Demand that GE Pay Its Fair Share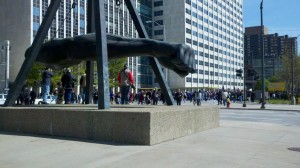 I spent the morning in Detroit watching the Joe Louis fist–one of Detroit's iconic symbols–be swallowed up by a crowd of people demanding that GE–which was holding its shareholders meeting in the Renaissance Center nearby–pay its fair share in taxes (to say nothing of keeping jobs in the US).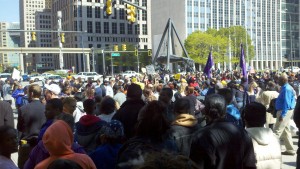 Seeing crowds of people, swarm that fist, pointed right towards where Jeff Immelt was speaking, was a pretty awesome way to spend the morning.
Inside the event, some of the 99% were making the same demand.  Then, Jeff "China China China" Immelt apparently rushed through his legal obligation to at least pretend that shareholders own GE (he finished one hour in exactly).
As we walked around Detroit's Renaissance Center, a few people came to the balcony to look on.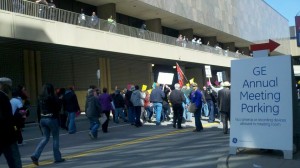 I think the Powers that Be had originally thought it'd be smart to hide us out back. For some reason, they had us leave the hidden back area and move right up front.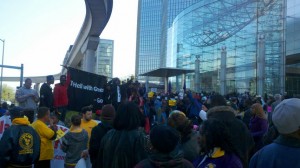 The sign reads: To hell with greed. –God
I'll update later if my video is any good and when Dave Johnson–who managed to stay through the whole whopping 60 minute (exactly) meeting posts his story.
https://www.emptywheel.net/wp-content/uploads/2016/07/Logo-Web.png
0
0
emptywheel
https://www.emptywheel.net/wp-content/uploads/2016/07/Logo-Web.png
emptywheel
2012-04-25 18:51:10
2012-04-25 18:57:54
The 99% Demand that GE Pay Its Fair Share