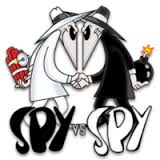 Okay you Wheelhouse mopes, Marcy, Jim and I are all in San Jose at Netroots. Not sure the jail in this here town is big enough to hold us all. Marcy already put up two posts earlier today, but posting may be a bit spotty, we shall see. I have an important one that will probably go up tomorrow morning on the Aaron Swartz case.
At any rate, to give some extra fodder here, and because Ms. Wheeler is terminally lame at noticing our own blog when she writes articles elsewhere, I am hereby placing you on notice that she has a great article that went up late yesterday at The Nation titled:
Government Spying: Why You Can't 'Just Trust Us'
Go read it, you will be glad you did! Other than that, use this as an open thread for Trash Talk (GO SPURS!), and anything and everything else you want to yammer about.
https://www.emptywheel.net/wp-content/uploads/2016/07/Logo-Web.png
0
0
bmaz
https://www.emptywheel.net/wp-content/uploads/2016/07/Logo-Web.png
bmaz
2013-06-20 17:39:21
2013-06-20 17:39:21
Government Spying: Why You Can't 'Just Trust Us'