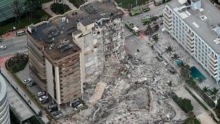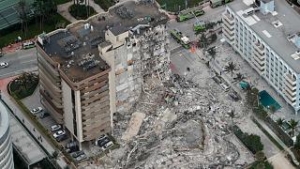 Will not be overly long on this, but have been saddened and fascinated with the Champlain collapse in Miami since news of it first surfaced. Here is a New York Times report. Here is an absolutely harrowing tick tock, with video and photos, from The Washington Post. Seriously, make sure to look at the WaPo piece.
The Champlain South building just pancaked. The World Trade Center buildings had the instigation of jet fuel laced missiles flying into them, this did not. Nor did the Hard Rock collapse in New Orleans, which was under construction and never certified nor occupied. This is different. Only four are reported dead as of this posting, but nearly 160 missing, so the number will definitely grow. Rescue efforts well underway, but it seems bleak.
This Champlain building was the "south" one. There is a "north" one that is seemingly siamesed and of the same design, materials and construct. The local mayor wants to evacuate it. And, that would be no problem, frankly I'd already be gone if I lived there.
But the problem with water in Miami and the Florida coast has been foreshadowed for a very long time. The sea level is rising. The ground is wet. This building was, apparently, built to code only 40 years ago and was in the process of "repairs". But would "repairs" have stopped this? Am inclined to think no. So, then, what is the status of all the other buildings in that line of the relevant water table?
Also, pools belong in the ground, not on decks.
Since it is "Infrastructure Week" yet again, maybe some thought ought be given to water tables, both growing in places like Florida, and shrinking in places like Arizona and California.
UPDATE: Am going to add in this comment from Pete, and I think it exactly right:
"I am not a structural engineer nor a geologist, but I have lived in Southeast FL all of my 70 years and witnessed the ever higher and closer together high rises along the coast and even more inland Miami since the 70s on.

I think it is important to know the geology of the Florida peninsula:
https://en.wikipedia.org/wiki/Geology_of_Florida
https://en.wikipedia.org/wiki/Florida_Platform

Forget the underlying Florida Platform which would be bedrock that most might think of. It's 10,000 feet down and you aren't drilling down that far and filling up a hole that deep with concrete and rebar. So you drill into the karst limestone layer for which the record drill depth is a recent 170+ feet for a newer 57 story building in Miami adjacent to Biscayne Bay.

Limestone is the sinkhole gift that keeps on giving especially in central Florida – just ask Jim White,

Furthermore, in a pique of insanity places like Surfside as well as the Las Olas area of Ft. Lauderdale – about 40 miles North – are actually partially soft fill reclaimed wetlands. Ft. Lauderdale circa the 1920s That's right – the build site is a lot of man made land.

I would not and cannot say that is relevant here, but in Las Olas settlement and the rising sea level coming UP through the porous land causes constant water main failure, sewage line failure, and flooding. Flooding due to water being forced UP is a major increasing problem in Southern Miami Beach.

It is reported that Champlain Towers, built in 1981, had been "sinking" mm per year since the 1990s.

https://www.dailymail.co.uk/news/article-9723841/Map-report-predicting-condo-collapse-reveals-Miami-Beach-spots-risk-collapse.html

As in most major disasters it's not just one error but a series of errors and missed opportunities to avert the disaster that get missed – or ignored."
https://www.emptywheel.net/wp-content/uploads/2021/06/320x180_cmsv2_6e9d92be-3ca4-566f-a61a-467bc046454b-5807868-e1624716357906.jpg
124
220
bmaz
https://www.emptywheel.net/wp-content/uploads/2016/07/Logo-Web.png
bmaz
2021-06-26 10:07:00
2021-06-26 11:59:46
The Miami Collapse [Updated!]