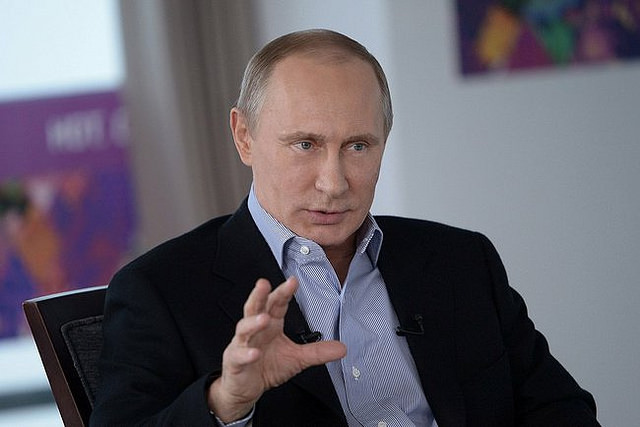 The most logical explanation for the parade of leaks since Friday about why Russia hacked the Democrats is that the CIA has been avoiding admitting — perhaps even considering — the conclusion that Russia hacked Hillary in retaliation for the covert actions the CIA itself has taken against Russian interests.
Based on WaPo's big story Friday, I guessed that there was more disagreement about Russia's hack than its sources — who seemed to be close to Senate Democrats — let on. I was right. Whereas on Friday WaPo reported that it was the consensus view that Russia hacked Hillary to get Trump elected, on Saturday the same journalists reported that CIA and FBI were giving dramatically different briefings to Intelligence Committees.
The question the Republicans and Democrats in attendance wanted answered was whether the bureau concurred with the conclusions the CIA had just shared with senators that Russia "quite" clearly intended to help Republican Donald Trump defeat Democrat Hillary Clinton and clinch the White House.

For the Democrats in the room, the FBI's response was frustrating — even shocking.

During a similar Senate Intelligence Committee briefing held the previous week, the CIA's statements, as reflected in the letter the lawmakers now held in their hands, were "direct and bald and unqualified" about Russia's intentions to help Trump, according to one of the officials who attended the House briefing.

[snip]

"The FBI briefers think in terms of criminal standards — can we prove this in court," one of the officials said. "The CIA briefers weigh the preponderance of intelligence and then make judgment calls to help policymakers make informed decisions. High confidence for them means 'we're pretty damn sure.' It doesn't mean they can prove it in court."

The FBI is not sold on the idea that Russia had a particular aim in its meddling. "There's no question that [the Russians'] efforts went one way, but it's not clear that they have a specific goal or mix of related goals," said one U.S. official.
Subsequent leaks have continued to make it clear there's a dispute both about what motive Russia had to target Hillary (to destabilize the US? to get Trump elected?) and how much evidence there is (the FBI thinks it is circumstantial, the CIA thinks it a  smoking gun). In addition, there have been unanswered questions about why CIA only briefed that Russia affirmatively supported Hillary this week, when reportedly they have had the evidence that conclusion is based on for months.
Remarkably, only secondary commenters (including me, in point 13 here) have suggested the most obvious explanation: The likelihood that Russia targeted the former Secretary of State for a series of covert actions, all impacting key Russian interests, that at least started while she was Secretary of State. Those are:
Misleadingly getting the UN to sanction the Libya intervention based off the claim that it was about protecting civilians as opposed to regime change
Generating protests targeting Putin in response to 2011 parliamentary elections
Sponsoring "moderate rebels" to defeat Bashar al-Assad
Removing Viktor Yanukovych to install a pro-NATO government
Importantly, the first three of these happened on Hillary's watch, with her active involvement. And Putin blamed Hillary, personally, for the protests in 2011.
Never mind the relative merit of these covert operations. Never mind that Putin has not, yet, released any evidence to support his claim that Hillary (or CIA) supported the 2011 protests targeting him personally; there is no doubt he believes it. During the primary Hillary as much as confirmed that when her diplomats negotiated the UN voted in 2011, they had regime change in mind the whole time. The US has acknowledged its covert operations against Assad in Congressional testimony. And hackers released a call from Victoria Nuland acting like she was in charge of deciding what post-Yanukovych Ukraine would look like.
In other words, whatever the merits and evidence behind these four events, there is no doubt Putin sees them as a threat to Russian interests and blames the US for all of them, with merit in at least some of the cases.
And yet, this most obvious motive has not been leaked to the press, creating the impression that it has never been considered by the people who carried out these covert actions.
To admit this possible motive publicly, of course, would require admitting that the US still tampers in other governments, including some that are elected (even if in elections of dubious fairness). It would also require admitting that our own government got targeted as a response to these covert interventions, which would make concerns about how novel this intervention was a lot less convincing.
Finally, if this motive were the real reason Putin tampered in our election, it might explain why Obama has been reluctant to respond. Perhaps the US believes that Putin has evidence that might prove — or at least create a convincing case that — that the US did intervene to try to weaken him in 2011. And again, the US has already stated on the record they've got a covert operation to topple Assad.
Update: I'll add that DC Leaks, which has always been conflated with Guccifer 2 (which released only Democratic files) and the DNC and Podesta leaks to Wikileaks, started by releasing documents with very clear ties to Ukraine, including a great many targeted at George Soros. If DC Leaks is considered part of the same operation, it is all the more unbelievable that CIA has not considered this explanation.
Update: At an October 18 event, Michael Hayden said (after 20:30) Putin did this because he believes that we do this to him all the time, citing the Rose Revolution, 2011 protests, and Maidan, but not mentioning Libya and Syria. Hayden did claim that the US doesn't actually do those things (again, not mentioning Libya and Syria), but earlier he said he had done similar things to the actual hack while Director of NSA.
https://www.emptywheel.net/wp-content/uploads/2016/10/Putin.jpg
427
640
emptywheel
https://www.emptywheel.net/wp-content/uploads/2016/07/Logo-Web.png
emptywheel
2016-12-12 09:08:21
2016-12-12 10:22:24
Why Is CIA Avoiding the Conclusion that Putin Hacked Hillary to Retaliate for Its Covert Actions?