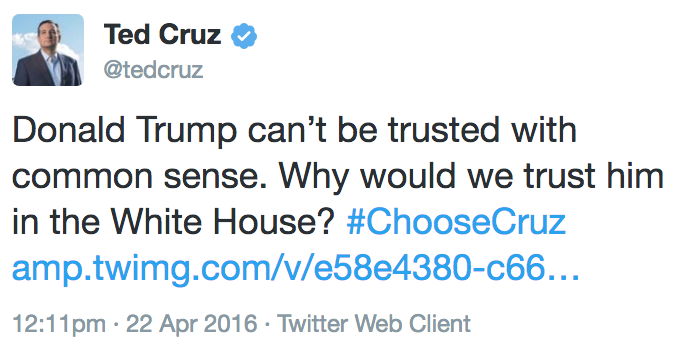 Name the Social Media Author: Lisa Page and Peter Strzok? Or Lindsey Graham and Ted Cruz?
In Lindsey Graham's questioning of DOJ IG Michale Horowitz in today's hearing on the IG Report on the investigation of Hillary Clinton, he said, repeatedly, "none of this is normal." By that, he meant the comments that Peter Strzok and Lisa Page had made about Trump back in 2016. (1:45)
Would you say that this investigation was done by the book?

[snip]

The whole idea that this is normal, folks, there's nothing here normal. I don't want you think the FBI does this day in and day out. This is not normal.
He then reviewed a couple of Peter Strzok and Lisa Page's texts.
Trump's not ever going to be come president right? right?

No, no he won't. We'll stop him.

[snip]

I want to believe the path you threw out in Andy's office, that there's no likelihood he'll become President. It's like an insurance policy.

[snip]

God Trump is a loathsome human.
Lindsey then repeated that such comments were not normal.
None of this is normal, folks.
Senator Graham, as a former longtime government lawyer as a JAG, should talk to Senator Graham how abnormal such thoughts about Donald Trump are.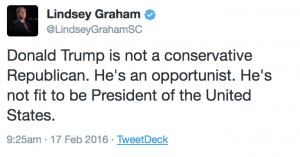 "As early as March, these people hated Trump," Graham said in the hearing, horrified by the thought that someone could come to such conclusions that early.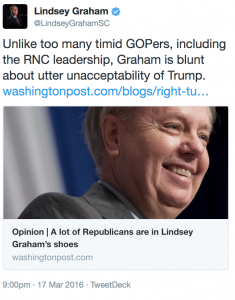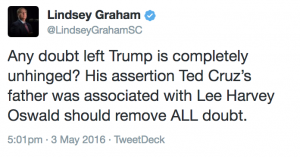 Former Texas Attorney General Ted Cruz was also alarmed about the mean things that Strzok and Page had said in their social media about Donald Trump. (3:04)
These are difficult days in the Department of Justice and the Federal Bureau of Investigation. Both the Department and the Bureau have long — decades long, in the Department's case, century's long traditions of fair and impartial administration of justice. There are thousands of honorable good men and women that work at the Bureau, that work at the Department of Justice, and yet their integrity has been called into question by misconduct and political bias at the highest level.
Cruz went on to quiz Horowitz about the things that Peter Strzok, as lead investigator, had said about Trump.
Is it true that during the period of the investigation in late 2015 and in 2016, when Mr. Strzok was in charge, he used an FBI device to call President [sic] Trump a quote Effing idiot, although I don't believe he abbreviated it, a loathsome human, and a disaster?

Did he also say multiple times that, quote, Donald Trump cannot be President?

And on August 6, 2016, when FBI Counsel Lisa Page said to Strzok that, quote, maybe you're meant to stay where you are because you're meant to protect the country from this menace, meaning President [sic] Trump. Did Mr. Strzok reply that, quote, I can protect our country at many levels?

[snip]

And is it true that there are many similar statements by Mr. Strzok in the report?

[snip]

Does any of that conduct give anyone confidence in the fairness in the enforcement of justice?
These are some of the thoughts that this self-imagined arbiter of integrity had to say about Donald Trump during the period he defined, 2015 to 2016.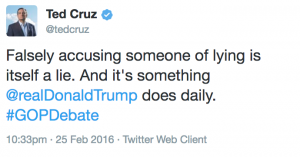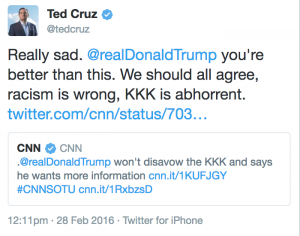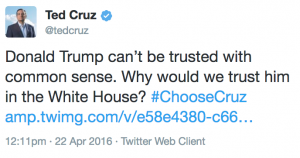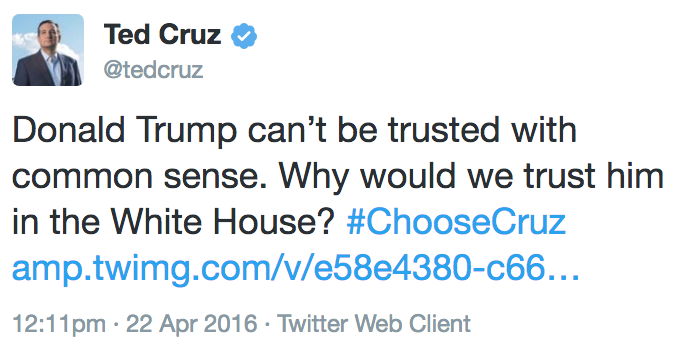 These are, of course, different things. Cruz and Lindsey were publicly sharing their thoughts about how unfit Donald Trump was to be President, how outrageous his racism, how unhinged he was. Strzok and Page were engaging in what they foolishly treated as private conversations, but did so on government owned devices at a time when they were conducting politically charged investigations.
I don't mean to defend the decisions of Strzok and Page with regards to how they shared their thoughts about the unacceptability of Donald Trump.
But I will defend the principle that it is solidly normal to say that Trump is unacceptable.
And there are no better witnesses to that than Lindsey Graham and Ted Cruz.
There's one other lesson Lindsey teaches us. "I'm glad I don't text and email," he also said. If Graham and Cruz' personal devices were investigated with the scrutiny that Strzok and Page's were, Strzok and Page might look tame by comparison.
https://www.emptywheel.net/wp-content/uploads/2018/06/Screen-Shot-2018-06-18-at-6.09.28-PM.png
362
688
emptywheel
https://www.emptywheel.net/wp-content/uploads/2016/07/Logo-Web.png
emptywheel
2018-06-18 18:48:05
2018-06-18 18:48:05
Name the Social Media Author: Lisa Page and Peter Strzok? Or Lindsey Graham and Ted Cruz?